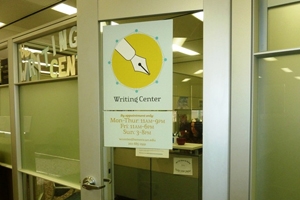 Q: How do I arrange a session at The Writing Center?
A: It's easy! Just call 202-885-2991 or stop by the Center (first floor of Bender Library) to set up your 45-minute coaching session. You may schedule up to two sessions per week. Sessions begin on thehour and are free. Plan ahead—we cannot work with you on the day the paper is due.


Q: What should I bring to my session? Can I get help with any writing project?
A: Please bring a copy of your assignment and your draft or notes printed out (not on your laptop, please) We're happy to work with you on any writing project you have from argument essays and research to lab reports and application essays. We're right here in the library, so make us part of your research process, too! 
Q: What if I just want copyediting or proofreading?
A: We want to work with you, not with your paper (or your laptop!)—therefore, your writing coach won't be simply "checking your paper" or correcting errors. Instead, we'll teach you how to edit and improve your skills. We can help you recognize technical errors in your prose and can provide resource materials—including our own library of handouts—regarding using sources, citations, grammar, organizing, punctuation, and style.  
Q: What if I am not a native speaker of English?
A: Please let us know if English is not your first language. While we're not language teachers, we are AU students who can help you negotiate the demands of our U.S . academic expectations and who have experience in dealing with writing issues of concern to you.  
Q: Is my work in the Center confidential?
A: Yes. The only exception is when an instructor sends you to the Center with a referral form and requests a written follow-up on the session.
Note: We do require written permission from your instructor before working on examinations, however.