Laura Waters Hinson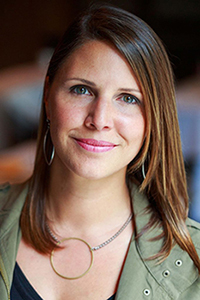 Laura Waters Hinson is an Academy-Award-winning filmmaker and Assistant Professor in the Film and Media Arts Division of the School of Communication. Laura is the Director of the Community Voice Lab which partners American University filmmakers with local non-profits to produce an annual film series capturing voices of marginalized community residents. Laura also serves as the division's head of the MFA social impact concentration.
Laura has directed five documentaries that have premiered throughout the world and won numerous film awards. Her first feature documentary, As We Forgive, about Rwanda's reconciliation movement, won the 2008 student Academy Award for best documentary, the Cinema for Peace Award in Berlin, and was broadcast nationally on public television. Since 2009, Laura's films have been screened at the U.S. Congress, the United Nations, the Smithsonian National Gallery of Art and at dozens of international film festivals such as the Santa Barbara International Film Fest, Austin Film Fest, Seattle Human Rights Film Fest, Manchester International Film Fest, among many others.
Her most recent documentary, Mama Rwanda, is about the new generation of women entrepreneurs in Rwanda transforming their nation after genocide and was supported by the National Geographic All Roads Film Project. In 2017, the film was presented on more than 50 university campuses through an outreach grant from the Murdock Trust. She also partnered with the Akilah Institute for Women, using the film to raise $100,000 for women's education in East Africa. The film is currently streaming on the digital subscription service Curiosity Stream.
Laura's feature documentary, "Dog Days", was broadcast nationwide on PBS WORLD channel's Emmy award-winning series "America Reframed." Most recently, Laura directed her first narrative short called Moving Violation, which starred Milana Vayntrub and won Best Narrative Short at the DC Independent Film Festival. The film is currently broadcast internationally on ShortsTV via Shorts International.
Current Project
In 2019, Laura received a production grant from HumanitiesDC, a sub-grantee of the National Endowment for the Arts, to produce a documentary on a team of homeless journalists covering the crisis of tent city in downtown DC. Production took place throughout the Fall of 2019 with the help of AU film graduate students serving as Community Voice Fellows through a partnership with the Humanities Truck. The film is currently in post-production and will premiere on the festival circuit in Fall 2020.