Cuba Document Archive - Bilateral Agreements
The Opening to Cuba: Annual Report of The Cuba Consortium
BY THE CUBA CONSORTIUM, THE HOWARD BAKER FORUM (NOVEMBER 3, 2016)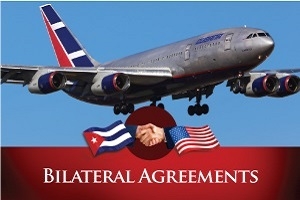 The Cuba Consortium-which is composed of a variety of companies, non-profit organizations, investors, academics, and entrepreneurs-provides an annual report on the normalization process between the U.S. and Cuba and the challenges that the respective governments face. The report contains comprehensive lists and explanations of the bilateral agreements; the areas of continued disagreement; economic regulations and practices; legal issues, and suggestions for enhancing economic and diplomatic relations between the two countries.
Instrumentos bilaterales adoptados entre Cuba y EE.UU. después del 17/12/2014
SITIO OFICIAL DEL MINISTRO DE RELACIONES EXTERIORES DE CUBA
This list of 23 bilateral agreements adopted between the U.S. and Cuba details the specific title of each agreement as well as a general description of its purpose and the date it was adopted. The list of agreements ranges from January 7, 2015 to January 19, 2017. (Available in Spanish).
Link to full text via Ministro de Relaciones Exteriores de Cuba
Memorandum of Understanding between the Government of the United States of America and the Government of the Republic of Cuba
By the Bureau of Economic and Business Affairs, in conjunction with the Cuban Ministry of Transportation (U.S. Department of State, February 16, 2016)
With this document, the United States and Cuba reauthorized international air transportation between their two countries. Authorized and licensed airlines may now operate flights in either or both directions; make stops for non-traffic purposes within or outside the territory of either country; and combine traffic on the same aircraft regardless of where such traffic originates, among other authorizations.
Link to full text via the Department of State
U.S., Cuba to Re-establish Direct Mail Service in Latest Sign of Normalizing Relations
By Jerry Markon (Washington Post, December 11, 2015)
The Washington Post reports on the decision to re-establish direct mail service between the United States and Cuba. In separate statements, the State Department and the Cuban embassy in Washington revealed that an agreement had been reached for a pilot program to provide mail flights between the United States and Cuba, rather than routing mail through a third country.
Link to full text via Washington Post
Media Note: U.S.-Cuba Joint Statement on Environmental Cooperation
By the Office of the Spokesperson (U.S. Department of State, November 24, 2015)
Representatives of the United States and Cuba signed a framework document that will facilitate and guide U.S.-Cuba cooperation - both governmental and non-governmental - on a range of environmental issues including coastal and marine protection, the protection of biodiversity including endangered and threatened species, climate change, disaster risk reduction, and marine pollution. Read the full text
Link to full text via the Department of State
U.S. and Cuba to Cooperate on Conservation and Management of Marine Protected Areas
By the National Oceanic and Atmospheric Administration (United States Department of Commerce, November 18, 2015)
The National Oceanic and Atmospheric Administration and the National Park Service signed a Memorandum of Understanding (MOU) with Cuba's Ministry of Science, Technology, and Environment, which aims to facilitate joint efforts concerning science, stewardship, and management related to Marine Protected Areas (MPAs). The MOU also includes a sister MPA program to foster conservation and understanding of natural marine resources in both countries, share technical and scientific data, and promote education and outreach initiatives.
Link to full text via the National Oceanic and Atmospheric Administration