Cuba Archive - Telecommunications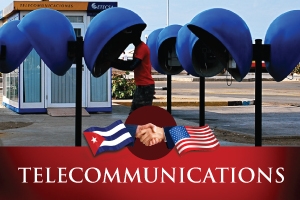 In this article, Hamre reports that Cuba has opened 35 Wi-Fi access points nationwide, as well as cut prices for usage by over half, offering unprecedented online access in a country that until now has restricted use of the Internet to an elite few (Only 3.4 percent of Cuban homes have Internet access). Many link the changes to improved relations between the U.S. and Cuba.
U.S. telecoms firm IDT establishes direct connection with Cuba
(Reuters, March 11, 2015)
Reuters reports that, for the first time since the embargo, "direct telephone connections between the United States and Cuba have been established." The U.S.-based IDT Corp reached an agreement with Cuba's Empresa de Telecomunicaciones de Cuba S.A. (ETECSA) to provide direct international long distance telephony and, consequently, greater ease and quality of communications between the people of both nations.
Bridging Cuba's Communication Divide: How U.S. Policy Can Help
By Ted Piccone, Christopher Sabatini, and Carlos Saladrigas (Brookings Institution, July 2010)
This paper from the Brookings Institution calls for the United States Government to broadly lift all bans that are currently hindering economic growth in Cuba. They argue that strengthening the Cuban economy will promote the establishment of greater information technology infrastructure and perhaps begin to open the country to greater political freedoms.