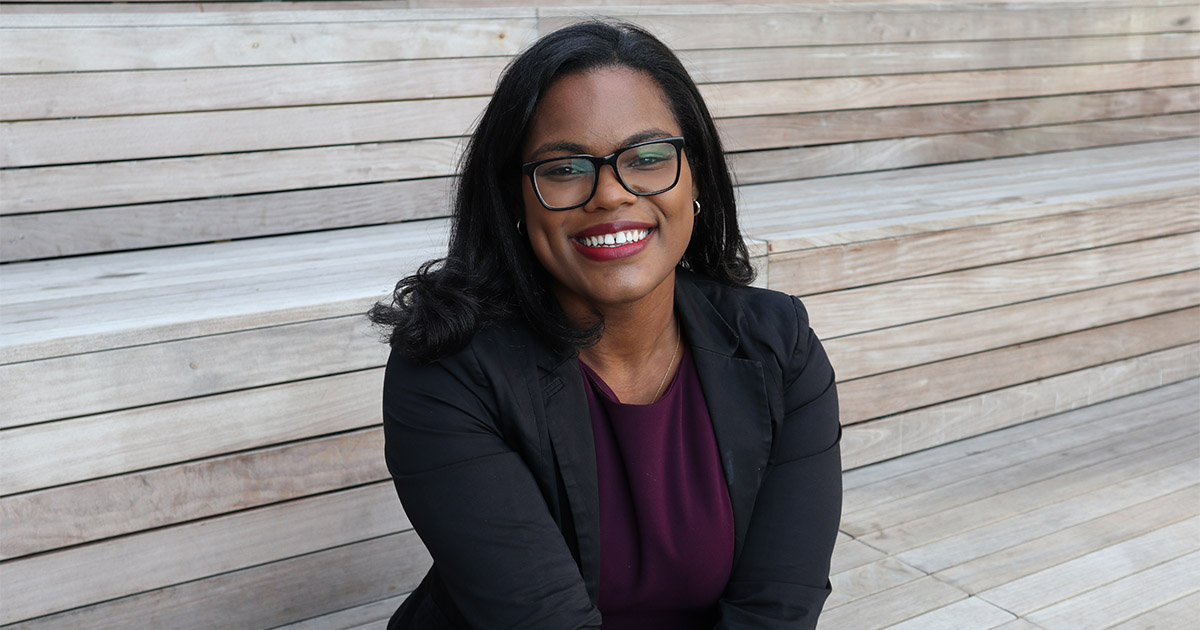 If this sentence was said aloud, someone reading lips would only capture 30 percent of it. 
As cofounder and CEO of Sign-Speak—a start-up technology that uses machine learning to translate American Sign Language (ASL) to English and vice versa in real time with the tap of an app—Yamillet Payano, CAS/BS '18, is 100 percent committed to revolutionizing communication by making it more accessible to the 430 million people around the globe who are Deaf or Hard of Hearing (D/HH). 
"What we're doing right now isn't working, so let's break it," says Payano, who in September was named one of Washington's 25 top innovators under 25 by DC Inno. 
The team—Payano, co-founder and CPO Niko Kelly, who is deaf, and CTO Nicholas Wilkins—began beta testing in January 2021. Among their partners: Mozzeria, a D/HH-owned and operated pizzeria that opened near Gallaudet University in Northeast in September 2020. 
Using an iPad to communicate with the D/HH employee on the other side of the counter, a nonsigning customer can order a Neapolitan-style pie in English. Sign-Speak translates the transaction into ASL on the employee's iPad faster than the patron remembers to say, "extra cheese." The New York–based company has also created systems especially for kitchen staff and delivery people—no 3D cameras, ASL gloves, or other costly gadgets required. 
Sign-Speak plans to bring their nonprovisional patent technology to market next year. The $100,000 award Payano just received from the prestigious Google for Startups Black Founders Fund will go a long way toward meeting that goal.  
Payano knows that for businesses like Nike—which was slapped with a lawsuit by a D/HH customer who claimed the retailer violated the Americans with Disabilities Act amid the pandemic—adopting Sign-Speak is a matter of dollars and common sense. The start-up has the potential to connect 32 million US businesses with 48 million D/HH Americans representing $87 billion in purchasing power—and that's good for everyone's bottom line.  
But the bottom line for Payano, a first-generation college graduate and first-generation American, is that she's changing people's lives. 
"I want to look back on my life and know that I fought for something, the way other people fought for me," she says. "The world is changing. People are becoming more aware of those who are not being seen. I am motivated to wake up every morning and ask: 'Who are we still missing?'"