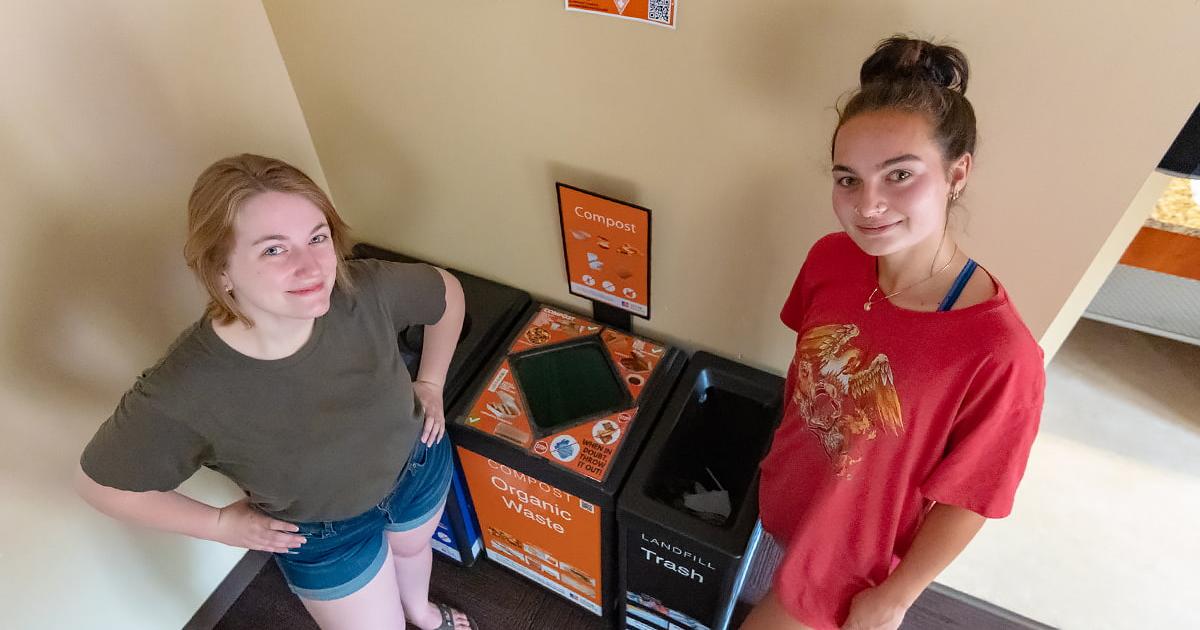 Mollie Russell, CAS/BS '21, and the AU Compost Crew are leading the way in reducing compost contamination at AU.
Russell and the compost crew want to find solutions to reduce the contamination caused by people putting items that don't belong in the composting bins. AU considers a bag of food waste contaminated if it contains plastics, cans, glass, clothes, textiles, or wrappers.
As part of her project, Keep Compost Clean, Russell, a Kogod sustainability master's degree candidate, designed and fitted two types of restrictive lids—a must-lift flap lid and diamond-shaped open lid—to compost bins in the Hughes and McDowell residence hall lounges in spring 2022. Graphics about what to compost and not to compost cover the flap lid and outer edges of the diamond lid. They include the slogan embraced in the environmental movement—"when in doubt, throw it out"—because it's better to put something in the trash than contaminate the bag.
Russell hopes the lids impact user behavior and encourage students to stop and look before placing items in the compost bins. "It's my duty as a student experiencing this to do something about it to try and change it," said Russell.
Paid interns in the university's Zero Waste Office who partner with AU's facilities management, housekeeping, and dining staffs, the Compost Crew collects food waste from bins across campus, paper towels from bathrooms, coffee grounds from coffee shops, and food scraps from dining halls. They turned over 13 tons of food waste to a composting facility in fall 2021. Their efforts are part of AU's goal to achieve zero waste by 2030 or divert at least 90 percent of the university's waste stream from landfills.
The compost crew interns gain valuable data skills tracking waste for this project and all food waste collected to meet AU's Zero Waste goals. Donned in personal protective equipment, they examine the waste from the pilot compost bins to see if there is less contamination.
"Mollie is really motivated to effect a meaningful change with this work that AU can use going forward to have a more successful and effective composting program," said Environmental Science Professor Jesse Meiller, who has been advising Russell since she first began testing the idea of restrictive lids as part of her undergraduate capstone. 
Russell began to understand compost contamination and think about solutions to get cleaner, more useable compost as an undergraduate through her participation in the university's Student Zero Waste Club. She said she hopes her research will achieve cleaner compost on AU's campus. "I want to help educate, and learn about the behaviors around composting, and how we can change it for the better," Russell said.