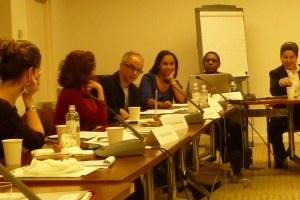 From left: Patricia Foxen, Ana Hernandez, Ian Haney Lopez, Jennifer N'gandu, Andrew Grant-Thomas, Clarissa Martinez
NCLR/CLALS Discrimination Workshop

As part of its ongoing commitment to connect scholarship with practice, the Center for Latin American and Latino Studies has forged a partnership with the National Council of La Raza to explore new approaches to understanding discrimination. Understanding the scope and depth of discrimination in the everyday lives of Latinos is critical to formulating policies and programs that will improve opportunities for Hispanic populations— the largest and fastest growing minority group in the US— and ensuring their successful integration into American society.
On November 10, CLALS and NCLR convened eight leading researchers and eleven senior advocacy professionals for a structured workshop on discrimination. In the first half of the session, academics identified synergies, divergences and innovations in discrimination research since the 1990s. They converged upon several main points, including the following:
The use of 'colorblind' language, co-opted from the civil rights movement, as a new and potent tool used by conservatives to perpetuate structural racism and preserve white supremacy. Notions of culture are central to racism in the new colorblind rhetoric, and are used to attribute disadvantages to attributes of subordinate groups.
Latinos face a unique situation in comparison to historical immigrant waves due to unprecedented numbers of 'illegal' immigrants. This has compounded the racialization of Latinos, making it difficult for advocates to separate "Latinos" from "immigrants" when addressing issues of discrimination.
The social construct of race in the US has moved beyond a black/white divide, with shifting notions and classifications of whiteness. Scholars of race and ethnicity have revealed how notions of Latino identity disrupt the traditionally black/white racial divide, since this identity is often shaped by ethnic factors including language and culture of origin rather than race. At the same time, however, particularly in the current era, the racialization of Latinos—whether immigrant or citizen— is a made evident by clear instances of structural discrimination.

Following the morning discussion, senior NCLR staff presented their experience as advocates, followed by an open conversation exploring how research could be harnessed to inform work on the ground. Key suggestions included a) preparation of a document exploring the sources of anti-immigrant organizations' funding; b) convening a conference to explore myths associated with Latinos and minorities that fuel discriminatory practices; and c) analyzing how the framework of morality might be an effective platform to combat what was described as a "new low" in US race relations. CLALS and NCLR are in ongoing dialogue concerning the next steps moving forward with this project.