From the Fields: An American Journey
Executive Producer/Director: Carolyn Brown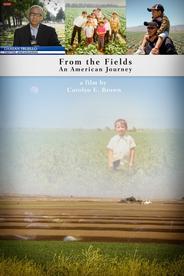 From the Fields was distributed nationwide to NBC Affiliates in Fall 2012. The film has received the Gracie Award for Outstanding Director-News/Non-Fiction, the California Film Orson Welles Award - Grand Category, and the CreaTV Award for Excellence in Directing.

About one hour south of the wealthy Silicon Valley and twenty minutes east of the affluent Monterey/Carmel area, home of the famous Pebble Beach Golf Course, sits the head of the fertile Salinas Valley. Known as the "salad bowl of the world" for its production of lettuce, broccoli, and many other crops, the Salinas Valley is home to thousands of Mexican American and immigrant families with strong ties to agriculture. About 30 miles into the valley is the small agricultural town of Greenfield, where journalist Damian Trujillo's family first settled in 1972 after coming to the United States from Mexico through the Bracero Program.
Damian's parents struggled to support their family of ten on the meager wages they earned laboring in the fields. Growing up, Damian shared a room with his five brothers and in seventh grade he joined his parents and older siblings working in the fields. He dreamed of breaking this cycle. Despite knowing little about higher education, Damian was the first in his family to graduate from college. His older brothers and sisters sacrificed their own educations to work to make money for their family.