March 2012 Planning Meeting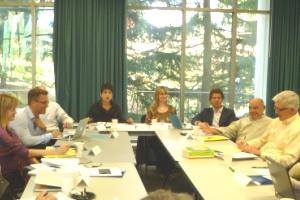 From left to right: Meredith Glueck, Patrick Kelly, Joe Eldridge, Kimberly Theidon, Karina Kosicki Bellotti, Kevin O'Neill, Phil Berryman and Alexander Wilde engaging in discussion at the planning meeting.
The Center's project on religion and violence in Latin America held an initial planning meeting on March 26-27, 2012 at American University. Participants included both leading and up-and-coming scholars in various disciplines from across the United States and Latin America, as well as religious practitioners.

The meeting helped to clarify a variety of issues concerning case studies and cross-cutting themes that emerged from the project's comparative dimension, as well as the longitudinal relationship of past and present. Participants discussed how Christian churches and communities understood and confronted violence in the past, when it was exercised by dictatorial states (often in conditions of armed rebellion); their role in transitions to democratic rule; and their responses in present-day electoral democracies, when criminal violence presents serious challenges to citizen security.

Participants recognized the importance of incorporating the theological and experiential perspectives of religious practitioners and considered different ways such practitioners might be integrated as the project develops.  

Meeting participants urged attention to two less developed themes in the project concept paper: the transnational dynamics of religious responses to both past and contemporary violence and issues of gender, violence, and religion in both periods.

The meeting culminated in a panel discussion open to an engaged public at American University's Kay Spiritual Life Center. Moderated by CLALS Research Scholar Alexander Wilde, it featured John Burdick, Syracuse University; Virginia Garrard-Burnett, University of Texas at Austin; Daniel Levine, University of Michigan; Kimberly Theidon, Harvard University; and AU Chaplain Joe Eldridge.

In the next few months, the Center will commission papers revisiting the nexus of religion and violence in Latin America during the 1970s and 80s with the aim of asking new questions about this period. Participants from the meeting will also reconvene for a workshop at the annual conference of the Society for the Scientific Study of Religion (SSSR) in November 2012.