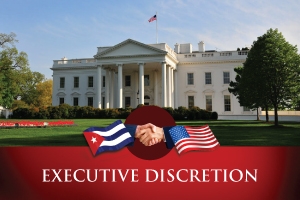 Photo credit: Glyn Lowe / Flickr / Creative Commons
Does President Obama Need Congress to Lift the Embargo on Cuba? Yes
By Julian Ku (Opinio Juris, January 21, 2015)
The author examines the disagreement between the President and Congress over Cuba policy, and explains the laws that are in place that limit Obama's authority to lift all or most of the Cuba embargo without congressional action. For instance, the President is authorized to lift sanctions completely only after submitting a determination to Congress that a transitional government in Cuba exists and that the lifting of sanctions will contribute "to the stable foundation for democratic government." Ku predicts that there will be "lots of legal skirmishing" on the matter.
Link to full text via Opinio Juris
Can Obama lift Cuba embargo alone?
By Peter Schroeder (The Hill, December 17, 2014)
Schroeder explains why, although President Obama has significant powers at his disposal to make the U.S. trade and travel embargoes on Cuba meaningless, action by Congress is required to formally lift the sanctions, the terms of which are dictated by six separate laws.
Link to full text via The Hill
Restoring Executive Authority over U.S. Policy toward Cuba
(Cuba Study Group, February 2013)
The current U.S. policy toward Cuba has not only failed to achieve its goals of restoring democracy to Cuba, but has become counter-productive. The Cuba Study Group thus advocates for the Helms-Burton Act and related provisions to be repealed, allowing the executive branch the power to respond to developments on the Island flexibly and strategically.
Presidential Authority to Modify Economic Sanctions Against Cuba: A Legal Analysis
By Stephen F. Propst (Brookings Institution February 2011)
While the termination of economic sanctions against Cuba is predicated on the implementation of a Cuban transition government, the President does have power to ease specific provisions of those sanctions without Congressional approval. Propst reviews statutory regulations and the precedents set by successive U.S. presidents starting with President Clinton in 1996 in easing specific provisions.
U.S. Embargo on Cuba: Recent Regulatory Changes and Potential Presidential or Congressional Actions
(GAO Report 09-951R, September 2009)
In September 2009, President Obama eased several restrictions of the embargo including travel for family members, limitations on remittances, and U.S. provision of telecommunication services. This report describes the changes that were made, options available to the President to further modify the embargo, actions that the President can or must take in the event of certain changes in the Cuban government, and possible congressional actions to end the embargo.