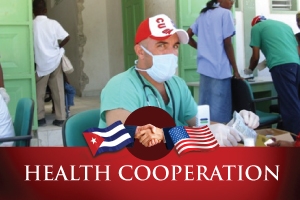 Cuban health brigade in Haiti / Photo Credit: Peoplesworld / Flickr / CC-BY-NC
Ebola Could Bring U.S. and Cuba Together
By Ted Piccone (Brookings Institution, October 31, 2014)
Piccone opines with a qualified "yes" that the U.S. and Cuba's mutual commitment to providing medical aid to fight Ebola offers an ideal opportunity for them to join forces for the greater good.He cites not only precedents for this kind of cooperation (such as the 2010 earthquake in Haiti), but also past challenges affecting current teamwork on health care issues. This piece was originally published by The Mark.
Link to full text via the Brookings Institution

U.S. and Cuba Come Together Over Ebola, Infuriating Republicans
By Ernesto Londoño (New York Times Taking Note Blog, October 31, 2014)
Londoño applauds the U.S.'s pragmatic cooperation with Cuba and other ALBA nations as part of the global response to the Ebola epidemic, but notes sharp criticisms by some (increasingly isolated) lawmakers from South Florida.
Link to full text via the New York Times

Cuban Public Health Cooperation in Haiti

(Center for International Policy, May 2010)
Cuba has played a major role in Haitian health care delivery, with Cuban doctors serving in the country since 1998, and the Latin American Medical School in Havana graduated hundreds of Haitians. Since the earthquake, that assistance has increased dramatically. This report claims that although Cuba and the United States often disagree, there is no reason the two cannot work together toward a common goal: to reduce the suffering of the Haitian people and to build a sustainable public health system.
Cuba's HIV/AIDS Strategy: An Integrated, Rights-Based Approach
(OXFAM, 2008)
This paper discusses the Cuban's approach to address HIV, which like the nation's public health system, is founded on the principal that health is a human right. In practice, this translates into a continuum of care through universal access to primary, secondary, and tertiary health services, government commitment to equalizing and improving social determinants, and scientific research and development aimed at advancing the population's health. Constitutional rights, including job and housing guarantees and anti-discrimination laws also play a role. Free, equitable access to care, a robust national biotechnology capability, and an educated citizenry with confidence in the public health system have helped contain the epidemic on the island.