HISTORY AND TRADITIONS

American University awarded its first degrees (two doctorates and one master's degree) in 1916 at a commencement ceremony held in the university's amphitheater. AU commencements have grown over the years as the university has become larger and more diverse. More than two thousand students from AU's six schools and colleges participate in commencement ceremonies each year.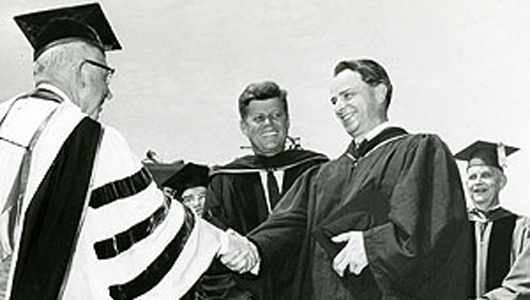 Photo: Robert Byrd is congratulated by AU President Hurst Anderson while President Kennedy looks on at AU's 1963 commencement.

Past honorary degree recipients and commencement speakers include:
U.S. presidents: Franklin D. Roosevelt, Dwight D. Eisenhower, John F. Kennedy, and Bill Clinton

Nobel laureates: Aung San Suu Kyi, Shimon Peres, and Elie Wiesel
International figures: King Hussein, Queen Noor, Shimon Peres, and Alexander Dubcek
National leaders: Charlene Barshefsky, Eric Holder, Barbara Jordan, John Lewis, Ralph Nader, Janet Napolitano, Donna Shalala, Paul Volcker, Robert Reich, Seth Waxman, and Andrew Young
Supreme Court justices: Stephen Breyer, Ruth Bader Ginsburg, and Sandra Day O'Connor
Scholars: Stephen J. Gould, John Hope Franklin, Henry Steele Commager, and Alfred Kazin
Journalists: David Broder, Walter Cronkite, Sam Donaldson, David Gregory, Charlayne Hunter-Gault, Ted Koppel, Diane Rehm, Carl Rowan, Tim Russert, and Daniel Schorr

Artists: Marian Anderson and Mstislav Rostropovich