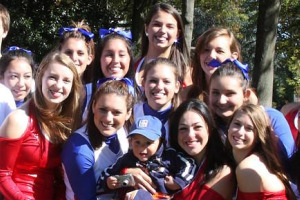 Just in time for the holidays, AU's Cheer & Dance teams will offer babysitting services on Saturday, December 12 from 10 a.m. to 4:30 p.m. on our campus in the Hughes Hall formal lounge. The cost is $10 per child per hour, and discounts are available for families with more than one child. The teams' members will provide fun activities including arts and crafts, holiday movies, and games. Children must be over three years of age and parents should provide their lunch and/or snacks. Beverages will be provided. This is a fundraising event for AU's cheerleading and dance teams to help them participate in the upcoming collegiate national championships in Florida. All registration fees will support these efforts. The registration deadline is Friday, December 11 at 4 p.m. For information, call the AU Spirit Program at (202) 885-3073.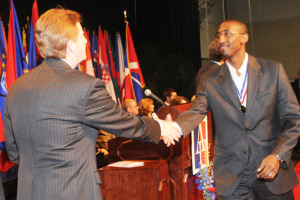 Half a century ago, AU launched an honors program with 15 students in the College of Arts and Sciences, part of the university's deep commitment to academic excellence. A campus-wide program was initiated in 1977. Today, 1,000 undergraduate students – about one fifth of AU's undergraduate population – attend AU in our Honors Program that allows them to major in any discipline at the university and participate in specially-created seminars called Honors Colloquia that provide students with faculty from across the university who are leading scholars in their fields. Stay tuned for news about Tea Talks, Cake Day, and some exciting ideas we're exploring for our neighbors to be involved with students in the program. To learn more about the Honors Program at AU, go to www.american.edu/honors.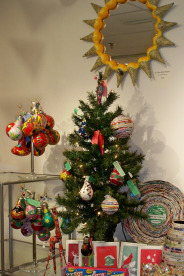 December 6 is the last day to see the Australian Indigenous Art Triennial: Culture Warriors, a diverse range of contemporary indigenous art. Other exhibits open until December 20 feature LA-based artist Cole Sternberg who blends the fields of international law and contemporary art to critically analyze human rights and the application of international law. Virtuelle Mauer/Reconstructing the Wall, created by the artist team T + T, is virtual reality art that is an interactive 3D computer graphic installation that enables viewers to experience a section of the Berlin Wall in its former complexity. Six large-scale works by Washington sculptor John L. Dreyfuss that explore the evolution of form and the wonder of invention will be on display until January 17, 2010. Admission is free. Museum hours are Tuesday through Sunday, 11 a.m. to 4 p.m. (The museum is closed Mondays and University holidays.) Metered parking is available under the Katzen Arts Center. Parking is free, evenings after 5:30 p.m. and weekends. For more information, go to www.american.edu/museum.
And don't forget the AU Museum shop for your "sustainable" holiday shopping. Think green this holiday season to see the recyclable gift items for sale, many of them made by local artists. Check out the pop-can giraffes, paper bowls and vases, aluminum bracelets, bamboo scarves, candy-wrapper handbags, and light bulb ornaments. And don't forget the recycled greeting cards. For more information and shop hours, call (202) 885-3656.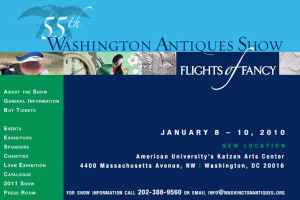 The popular Washington Antiques Show will return for a second year to the Katzen Arts Center in January, 2010, and will be open to the public on January 8-9 from 11 a.m. to 8 p.m. and on January 10 from 11 a.m. to 5 p.m. This year's theme is Flights of Fancy and the show will include an exhibition The Eagle Takes Flight-Symbol of a New Nation, exploring the artistic use of the eagle as a symbol of the nation in early America. The show features 44 dealers from the U.S. and Europe with furniture, decorative arts, vintage jewelry, porcelains, ceramics, silver, and architectural garden design. This year's honorary chairman is His Excellency Pierre Vimont, Ambassador of France to the United States. Tickets are $15 for one day, $25.00 for run of the show (includes catalog). Children under 12 are admitted free. For more show information, go to www.washingtonantiques.org or call (202) 388-9560.