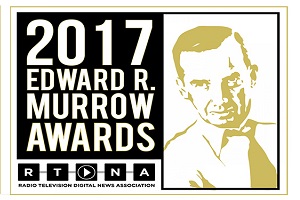 Loyal listeners to AU's WAMU 88.5 now can tune into WRAU 88.3 FM – known on the air as "Eighty-eight three Ocean City" for NPR News and information on the Delmarva Peninsula. The station's programming will largely mirror the current WAMU 88.5 schedule, including The Diane Rehm Show and NPR's Morning Edition, All Things Considered, Wait Wait…Don't Tell Me!, and Car Talk, plus local news, traffic, and weather.
"We know that many Washingtonians take advantage of the beautiful beaches and relaxing atmosphere of the Delmarva Peninsula when the weather warms up," says WAMU 88.5 General Manager Caryn G. Mathes. "Our audience has long expressed a desire to 'take us across the bridge' with them, and 88.3 Ocean City allows us to do just that."  
We are launching a new Alumni Book Club Series beginning in September. The series, hosted by Ann Kerwin, CAS/BA '71, wife of AU President Neil Kerwin, features diverse works by AU alums. Each of the five events will feature a special reception with the author, followed by a talk. Alumni from across the country and around the world can participate by reading the book and submitting questions online. Books include The Nobodies Album by Carolyn Parkhurst; FDR's Republicans: Domestic Political Realignment and American Foreign Policy by Robert Jenner; Oceans: The Threats to Our Seas and What You Can Do to Turn the Tide by Jon Bowermaster; Little Back Room by Pearl Rance-Reardon; plus an All-American Weekend author panel.
American University students are very active in our local community. Nate Bronstein, the new Student Government president, and Josh Kaplan, a junior studying Environmental Science, share what community service means to them. Nate talks about a new initiative he's launching this fall to students to help neighbors, and Josh, who is spending the summer interning at AU's Office of Sustainability, recounts an experience working on a community project in Tenleytown.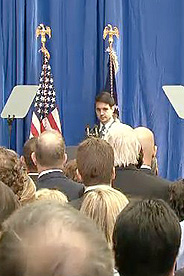 Nate Bronstein leading the audience in the Pledge of Allegiance before President Obama's recent speech on campus.
NATE BRONSTEIN:
As the Student Government President this year, I am tasked with building a community. This is not just an internal community at American University, but an external one as well. What community means to me is more than just a group of people. It is a family sharing compassion, trust, and love. That may be a love of each other, a love of learning, or a love of service. It can involve many connections. But the funny thing about community is that everyone needs to do their part for it to function, and everyone has a different part to play. It is time that we play our parts. And so this year we have coordinated all of our services resources on campus into a new department called the "Community Service Coalition." With this we can ensure more service opportunities for our students, and the longevity and sustainability of them as well. What does this mean for your community? This means that all our service resources are ready to mobilize for your needs, to help make our community a much better, far more inclusive and cooperative place. Along with the coalition, we are working to put on programming that your families can come join us for. This may include star gazing nights, movie nights, or carnivals on our campus. Now more than ever, we're looking to cooperate and make our mutual home a much better place.
Photo by Benjamin Bishop
JOSH KAPLAN:
Last November, I trudged out of my dorm room at 5 a.m. with a handful of fraternity brothers. It was bitterly cold, but we felt good as we rode the AU shuttle to Tenleytown. At a barren patch of grass near Tenley Circle, we joined a handful of fellow AU students, other neighbors, members of the local Freemason chapter, and the Casey Trees Foundation. Our mission: to plant 20 new trees. It was an amazing feeling turning what was an exposed, lifeless patch of land into a pleasant park-like area. That feeling didn't come so much from braving the cold or shoveling dirt for hours. It was joining in with my friends and neighbors to make Tenleytown a better place that brought the true sense of satisfaction. Those involved ranged in age from about 20 to more than 60 years old, but we all found common ground – literally – in the simple task of improving our neighborhood. And because I'm studying Environmental Science, I take great pride in what I have contributed to my neighborhood – Spring Valley, AU Park, and Tenleytown. I see myself not just as a temporary resident of four years, but an active part of a very special neighborhood in Northwest Washington. Even if in a few years I find myself far from this community of extraordinary people in this exciting city, the small legacies I have planted will continue to thrive. Every time I pass through Tenleytown, those trees remind me of the roots – both literal and metaphorical – that I have laid down here. As I walk the quarter-mile from my current home to the AU campus nearly every day, I smile when I see my neighbors, no matter who they are. It's a great feeling when they smile back.
Congratulations to the seven members of AU men's basketball team who recently were named to the Patriot League Conference's Academic Honor Roll. AU had more students named than any other school in the League. To be eligible for the Academic Honor Roll, student athletes must earn a 3.20 grade-point average in the spring semester and be awarded a varsity letter in one of the Patriot League's championship sports. Our team members, who major in mathematics, business administration, and international business, had grade-point averages ranging from 3.3 to 3.7. The basketball team also visits local schools like Janney Elementary School in Tenleytown and does exercises and drills with the students. Click here to see them with the students at Janney Elementary School.