In past issues of our newsletter, we have shared examples of the service and contributions that our students, staff, and faculty make to the community and the city. We thought our neighbors also would be interested in knowing the broader impact that AU and other area universities have on the region's economy.  A study released June 2 shows that Washington, DC-area universities are a major source of jobs and contributed $11.2 billion to the region's economy in 2010. The study, Capital Assets – Economic Impact and Beyond, was authored by Stephen S. Fuller, Director of the Center for Regional Analysis at George Mason University. It was commissioned by the Consortium of Universities of the Washington Metropolitan Area, made up of 14 colleges and universities – including American University – in DC, Maryland, and Virginia.
The study noted that universities are now the District's largest private employers with a $3 billion payroll for the region, including a $609 million payroll for employees who live in DC.  Dr. Fuller cited additional spending by students, out-of-town visitors, and retirees from the universities who live here as added sources of economic benefits to the city and the region. "The true measures of these universities' economic impacts are their contributions to the regional and local economies that would not have taken place in their absence," the study said. 
These figures, Dr. Fuller added, "significantly understate the full magnitude of these universities' ongoing and evolving contributions that are essential to securing the Washington metropolitan area's future in an increasingly competitive global economy."
To read more of the study, visit www.consortium.org.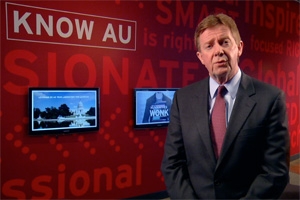 We would like to share with you a recent video message from AU President Neil Kerwin in which he highlights accomplishments, accolades, and contributions of AU students, faculty, and staff.  Dr. Kerwin reflects on the commencement activities that were under way for 3,500 new graduates during what he describes as an exciting and productive year for the university. He cites the addition of 70 new faculty members during the past two years, green initiatives that underscore AU's commitment to sustainability, and the addition of a new welcome center.  Looking ahead to welcoming AU's next freshman class of 2015, selected from nearly 19,000 applications, Dr. Kerwin also talks about AU's 2011 Campus Plan to provide new student housing and academic facilities, a relocation of the Washington College of Law, and plans for more recreation and athletic facilities. 
Back to top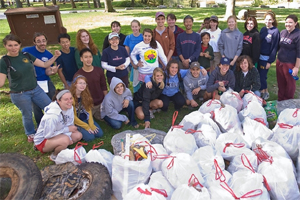 Faculty and students participate in a community clean-up day.
The AU community's activities are making news. From The New York Times to The Learning Channel, here's a selection of articles that we'd like to share. 
Back to top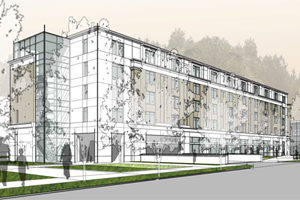 Architect's rendering of proposed East Campus (looking east from Nebraska Avenue intersection)
Public hearings on AU's new Campus Plan get under way this month at the DC Zoning Commission. The Zoning Commission hearing dates for the AU Campus Plan application are June 9, June 23, and July 14.  On May 20, AU filed its pre-hearing statement to highlight a number of changes and modifications to the Campus Plan and Further Processing applications (more detailed building designs). These changes reflect continuing feedback and dialogue with our neighbors as well as the Office of Planning, Historic Preservation Office, and District Department of Transportation.
Changes proposed for the new East Campus include removing one residence hall and 180 beds, reducing the total to 590 new beds there; increasing the rear setback from 40 feet to a minimum of 100 feet between student residential buildings on the East Campus and neighbors; removing a proposed vehicular entrance/exit on Massachusetts Ave.; and adding a pedestrian-activated signalized crosswalk, mid-block on Nebraska Avenue between New Mexico and Massachusetts Avenue and Ward Circle. Also, no freshmen will live on the East Campus.
Other changes include adding 150 beds (instead of 130 beds) to the Nebraska Hall addition, and the construction of a North Hall behind the President's Office Building with approximately 360 beds (instead of 200 beds). AU continues to work with the Office of Planning, Historic Preservation Office, ANC3E, and community representatives on massing, height, and location of the buildings for a new Washington College of Law at the Tenley campus.  AU expects to file a Further Processing (more detailed design) for the new law school later this summer. A public hearing is expected in the fall of 2011.
For the latest information about the AU Campus Plan, visit www.american.edu/finance/fas/campus-plan.cfm.
If you would like support the AU campus plan, visit http://www.american.edu/finance/fas/SupportCP.cfm .
E.CO Exhibit: From Colectivo Nomada, Costa Rica: Captive Notes #11
Enjoy an evening out and a free artists' reception on Saturday, June 4, from 6 p.m. – 9 p.m. to celebrate the opening of two new exhibitions at the American University at the Katzen Arts Center. Organized by the Museo de Arte Contemporaneo de Monterrey (MARCO), Registro 02, Mirar por segunda vez (Record 2: A Second Glance) features over 50 works by four outstanding Mexican artists and three members of the Tercerunquinto collective working in a diverse range of media. The second exhibition, E . CO, features photographic projects by 20 Latin American and European photographic collectives, each tasked with crafting a visual essay about the environment. The new exhibitions, along with the current Sam Gilliam show Close to Trees, run through August 14. Free parking for this event is available under the Katzen building.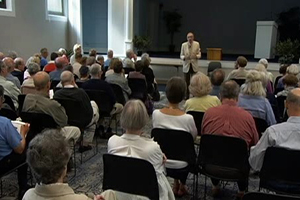 Looking for a place to stay cool? Join us on Tuesdays in June from 10 a.m. to 11:50 a.m. for a great five-week Speaker Series sponsored by the Osher Lifelong Learning Institute at AU – better known as OLLI. The lectures are free and open to the public at the Abramson Family Recital Hall in the Katzen Arts Center. This month's series features several authors who will discuss their books on topics including Supreme Court Justice William Rehnquist, the Cold War, the Israeli-Palestinian Conflict, and the accomplishments of an extraordinary couple with mixed-race backgrounds in the U.S. in the early 1900s. GWU professor Roger Wilkins will talk about the American presidency. Milton Greenberg, professor emeritus of government at AU, who also served as the university provost and interim president, will talk about the GI bill and how it continues to change America. Longtime opera lover Art Levan will guide viewers through the moving film, The Audition, the Metropolitan Opera's behind-the-scenes documentary about selecting finalists to sing on stage with the Met Orchestra. To see the dates for these lectures and the entire June Speaker Series, visit www.olli-dc.org and click on Lecture Series. Parking is available under the Katzen Arts Center for $1.50 an hour.
Farm-fresh strawberries are among the items featured at AU's farmer's market. (Photo: Katie Neff)
Our farmers' market is here on the quad in front of the Ward building every Wednesday from 11 a.m. – 7 p.m. So bring your shopping basket and your list to find some of the freshest fruits and vegetables in season, along with cheese, honey, and lots more that Agora Farms brings directly from the farmers who produce them. You'll also find a mouth-watering selection of hearth-baked breads, scones, and cookies from Upper Crust Bakery. They are a perfect match for some of the dairy free/fat free sorbet offered by Micha's Sorbet.