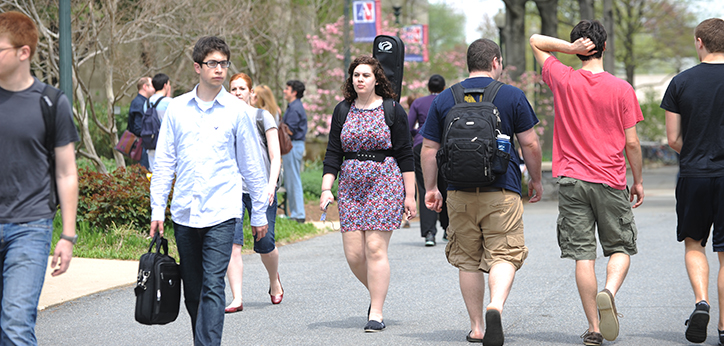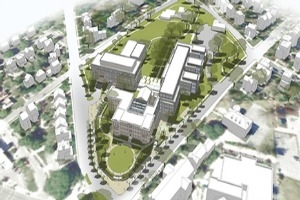 Washington College of Law has outgrown its current facilities on Massachusetts Avenue, and soon will relocate to new facilities on Tenley Circle. Construction on the new law school is expected to begin in early June with interior demolition. Futher demolition and site excavation are scheduled to begin in July, with new construction starting in October and an estimated completion date of July 2015.
The new law school will support a student population of 2,000 and a faculty and staff of 500, provide 50 percent more space than its current location, and feature 312,000 square feet of facilities and parking for 400 vehicles.
The campus' new structures will be configured to define a prominent new identity for the law school, while also honoring the rich historic legacy of the site. To accomplish this goal, all construction will embrace and incorporate fully the historic Capital Hall and its chapel, as well as Dunblane House. It also will retain and reinforce the central quadrangle as an open and accessible green public space, and improve the front lawn and perimeter of the site to increase opportunities for public access and enjoyment. To accommodate the new plans, Congressional Hall, Federal Hall, and Constitution Building will be demolished.
Please click here for additional information and a complete overview of the project.
Also be sure to check the BuildingAU website for up-to-date information about all the ongoing construction and notice of any possible, temporary impact the activity may have on the community.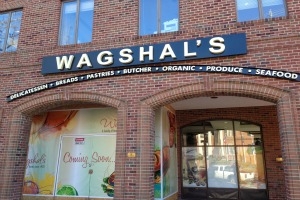 American University is pleased to welcome the Wagshal's Family of Fine Foods to the neighborhood. Wagshal's has been serving the Spring Valley neighborhood since 1925 and opened its second location at 3201 New Mexico Avenue, NW this month.
"Expanding into this new location enables us to serve even more of the community and we are thrilled to now be a part of Wesley Heights," said Bill Fuchs, President of Wagshal's, who lives in the neighborhood. 
Wagshal's on New Mexico provides area residents prepared foods, salads, sandwiches, butchery, hot food bar, as well as a custom bakery featuring freshly made artisanal breads and handmade pastries from their central kitchen. The 4,000 sq. ft. location also offers fresh market options including local and organic produce and fresh seafood.
The new location includes indoor seating and an outdoor patio for casual dining.
For additional information on Wagshal's and their new location, please visit www.wagshals.com.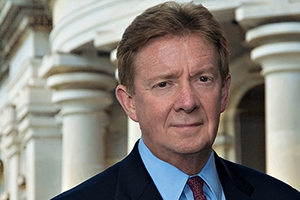 In his annual spring video message, American University President Neil Kerwin updates the community on highlights from the semester and year at AU, including:
• Incoming freshman class
• Student award winners
• Truman scholar and former ANC 3D Commissioner Deon Jones
• 50th anniversary of President John F. Kennedy's commencement address at AU
• Construction and facilities updates
• New athletics director Billy Walker
• AU's continuing relationship with the Washington Nationals
Click here to watch President Kerwin's message.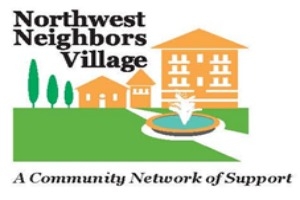 Save the date – Sunday, June 2 – for Northwest Neighbors Village's second annual fundraiser at the Katzen Art Center's Abramson Recital Hall. This year's event will feature show tune hits from the "Golden Age of Broadway," performed by local baritone wonder, Ethan Watermeier. Ethan performed Urbanarias recently at the Strathmore to rave reviews and in Spring Awakening at Olney Theatre Center. Last season, Watermeier performed in Shakespeare Theatre's staged reading of Brecht's The Life of Galileo.
Watermeier's spectacular and original performance of favorite Broadway tunes is not to be missed. Tickets are $45 and can be purchased online. A Taste of the Town reception will follow the performance and include a sumptuous array of food from the restaurants of upper Northwest DC. The entire Katzen Arts Center will be accessible to guests and free parking will be available in the building's garage.
The evening's event will benefit the Northwest Neighbors Village (NNV). Through a centrally-coordinated, local network of screened volunteers and vetted professional providers, NNV offers its members transportation to medical appointments, grocery shopping assistance, home repairs and handyman help, computer and technology assistance, access to social and cultural activities, and more.
For additional information or to purchase tickets, please click here.
Recharge yourself by taking a journey of self-discovery with American University Professor Iris Krasnow. An award-winning journalist, Krasnow has created Voices of Women, a non-credit, six-week course that explores the most important issues a woman faces during her life cycle, at home and in the workplace.
Discussions of Krasnow's best-selling books on intimate relationships (see www.iriskrasnow.com) and readings from other female writers about the ascent of women in business and in family structures are blended together in this life changing course.
Mondays from 5:30 – 8 p.m.
September 9, 16, 23, 30
October 7, 14
Learn more and register now here.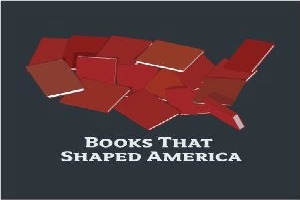 The School of Professional and Extended Studies (SPExS) and the University Library continue with their Books that Shaped America series in June with a community dialogue about slavery in America - and the triumph of one man's emancipation from bondage - informed by the classic book by Frederick Douglass, Narrative of the Life of Frederick Douglass. The discussion will be led by Professor Thomas Merrill of the Department of Government. All members of the community are invited. Attendees are not required to have read the book. Admission is free and no reservation is required.
The discussion will take place on June 4 from 7:30 - 9:30 p.m. in the Mud Box Café at Bender Library (Room B30A).
The series features selections from the Books That Shaped America list compiled by the Library of Congress. Informal discussions about the influence of these books on the nation's extraordinary literary heritage are led by AU faculty and staff members.
For more information visit: www.american.edu/spexs/btsa or email LibEvents@american.edu.
WAMU 88.5 and Lean & Hungry Present As You Like It
Sunday, June 9, 6 – 8 p.m.
Woods-Brown Amphitheater
This live, one-hour adaptation performance of As You Like It also will be broadcast live on WAMU 88.5/American University Radio. To attend, RSVP Paul Mozzocci at 202-885-2846, or email: wamuevents@wamu.org.
Yoga in the Galleries Outdoor Session
Wednesday, June 12, 10 – 11 a.m. (also June 26)
American University Museum at the Katzen Arts Center
Dust off those yoga poses because it's time for our summer sessions! Led by Shannon Ramirez, this ashtanga vinyasa yoga class is a great opportunity to beat the heat and feel great. Please bring a mat. Admission is free.
Members Only Preview
Friday, June 14, 5 – 7 p.m.
American University Museum at the Katzen Arts Center
Preview the summer exhibitions before they open to the public with a special tour led by curator/director, Jack Rasmussen. Drinks and summer snacks included. Not yet a member of the Katzen AU Museum? Join now: www.american.edu/cas/museum/membership
For more information, visit: http://www.american.edu/cas/museum/index.cfm
Chester Arnold: Accumulation and Dispersal
Saturday, June 15, 11 a.m. – 4 p.m.
American University Museum at the Katzen Arts Center
As evidence of an artistic ambition and moral commitment to the human experiment, these paintings celebrate living and art-making and accumulating in a most visible and accessible way while juxtaposing the complexity, ingenuity, and wastefulness of modern civilization. For more information, visit: http://www.american.edu/cas/museum/index.cfm
Washington Art Matters 1940s–1980s
Saturday, June 15, 11 a.m. – 4 p.m.
American University Museum at the Katzen Arts Center
This exhibition tells the history of Washington art from the 1940s through the 1980s. Some 80 artists were selected to represent what was best of Washington art over five decades. This documentation is based on the book Washington Art Matters, Art Life in the Capital: 1940-1990 by Jean Lawler Cohen, Elizabeth Tebow, Sidney Lawrence, and Benjamin Forgey. For more information, visit: http://www.american.edu/cas/museum/index.cfm
Gallery Talk: Accumulation and Dispersal with artist Chester Arnold
Saturday, June 15, 5 – 6 p.m.
American University Museum at the Katzen Arts Center
Join Chester Arnold in a gallery talk about his exhibition Chester Arnold: Accumulation and Dispersal, on display through August 11. Admission is free. For more information, visit: http://www.american.edu/cas/museum/index.cfm
2013 Summer Artists' Reception
Saturday, June 15, 6 – 9 p.m.
American University Museum at the Katzen Arts Center
Join artists and curators for the 2013 summer Artists' Reception from 6 – 9 p.m. Light refreshments will be served. The night will include a gallery talk by Chester Arnold at 5 p.m. Admission is free. For more information, visit: http://www.american.edu/cas/museum/index.cfm
On Collecting Fine Art: Collecting Works on Paper: Prints and Drawings
Thursday, June 27, 7 p.m.
Studio Theatre
On Collecting Fine Art is a series of panel discussions designed to encourage collecting fine art with advice from established Washington area gallery owners who will share their knowledge and expertise. Topics covered in the various panels will include how to get started, how to educate your eye, how to develop a collection, how to understand descriptions of various processes and techniques, and how to maintain best practices for archival preservation of an art collection. This is the first of four sessions. Admission is free.
Gallery Talk: Opposite and Alternate with artist Nan Montgomery
Saturday, June 29, 4 – 5 p.m.
American University Museum at the Katzen Arts Center
Join Nan Montgomery in a gallery talk about her exhibition Nan Montgomery: Opposite and Alternate, on display through August 11. Admission is free. For more information, visit: http://www.american.edu/cas/museum/index.cfm
For event details and a full list of all upcoming events, see the University Events Calendar.
For a listing of upcoming events for AU alumni, please visit the Alumni Events Calendar.