August 2020

Community Relations
4400 Massachusetts Avenue NW
Washington
,
DC
20016-8033
United States
Message from Maria Barry, Director of Community Relations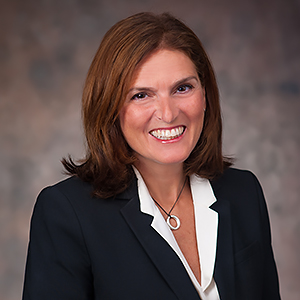 Dear Neighbors,
As our fall semester begins, COVID-19 continues to affect the American University community, including our neighbors, and the nation in many ways. While we are determined to deliver an exceptional education experience to students, we also remain vigilant in our support of the health and safety of our AU community, and the District at large.
The academic calendar remains in place, with online classes beginning August 24 (Washington College of Law on August 21) and concludes with finals the week of December 7. Select research-based or experiential courses that cannot occur online may be made available in-person in a very limited manner. Be sure to visit our AU Forward site for more information on our plans to reopen.
Throughout this modified semester, our commitment to being a good neighbor will not change. We will continue to work with you to support a positive community environment. We still expect our students to be responsible and considerate neighbors, whether they live on or off campus.
To ensure that AU students get off to a positive start in their new neighborhoods, we are offering a mandatory online orientation for students living off-campus in the 20016 and 20008 zip codes. The orientation reminds students of their responsibilities under AU's Student Conduct Code and District law. Topics include responsibilities for yard maintenance, trash and snow removal, as well as an overview of the District's noise and alcohol laws. We also inform them of their rights as tenants to a clean and safe living space, including the requirement that rental property owners obtain a Basic Business License (BBL) from the District Department of Consumer and Regulatory Affairs (DCRA). The orientation messages are reinforced by a letter to all off-campus students from the associate dean of students.
American University prides itself on its many contributions to the District of Columbia and the neighborhoods surrounding campus.  While the university works closely with students to educate them about their rights and responsibilities as residents of the District of Columbia, on occasion, they may host events or conduct themselves in ways that affect their neighbors.  In such instances, there are steps you can take to report student misconduct.  
If an incident involves an AU student, please share your concerns in one of the following ways:
Report student conduct incidents or issues using the AU Online Neighbors Complaint Report, or contact the Dean of Students Office at 202-885-3300 or dos@american.edu. 
Contact American University Police Department (AUPD) at 202-885-2527 to report student conduct issues/incidents.  AUPD will document your call information and forward it to the Dean of Students' Conduct Office for follow up. AUPD does not respond to off-campus incidents unless contacted by MPD. 
Report an emergency, unlawful activity, or violations of DC Municipal Regulations by contacting MPD: Emergency 911 or non/emergency 311.
To review the newly expanded AU Good Neighbor Guidelines, click here. 
The Good Neighbor Parking Policy remains in effect. For parking information and tickets (report a violation, void a ticket, or place your car on Do Not Ticket list), call 202-885-3111.    
Visit our COVID-19 webpage for frequently asked questions (FAQ) about  pandemic-related measures the university is taking. We will update the FAQs and provide additional details going forward. We appreciate your flexibility, understanding, and faith in us through these ever-changing times.
REMINDER: Due to COVID-19, the campus remains closed and shuttle service is unavailable to visitors, neighbors, and guests. AU's tennis courts, basketball courts, athletic facilities, track, and fields also are closed. 
I encourage you to reach out directly if you have any concerns or questions. Please contact me at mariab@american.edu or 202-885-2146. Please stay safe and healthy.
Stay well,

Maria Barry
Director of Community Relations
American University
Osher Lifelong Learning Institute Registration for Online Courses is Open Now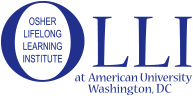 The Osher Lifelong Learning Institute (OLLI) at American University invites you to register for fall classes. Open registration period is from now until September 2. Classes run from September 21 through December 4 and will be conducted via Zoom. Most courses will meet once a week for 8-10 weeks. A few courses will meet once a week for 6-7 weeks. 
OLLI's study group leaders, curriculum committee, and staff have been working for months to prepare for the upcoming semester. To see the array of courses available and to register, click here. Individuals who prefer to print a copy of the catalog may download a PDF from the OLLI website and register online. 
There are no tests and no grades, as members participate purely for the joy of learning.  Lectures will last for 90 minutes weekly and are based on the concept of peer learning and teaching. Members come from varied backgrounds with a shared common interest in continuing their learning experiences and intellectual stimulation in an organization of like-minded people. 
This semester's discounted fee of $270 allows you to take up to four courses. You may register for three classes before the lottery and then add a fourth after you receive your class assignment letter. Be sure to register BEFORE the Fall Lottery on Tues., Sept. 8. Many courses this fall will have increased capacity so fewer classes will be impacted by the lottery. Assignment letters will be mailed shortly lottery day. 
Requests for refunds must be made in writing via email and must be submitted to the OLLI office by close of business, Fri., Oct. 2. Your payment will be refunded minus a $10 administrative fee.
If you took a spring class that was cancelled and is rescheduled for the fall, you will be given priority registration for that class if you identify it as one of your top three preferences.
Be sure also to let your friends know that registration is open and they can attend from anywhere in the world.
Visit the OLLI website for more information and to register for classes. 
If you have been a member of OLLI in the past, you may login to renew your membership.
The Osher Lifelong Learning Institute (OLLI) at American University is an association of, by, and for the people in the Washington, DC area who wish to continue to study and learn. OLLI at AU is dedicated to the proposition that learning is a lifelong process and that curiosity never retires.
Alumni and Community Audit Program Suspended for Fall 2020
As a result of COVID-19, American University's Alumni and Community Audit Program is suspended for Fall 2020.
Pausing the program enables university resources to support enrolled students as they prepare for all-online classes this fall.
In the meantime, we encourage you to seek out additional learning opportunities from our campus partners at the AU Together website. We look forward to seeing you at future Community Audit Program courses.
Women & Politics Institute Presents "Women on Wednesdays" Series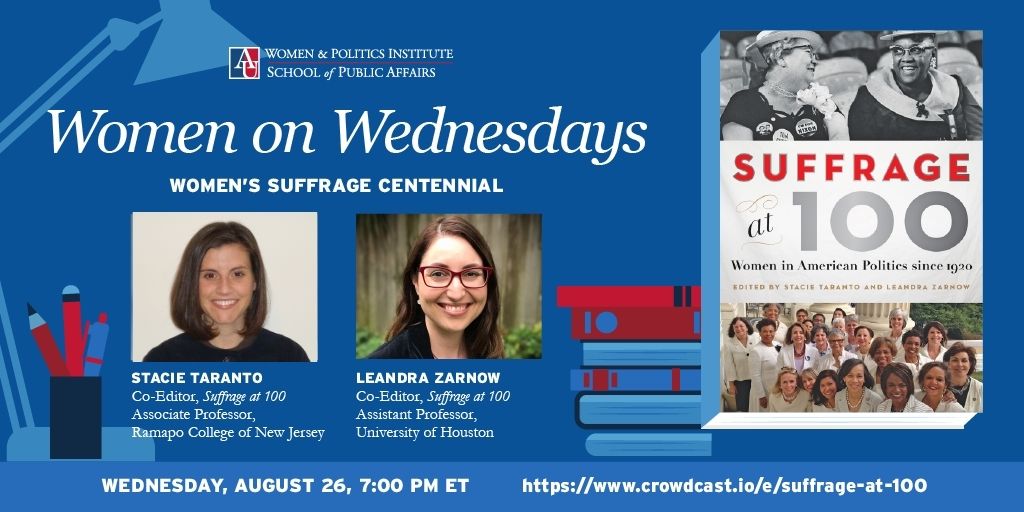 American University's Women & Politics Institute's "Women on Wednesdays" presents dynamic and though-provoking women leaders, authors, scholars, journalists, and activists. Each
Wednesday at 6 p.m., they gather online to discuss timely topics about empowering women in the political arena.
This month, the Women & Politics Institute celebrates the Women's Suffrage Centennial with a series of virtual events (see below) that commemorate the 1920 certification of the 19th Amendment to the Constitution, granting women the right to vote. 
August 26
Dr. Stacie Taranto and Dr. Leandra Zarnow, Suffrage at 100: Women in American Politics Since 1920
How Black Women Broke Barriers
September 2
Dr. Martha S. Jones, Vanguard: How Black Women Broke Barriers, Won the Vote, and Insisted on Equality for All
September 9
Lynn Sherr and Ellen Goodman, She Votes! Our Battle for the Ballot
Scholars Partner with Communities to Identify and Solve Problems

American University's Community-Based Research Scholars (CBRS) and Center for Post-Secondary Success and Readiness have been partnering with the Latin American Youth Center (LAYC) programs at DC's Roosevelt and Wilson high schools to learn how they can better support students to get into college or pursue their ideal careers.
The work began during the spring 2019 semester when AU, Maya Angelou Public Charter School, and the LAYC Career Academy joined the two DC high schools to survey students and conduct focus groups in English and Spanish to learn directly from them what they see as the barriers to post-secondary education and career planning. Then AU helped its partners formulate workable community-based solutions to help the students overcome obstacles to accessing post-high school planning, including changes to how they receive college entrance-related information.
CBRS is an experiential living-learning community for service and social-justice oriented students who want to help communities find solutions to their most pressing problems, identify avenues to effect social change, or evaluate program impact. Launched in 2014 by the generosity of AU Board of Trustee member Jeff Sine, SIS/BA '76, and Samira Sine, CBRS has worked with a variety of organizations in the DC region to tackle issues ranging from food insecurity and anti-hunger efforts to homelessness.
"The philosophy underpinning the community-based research approach is that community members are the experts on the problems and challenges that exist within their communities, and, therefore, are the best qualified to find solutions to the social issues that affect them," says CBRS Director Jane Palmer. "Our role is to assist in facilitating the process to arrive at those solutions."
To prepare for their work, the scholars train in community-based research methods that include how to administer surveys and focus groups and how to directly communicate with DC residents to gain a better understanding of their challenges. They also learn about DC's history; issues of power, privilege, and inequality; and research ethics.CBRS work is a true partnership with the community, and scholars recognize that mutual respect and exceptional listening skills are key.
"Change is a long and continuous process, but we are able to see how our collaborative work can make a significant impact," says Kathryne McCann, SOC/BA '22. "Rather than assuming we know what's best and simply recommending or dictating solutions, it's important that we instead listen to members of the community, seek more information and understanding, and work in partnership to effect the changes they seek."
With the 2020 spring semester, the scholars began addressing the issues and obstacles related to college access and career planning for D.C. students that they identified in their initial research findings. Partnering with the LAYC at Roosevelt and a teacher at E. L. Haynes Charter School, the scholars began teaching students how to conduct their own action-oriented, community-based research. They met weekly with students to help them identify issues they wanted to change at their schools and administer their own surveys of their peers, so they could experience the research process firsthand. The idea was to help with their college or career plans and learn how data provides the knowledge the community needs to help solve its problems.
"We set about to empower the students themselves to channel their lived experiences to improve their own high school community and better integrate their immigrant classmates—particularly those whose dominant language was not English," says CBR Scholar John Boyle, SIS/BA '23.
Then the COVID-19 pandemic hit, and by mid-March in-person volunteering with Roosevelt and Haynes had to be put on hold as the scholars reimagined what community-based learning looks like in the age of coronavirus. The students spent the remainder of the spring semester and the summer analyzing data and developing an Action Research 101 curricula for future use by their partners and students. Other scholars are helping Thrive DC with virtual research projects about how homelessness intersects with issues such as racial equity, reentry from prison, victim services, and financial literacy.
A previous year's cohort that included Mary Jane Builes, SIS/BA '21, a former CBRS program associate and teaching assistant, worked with DC Hunger to address food insecurity in local communities and help create a prototype for simplified Supplemental Nutrition Assistance Program (SNAP) applications for seniors that is still in use today.
"One of the gratifying aspects of the CBRS program is that we have the opportunity to equip our partner organizations and communities with the tools to continue to address their issues—long after our formal involvement with them—by modifying and expanding upon the community-based research methods we've introduced," Builes says.
Many scholars volunteer with their nonprofit organizations long after the initial work is completed. For example, Keahi Scott, CAS/BA '22, has been volunteering for two years with Thrive DC serving breakfast and preparing grocery bags for people experiencing homelessness in the Columbia Heights neighborhood.
"Dr. Palmer emphasized in our classes the importance of sustained relationships when conducting community-based participatory research," Scott says. "By continuing to work with Thrive DC, I am furthering my connections within the community and gaining still greater insights into its dynamics."For McCann, the success of CBRS hinges on sustaining engagement, cultivating collaboration, and realizing that small acts go a long way.
"Through my CBRS and Thrive DC experiences, I have been able to work directly with the people I sought to help, and often in ways that most people would overlook—like simply giving out an extra pair of socks, or even just sitting to have a quick conversation with someone in need," McCann says. "As much as systemic changes are sometimes needed, never underestimate the importance or the impact of small gestures.