American University Student Move-In Dates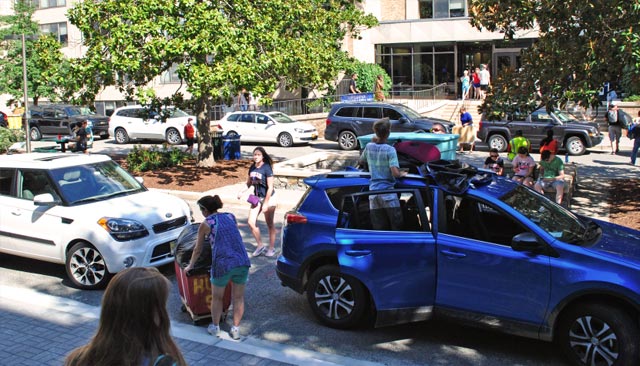 Once again, it's that time of year when new and continuing students return to American University's campus for the start of a new academic year. Incoming students and their families are expected to arrive on campus during a staggered move-in spread out over a six-day period between Sunday, August 22 and Friday, August 27. To help us to manage traffic to campus and support health and safety practices, students are signing up for specific move-in appointments between 9 a.m. and 5 p.m.
Cars will be directed to enter both Fletcher and Glover Gates for drop-offs. To minimize disruption to the local community, American University Police Department and campus volunteers will be present at our gates to direct traffic. More than 200 faculty, staff, and volunteers also will be present to facilitate the orderly drop-off of students. Neighbors are invited to volunteer to welcome students to campus. 
Masks will be required indoors and outdoors during the move-in period, given the number of visitors and the density of people on campus.
For more information, visit the move-in days page.
Library Hours and Opening Plans for the AU Community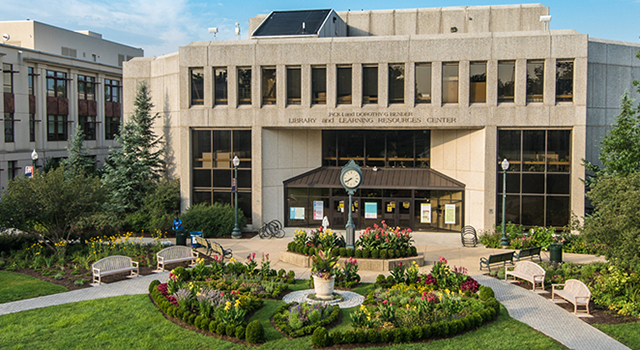 American University's Bender Library will reopen on Monday, Aug. 9. Initially, the library will be open only to AU students, faculty, and staff, Monday through Friday only from 9 a.m. – 5 p.m. The library will reopen to the general public on Monday, August 30.
For COVID safety and contact tracing, the university will require neighbors to continue to make reservations to use the library.  Library access to students, faculty, and staff will require AU ID cards to enter the library building for the remainder of the summer and fall semesters.  
Bender Library Building Hours*
August 30 – September 25
M – F: 8 a.m. – midnight (9 a.m. – 9 p.m., weekends)
Beginning September 26
M – Th: open 24 hours
Friday: Closing at 9 p.m.
Saturday: 9 a.m. – 9 p.m.
Sunday: open at 10 a.m.  
*Subject to change depending on the public transportation and campus shuttle schedules.
Circulation and Media Service Desk Hours*
 Beginning August 30 
M – Th:  9 a.m. – 10 p.m.
Friday:  9 a.m. – 8 p.m.
Saturday:  11 a.m. – 8 p.m.
Sunday:  11 a.m. – 10 p.m.
*Subject to change depending on the public transportation and campus shuttle schedules.
Research Assistance Desk Hours
Beginning August 30
M – Th: 10 a.m. – 9 p.m. (in-person and remote)
Friday: 10 a.m. – 6 p.m. (in-person and remote)
Saturday – Sunday: 1 p.m. – 6 p.m. (Remote only)
Music Library Hours
Beginning August 30
M – Th: 9 a.m. – 8 p.m.
Friday: 9 a.m. – 5 p.m.
Saturday: 11 a.m. – 4 p.m.
Sunday: Closed
University Ave Gate and Key Fob Update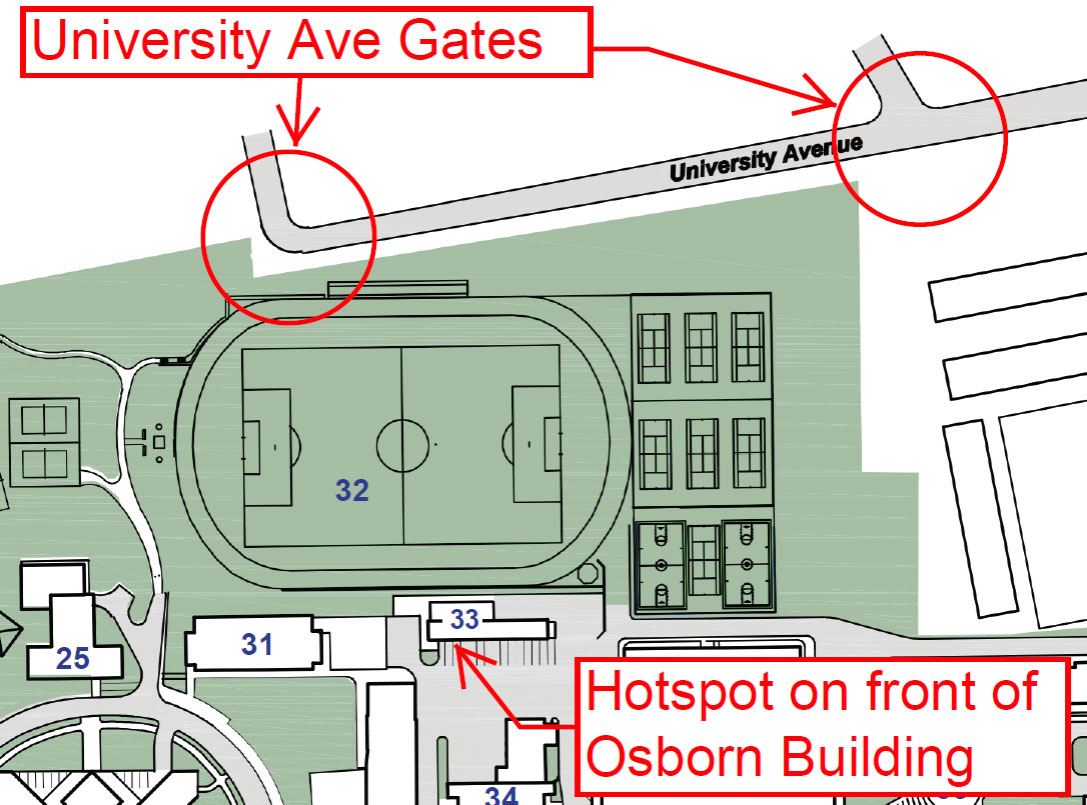 As American University resumes on-campus operations, effective September 20, the gates along University Ave. will once again be locked. 
Neighbors who live currently in the 20016 Zip Code and have an access fob will need to visit the Osborne Building on the university campus prior to September 20 and use a "hot spot" to reactivate their fobs.  
To update your gate access fob:
Present the fob to a Hotspot on American University's campus.
The closest Hotspot reader is mounted outside of the entrance door furthest from the basketball courts in front of the Osborn Building. It can be accessed by walking from the track, past the basketball courts, and making a right-hand turn.  
To update your fob, hold it up to the Hotspot for five seconds. When the light stops blinking, it is updated.
Those who update their fobs after September 20 will be required to find an alternative route to the Osborne Building. (See map and directions to reactivate fobs).
If you have lost or damaged your fob, or you are a new neighbor living in the 20016 Zip Code, you may receive a replacement fob at AUPD (Don Myers Building, 3501 Nebraska Ave., lower-level terrace), Monday through Friday, 9 a.m. to 5 p.m. Be sure to bring proof of your address (driver's license, electric bill, or lease). 
If you live in the Fort Gaines neighborhood, no action will be required. 
For more information, contact Doug Pierce.
American University Announces New Chief Financial Officer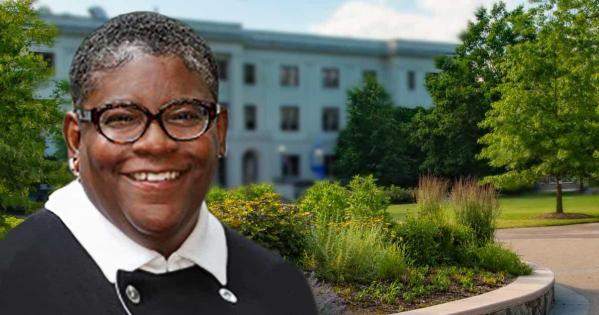 American University President Sylvia Burwell recently announced the appointment of Bronté Burleigh-Jones as American University's new chief financial officer (CFO), vice president, and treasurer. Burleigh-Jones will join AU officially on October 4.
Burleigh-Jones comes to AU at an important moment of opportunity as the university continues major initiatives including the ongoing implementation of the Changemakers for a Changing World strategic plan, launch of the newly approved Campus Plan (following final action by the DC Zoning Commission), and advancement of the Change Can't Wait comprehensive campaign. As the principal steward of AU's finances and leader of campus facilities and operations, Burleigh-Jones will play a vital role in supporting students and building the AU community of the future.
A double Eagle (Kogod/BS '91, Kogod/MBA '93) and a seasoned financial executive, Bronté served as the vice president of finance and administration at Dickinson College in Pennsylvania for the past eight years. In this role, she led a college-wide financial task force to create a plan for revenue enhancements and operational efficiencies, developed a multi-year facilities management framework that included LEED-certified new construction, and implemented an institutional operating reserve policy.
Previously, Bronté was the treasurer at St. John's College and vice president for finance and administration (among other roles) at Huston Tillotson University. She holds a Ph.D. in higher education administration from the University of Texas and served as chair of the Higher Education Resource Services Board of Trustees and as a member of the Middle States Commission on Higher Education. During her education at AU, Bronté was a Frederick Douglass Scholar and an active member of the Black Student Alliance and the Nu Alpha Chapter of Delta Sigma Theta Sorority, Incorporated.
Bronté succeeds Doug Kudravetz, who served the AU community for more than 35 years.
Please join AU in congratulating Burleigh-Jones and welcoming her back to American University.  
The Osher Lifelong Learning Institute (OLLI) Fall Registration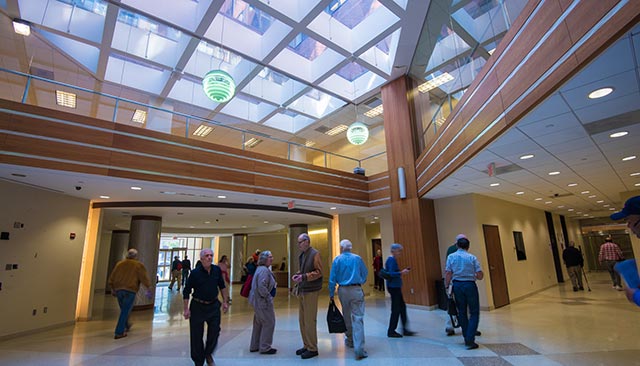 The Osher Lifelong Learning Institute (OLLI) at American University invites you to register for fall classes. The open registration period is from now through September 6.  The study groups (classes), based on peer learning and teaching, meet for 90 minutes on the same day and time each week from September 20 to December 3. Members come from varied backgrounds with a shared common interest in continuing their learning experiences and intellectual stimulation in an organization of like-minded people. 
For a membership fee, participants may enroll in up to three study groups. Study Group Leaders (instructors) receive free classes either during the session in which they teach or the following one. There are no tests or grades, as members participate purely for the joy of learning. In addition to study groups, OLLI offers a Friday Lecture Series during each semester and additional talks called Serendipities.
To become a member of OLLI, simply create an account, pay a discounted membership fee of $270, and register for the study groups of your choice during open registration. When registering, list the classes you'd like to take in order of preference. All registrations are pending until September 7, the fall semester's Lottery Day. If a study group is oversubscribed on Lottery Day, registrations in that class are determined by a random, computerized lottery.
For the fall semester, OLLI is offering classes in three formats: Online Only, In-Person Only, and Hybrid. In hybrid classes, the Study Group Leader and some members of the class are in-person while other members participate via Zoom. When registering for a hybrid class, you must select whether you want to attend in-person (Hybrid In-Person) or by Zoom (Hybrid Zoom). List both formats if the class is a priority and you are willing to attend either format. Given the greater number of options, you now can prioritize up to 12 classes for the lottery, instead of just six. The lottery will then assign you to up to three classes. The membership fee allows you to register for three study groups before the lottery and then add a fourth after you receive your registration confirmation letter.
Benefits to becoming an OLLI member include: 
Eligibility to enroll in up to three study groups in a semester, plus an additional one after class assignment letters are e-mailed.
Opportunity for increased social interaction and new friendships based on a shared interest in learning; and informal lunchtime discussions and special events such as open houses or the holiday party.
Invitation to attend Special Events featuring day trips, museum tours, happy hours, and other activities.
Invitation to attend a holiday party held in December.
Eligibility to enroll in February and July "Shorts," three- to five-day immersion study groups; and June "Minis," study groups which are one session per week for four weeks.
Visit the OLLI website for more information and to register for classes. 
If you have been a member of OLLI in the past, you may login to renew your membership.
If you are interested in becoming a Study Group Leader at OLLI, please contact the OLLI office at olli@american.edu or view more information about teaching here.
The Osher Lifelong Learning Institute (OLLI) at American University is an association of, by, and for the people in the Washington, DC area who wish to continue to study and learn. OLLI at AU is dedicated to the proposition that learning is a lifelong process and that curiosity never retires.
Art All Night returns live and in person September 25 – Volunteers Wanted!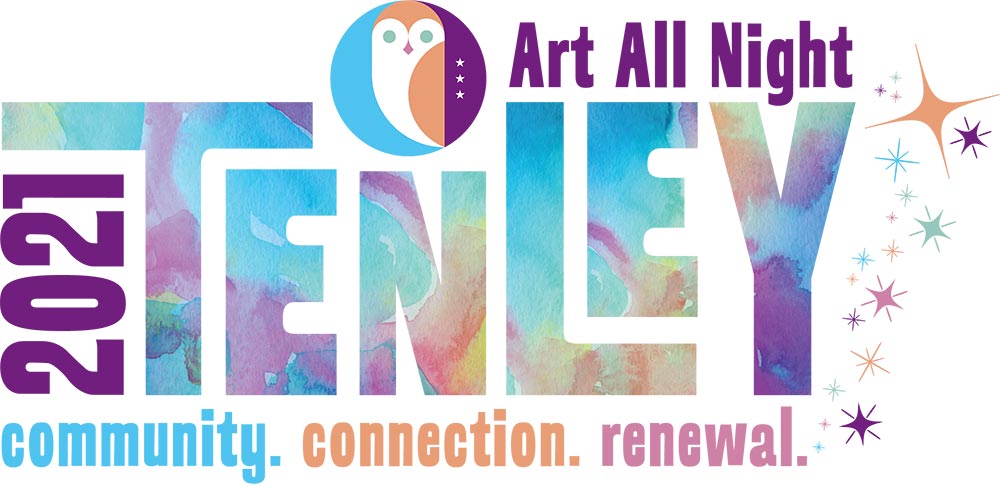 Art All Night returns to Tenleytown on Saturday, September 25, from 7 p.m. to midnight, and Tenleytown Main Street invites you to join their volunteer team. Volunteers will help the community celebrate and showcase its local visual and performing arts talent.
As our city and neighborhood emerge from more than 18 months of social, economic, and public health crises, Art All Night will celebrate the arts as a catalyst for community, connection, and renewal. Public and private spaces throughout Tenleytown will transform once again into pop-up galleries and performance stages to welcome artists from across the DC Metro Area.
Whether you want to help craft the vision for this year's festival, work closely with a single art or performance venue, or prefer to volunteer a couple hours during the event, there are opportunities for every level of interest and availability. All volunteers receive a free t-shirt as a thank-you gift, and get to work with a fun, creative team. Find out more about Art All Night and volunteer opportunities by visiting www.tenleytownmainstreet.org/event/art-all-night or call 202-362-1815.
This year's celebration promises an evening of music, dance, and the visual arts, including: painters, sculptors, photographers, and other visual artists; ensembles showcasing dance from around the world; live music, ranging from classical to bluegrass to rock; and an array of martial artists, circus performers, and even mermaids. Art All Night in Tenleytown offers something for every art lover at every age. As always, Art All Night is free to attend.
Tenleytown Main Street has hosted Art All Night annually since 2016, featuring hundreds of artists and performers and welcoming 15,000+ art lovers to the business district each year.
American University is a proud sponsor of Art All Night in Tenleytown. The American University Museum at the Katzen Arts Center invites Art All Night attendees to a special after-hours viewing of their early fall exhibitions as part of the festival. Free shuttle service will be available between the museum and the Tenleytown Metro plaza, connecting visitors to all Art All Night has to offer in Tenleytown.
Call For Artists to Inaugurate Pepco's Harrison Window Gallery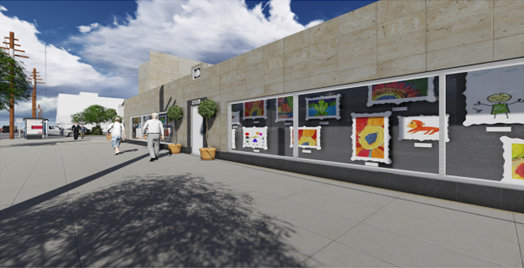 Pepco has announced a call for artists to help inaugurate the launch of Pepco's Harrison Window Gallery, located at 5210 Wisconsin Ave., NW. 
Pepco, in partnership with the Office of Ward 3 Councilmember Mary Cheh, Advisory Neighborhood Commission 3E, and Tenleytown Main Street, invites District of Columbia artists to submit proposals for a rotating art installation to decorate the building façade's six windows. Artists will be selected through a panel review process evaluating the criteria outlined in the submission application.
The Harrison substation, which has provided electric service to the community for more than 80 years, was designated as a historic site by the District's Historic Preservation Review Board in 2017 in recognition of the art deco styling and historic nature of its Wisconsin Ave. façade.
For more information, visit the Tenleytown Main Street website or contact pepcowindowproject@pepco.com. 
AU utilizes "trigeneration" to cool campus efficiently during summer months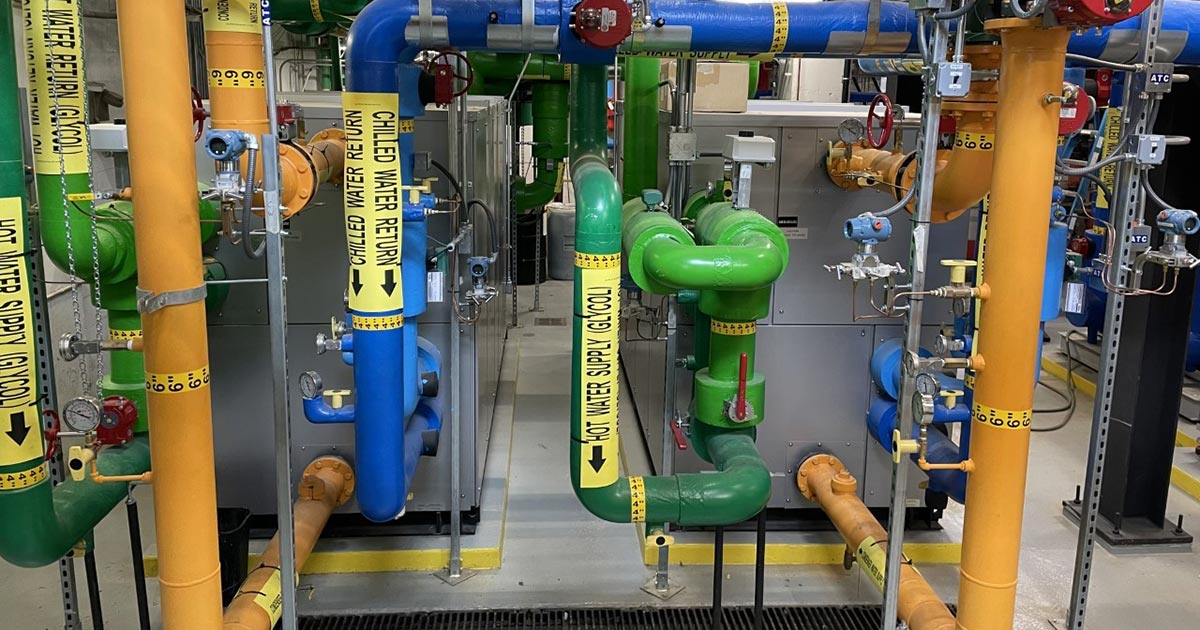 Maximizing energy efficiency during the summer months is an annual challenge faced by American University's Energy and Engineering team. To address this concern, university engineers have taken advantage of the new Low-Temperature Hot Water system and the electrical generation cogeneration plant to capture waste heat and use it to cool campus buildings. The process, known as trigeneration, is just the latest step in a multi-year effort towards greater on-campus heating and cooling energy efficiency.
The university's cogeneration plant converts ignited natural gas into hot water which is then converted to heat and electricity to provide heat for campus buildings, domestic water needs, and power for campus activities. Exhaust waste heat from the process drives absorption chillers that help cool our science buildings in the summer. The cogeneration process not only reduces the number of boilers needed to distribute hot water and heat to campus buildings, but also the significant amount of wasted heat that otherwise would be emitted into the atmosphere. Most notably, the cogeneration plant's one-megawatt gas-fired, micro-turbine system reduces AU's electric utility load by more than 7,800 MWHs per year, a load reduction that equates to roughly the amount of energy used by 750 homes in one year. 
During the summer months, when there is less need for recovered heat, the overall efficiency of cogeneration drops from around 75 percent to something closer to 35 percent. It becomes both economically and operationally non-viable to continue to run our micro-turbines. This poses a challenge in the effort to maximize the efficiency of cogeneration technology during a time of year when the campus electric load and utility electric prices are generally at their peak – not to mention the stresses on the regional utility grids as well.
To address this challenge, AU engineers have introduced the trigeneration process to cogeneration through the use of recently commissioned absorption chillers (part of the university's chilled water master plan). Trigeneration directs recovered waste heat produced by the cogeneration plant – captured as hot water – to the absorption chillers where it is converted into chilled water. The generated chilled water is then used for air conditioning. This process has proven to be so effective that it doubles the efficiency of the combined system's performance during summertime.
What makes trigeneration especially significant is that it allows the cogeneration plant to operate energy-efficiently and economically year-round. Through existing technology and applied innovation, AU's engineers use of trigeneration helps the university achieve its collective mission and goals for responsible fiscal and environmental management.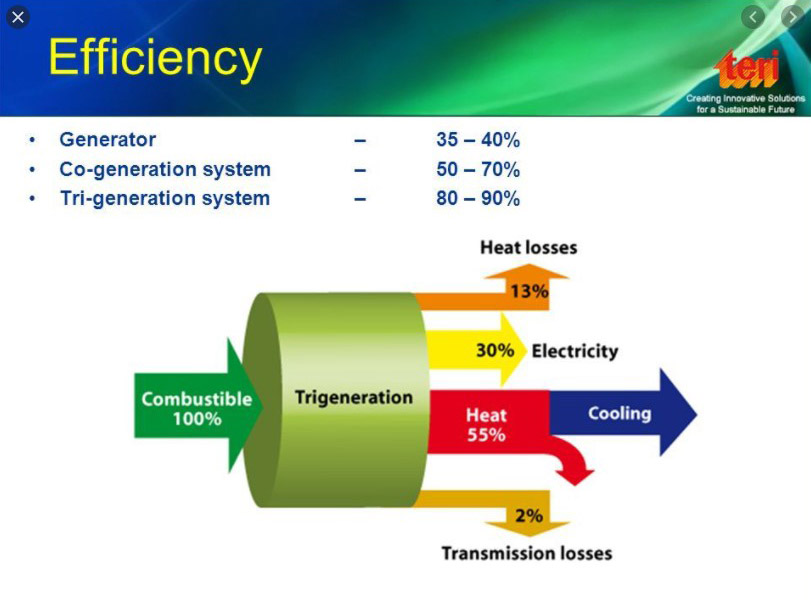 Heating and cooling efficiency with AU's trigeneration system