December 2017

Community Relations
4400 Massachusetts Avenue NW
Washington
,
DC
20016-8033
United States
Plaza Dedicated on AU Campus Honoring Julian Bond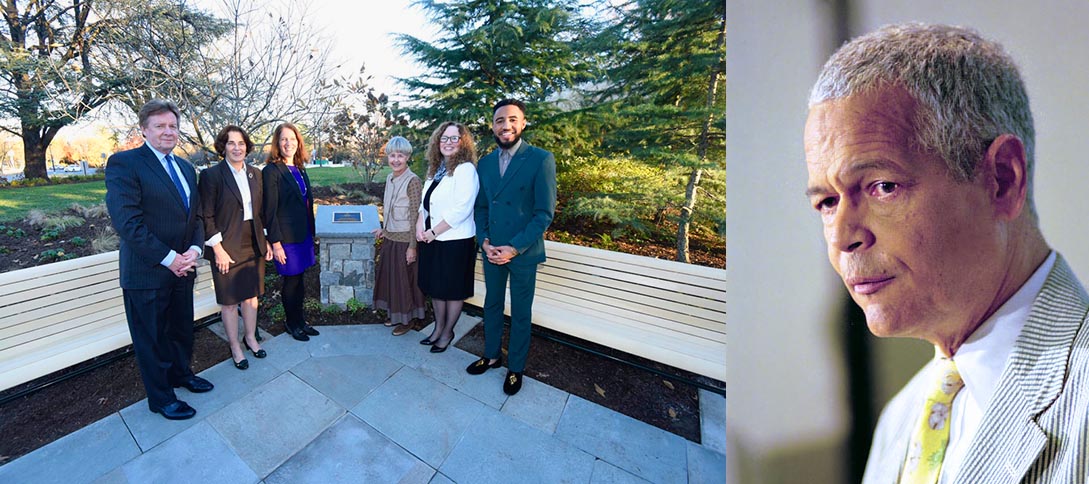 American University commemorated the life and legacy of civil rights icon and AU Distinguished Adjunct Professor Julian Bond recently by dedicating a space on campus along Massachusetts Ave. NW as the Julian Bond Plaza. The tree-lined space is marked by the installation of two benches and a plaque in memory of Bond. The benches are intended for faculty, staff, students, and visitors to the AU campus to sit and reflect on the principles and values that Bond promoted during his lifetime.
The plaza dedication was attended by university officials, local political figures, faculty, staff, students, friends, and neighbors. Speakers included AU President Sylvia Mathews Burwell, President Emeritus Neil Kerwin, Ward 3 DC Councilmember Mary Cheh, Interim Dean of the School of Public Affairs Vicky Wilkins, AU alumnus and Julian Bond mentee Deon Jones, as well as Bond's wife Pamela Sue Horowitz.
The speakers all echoed similar accolades for Bond's lifetime of achievements, inspiration, and influence. They noted that Bond created a positive and lasting impact on the world, and were certain that his work would continue to engage and inspire for generations to come.
During Bond's storied career he co-founded the Student Nonviolent Coordinating Committee in 1960; led student protests against segregation in public facilities and the Jim Crow laws in Georgia in the early 1960s; traveled throughout the South to help organize civil rights and voter registration drives in the mid 1960s; helped to found the Southern Poverty Law Center in 1971; served four terms in the Georgia House of Representatives; served as chairman of the NAACP; and taught at Harvard, Drexel, and American Universities.
AU Athletics Offering Free Admission to Military & Veteran Community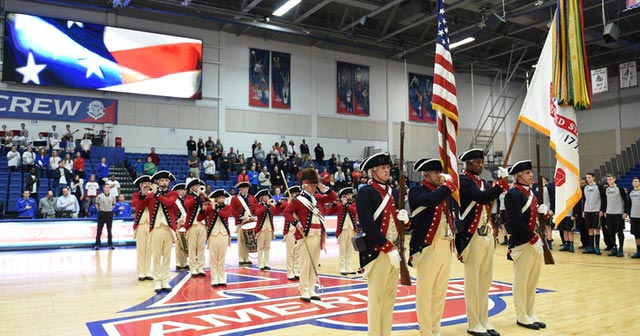 American University Athletics has announced a new ticket initiative that offers military veterans, active duty military, and retired military personnel free admission to all home contests, including the upcoming men's basketball, women's basketball, and wrestling seasons in Bender Arena.
With a valid Military ID or Veteran identification (Ex. VA ID), fans will receive free admission to support and cheer on the AU Eagles to victory. For men's basketball games, reserved seating will be available in courtside sections 101 and 106 (Rows K & L) and assigned end-zone seating is available. Women's basketball and wrestling are general admission.
American University Athletics also continues its proud partnership with the Wounded Warrior Project, inviting wounded servicemen and servicewomen to be honorary guests and enjoy AU Athletics events with their families.
"Honoring the service of our military neighbors is extremely important to us and we hope many will take the opportunity to come cheer on our teams," said AU's Director of Athletics and Recreation Dr. Billy Walker, Brigadier General, USAF (Ret).
The Eagles will host a number of Military Appreciation events again this season, including:
Saturday, Dec. 2 - Women's Basketball vs. Youngstown State, 2 p.m.
Monday, Jan. 8, 2018 - Men's Basketball vs. Army West Point, 7 p.m.
Friday, Jan. 19 - Wrestling vs. Navy, 7 p.m.
Wednesday, Jan. 31 - Men's Basketball vs. Navy, 7 p.m.
Saturday, Feb. 11 - Women's Basketball vs. Army West Point, 2 p.m.
For more information, contact Benjamin Zenker, Assistant Director of Ticket Sales and Marketing at 202-885-TIXX or via email at benz@american.edu.
To purchase tickets and view full schedules click here!
Meeting of Community Liaison Committee Slated for December 5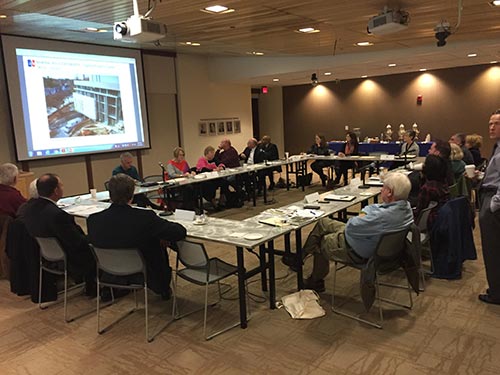 American University's Community Liaison Committee (CLC) will hold a quarterly meeting on Tuesday, December 5.
The meeting will begin at 7 p.m. in the Abramson Family Founders Room in the School of International Service (SIS) building on the university's main campus (4400 Massachusetts Avenue, NW). Neighbors are invited to join AU staff at 6:30 p.m. for pre-meeting coffee and conversation. Parking for the meeting is available in the SIS garage.
The CLC was established to foster positive relations and to maintain regular communication between the university and its neighbors. As specified in the D.C. Zoning Commission Order for AU's 10-year Campus Plan, the CLC comprises individuals from neighboring community organizations and representatives from the university.
Additional information on the CLC, including meeting agendas and minutes can be found at http://www.american.edu/communityrelations/clc/index.cfm.
Fall Commencement Slated for December 17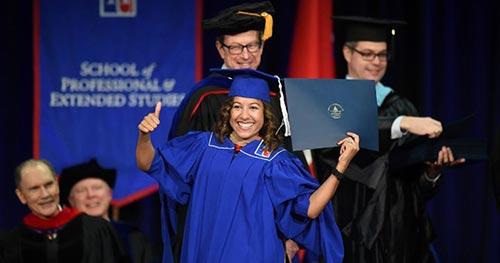 American University's fall commencement ceremony will take place on Sunday, December 17 at 10 a.m. in Bender Arena on AU's main campus. The university anticipates increased activity around campus, as families and friends visit for the occasion.
All parking areas on campus will be open for commencement and participants have been encouraged to use public transportation and reminded of AU's Good Neighbor parking policy.
American University awarded its first degrees (two doctorates and one master's degree) in 1916 at a commencement ceremony held in the university's amphitheater. AU commencements have grown over the years as the university has become larger and more diverse. More than two thousand students from AU's six schools and colleges participate in commencement ceremonies each year.
For additional information on AU's fall commencement, please visit http://www.american.edu/commencement/fall/.
AU to Close for Winter Break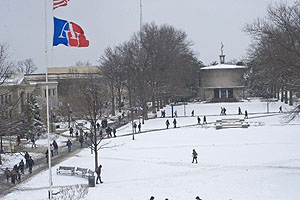 American University will be closed for eleven days during the winter holiday season. Offices and buildings, including Bender Library, will be closed from Saturday, December 23 through Monday, January 1. The university will reopen on Tuesday, January 2, 2018.
During the break, Public Safety staff will provide emergency services and will continue routine patrol of the campus. The AU Shuttle also will not operate during the break.
Neighbors Invited to Town Hall with President Burwell & New Year's Reception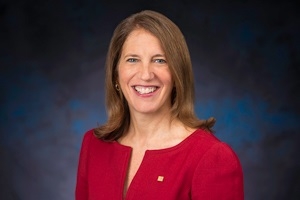 American University cordially invites its neighbors to the annual Town Hall meeting with President Sylvia Burwell, to be followed by a New Year's reception on January 4, 2018.
The Town Hall will begin at 7 p.m. in Room 201 of the Katzen Arts Center. Parking for the event will be available in the Katzen garage. The Town Hall will be followed by a New Year's reception at 8 p.m. on the second-floor rotunda of the Katzen Arts Center. Both events are open to the entire community.
AU Fraternity Hosts Neighborhood Clean Up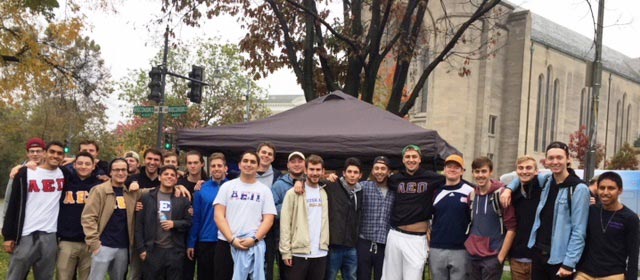 American University students participated in a local clean-up effort as part of the Tenleytown Main Street's (TMS) Clean & Green initiative recently. The students joined TMS to help maintain sidewalks and green spaces throughout the local business district.
The clean-up effort was the result of the efforts of Alpha Epsilon Pi President Julian Turner and TMS to develop a mutual partnership. Turner was instrumental in helping to organize the clean-up day and encouraged members of his fraternity as well as Sigma Alpha Mu to participate in the effort. The students mulched street trees and picked up litter to help beautify Tenleytown.
With the success of the clean-up efforts, TMS is expected to continue its partnership with the student organizations and looks forward to other similar efforts with members of the AU community.
American University students have a history of civic involvement with the Tenleytown community through such efforts as the TMS volunteer programs, the annual Earth Day beautification day, and other clean-up events.
To learn more about Tenleytown Main Street, visit www.tenleytownmainstreet.org.
Arab Modern and Contemporary Works from the Barjeel Art Foundation
Now through December 17, 11 a.m. - 4 p.m.
Katzen Museum First Floor Exhibition
This exhibition, Between Two Rounds of Fire, The Exile of the Sea, draws on a diverse selection of works from the collection of the Barjeel Art Foundation, United Arab Emirates, that illustrates an array of technologies of conflict. Conflict is defined in a wider sense and refers to what takes place on either a sociological or psychological plane, through assertions of language, between histories or between peoples, and the body itself. The exhibition explores mechanisms of power and of the power of artists to employ them in their work.
Radix: The Eternal Feminine
Now through December 17, 11 a.m. - 4 p.m.
Katzen Museum Third Floor Exhibition
RADIX is a painting and assemblage collaboration of three Washington, DC artists Cianne Fragione, Pat Goslee, and Anne Marchand, who all worked with the common concept of the "Eternal Feminine." Seen as an original dynamic and cosmic force, "Eternal Feminine" may be understood as a spiritual being or essence that gives hope and light in dark times. Defying simple definition, this concept has different but analogous meanings for each artist. Each found a means to express the "Eternal Feminine" in contemporary and abstract terms, and from her own perspective.
Recent Acquisitions to the Rothfeld Collection of Contemporary Israeli Art
Now through December 17, 11 a.m. - 4 p.m.
Katzen Museum Second Floor Exhibition
The Rothfeld Collection of Contemporary Israeli Art, part of the American University Museum's permanent collection, inspires dialog about political and cultural issues involving Israel through the paintings, sculptures, and mixed media work of prominent and emerging Israeli artists. The collection was gifted to the AU Museum by Donald Rothfeld in 2011 and has been growing ever since.
Tethered To The Cradle: Kinetic Work by Christopher Carter
Now through December 17, 11 a.m. - 4 p.m.
Katzen Museum First Floor Exhibition<
Christopher Carter's substantial and important sculptures are intended to invite viewer interaction, reflection, and contemplation. The ready-made forms draw on Carter's experiences and memories of his adolescence for their inspiration. The individual pieces comprising the totality of the work resonate and interact with each other, eliciting viewers to reflect on the weight and meaning of their own experiences of growing up. Carter is a contemporary American artist and sculptor of African-American, American Indian, and European descent who was born in New Mexico, grew up in Massachusetts, and lives and works as a full-time artist in Miami.
The Trawick Prize
Now through December 17, 11 a.m. - 4 p.m.
Katzen Museum First Floor Exhibition
The Alper Initiative for Washington Art celebrates an award that has become synonymous with Washington, DC-area artistic talent: The Trawick Prize for Contemporary Arts. One of the first regional competitions that annually recognizes visual artists, The Trawick Prize was established by Carol Trawick, a longtime community activist in Montgomery County. The Trawick Prize exhibition features new works by the Best in Show recipients of the award over the last 15 years: Lauren Adams, Richard Cleaver, Larry Cook, Neil Feather, Mia Feuer, Lillian Bayley Hoover, Gary Kachadourian, Maggie Michael, Jonathan Monaghan, Jiha Moon, David Page, James Rieck, Jo Smail and Rene Trevino.
William Woodward: The Seven Deadly Sins
Now through December 17, 11 a.m. - 4 p.m.
Katzen Museum Third Floor Exhibition<
For the past two decades, William Woodward has delved into the rich history and aesthetic possibilities of the seven deadly sins as a subject matter for our own time. The master drawings and narrative paintings in this exhibition continue the artist's fascination with painting figures and animals, which began more than 25 years ago while painting his landmark 880-square foot circus mural at the Ringling Museum in Sarasota, Florida. Woodward's version of the sins owes a great deal to the films of Federico Fellini, Charlie Chaplin, Buster Keaton, and the commedia dell'arte tradition. The artist tries to imagine, had these directors and actors been painters, how they might have depicted their subjects in whimsical and elusive ways rather than strident and explicit interpretations. In creating The Seven Deadly Sins, Woodward is not preaching about sin. Rather, he paints pictures that no one, including himself, had ever seen before.
Friday Gallery Tours
December 1, 8, 15 11:30 a.m. - 12:30 p.m.
Katzen AU Museum
Free, docent-led tours of the Fall Exhibitions are held every Friday through December 15. Tours highlight themes of the current exhibitions and last 45 minutes to one hour. Tours meet at the museum front desk at 11:30 a.m. No RSVP required. For more information, visit http://www.american.edu/cas/museum/events.cfm .
Mid-Century Modern
December 1, 7:30 – 9:30 p.m.
Abramson Family Recital Hall
The AU Workshop contemporary music ensemble presents a concert exploring music from the mid-twentieth century by composers from around the world. Tickets: $5–10.  RSVP: http://auartstix.universitytickets.com/user_pages/event.asp?id=214&cid=33
Women's Basketball vs. Youngstown State
December 2, 2 – 4 p.m.
Bender Arena
Totally Tchaikovsky
December 2, 7:30 – 9:30 p.m.; December 3, 3 – 5 p.m.
Abramson Family Recital Hall
The AU Symphony Orchestra's season-opening concert will be devoted exclusively to the Russian master of masters, Pyotr Ilyich Tchaikovsky. Jessica Bauer, student winner of AU's 2017 Concerto and Aria Competition, will play Tchaikovsky's Violin Concerto in D, and the orchestra will tackle his epic Fifth Symphony. Tickets: $5–10. RSVP: http://www.american.edu/auartstix/
Yoga in the Galleries
December 6, 13, 10 a.m.
American University Museum at the Katzen Arts Center
Led by certified Kripalu Yoga teacher Eva Blutinger, this yoga class provides mental clarity and relaxation in the peaceful surroundings of our art galleries. Please bring a mat. Cost is $10 for non-members, $5 for museum members, and free for members at the Associates level and above. www.tinyurl.com/ aumtickets.
Women's Basketball vs. University of Denver
December 9, 12 – 2 p.m.
Bender Arena
Men's Basketballs vs. Howard University
December 9, 4 – 6 p.m.
Bender Arena
Men's Basketball vs. Mount St. Mary's
December 18, 7 – 9 p.m.
Bender Arena
Women's Basketball vs. Penn State University
December 20, 1 – 3 p.m.
Bender Arena