Community Relations
4400 Massachusetts Avenue NW
Washington
,
DC
20016-8033
United States
Neighborhood Movie Night Slated for August 17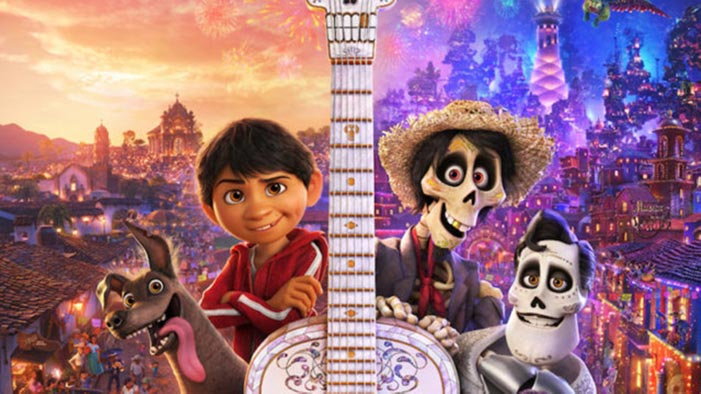 Mark your calendars now for August 17 and plan to bring a picnic and the whole family to campus for an outdoor screening of the animated hit movie, Coco.
Coco is the story of an aspiring musician, Miguel, who is confronted with his family's ancestral ban on music, and enters the Land of the Dead to find his great-great-grandfather, a legendary singer.
The movie will be screened at the Woods-Brown Amphitheatre at 8 p.m. and will include a special performance by local legend The Great Zucchini. Free popcorn will be provided and all are welcome to attend.
For additional information, contact Andrew Huff, Director of Community Relations at 885-2167 or ahuff@american.edu.
AU's Linda Argo Honored by D.C. Councilmember Mary Cheh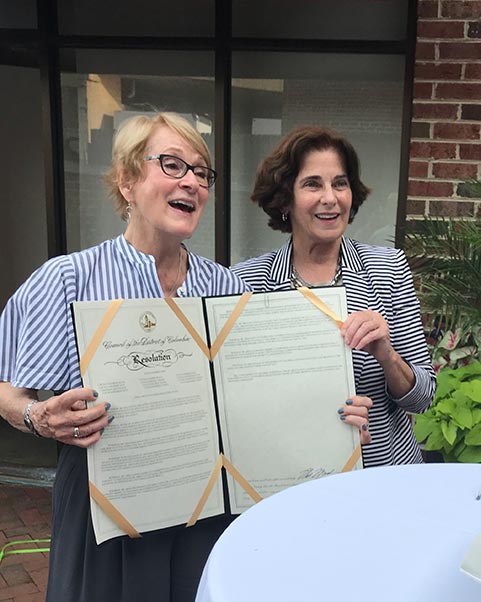 When Linda Argo, AU's Assistant Vice President for External Relations and Auxiliary Services, retired recently, the Council of the District of Columbia formally recognized her career of service to the city and her eight-year tenure at American University. To mark the occasion, the Council issued the "Linda Argo Recognition Resolution of 2018." Ward 3 Councilmember Mary Cheh presented the resolution to Argo at a gathering to celebrate her retirement.
The resolution cited Argo for her many contributions to advancing the relationship between American University and the Ward 3 community, including:
Recognizing the need for a stronger and more dynamic and responsive relationship between AU and its surrounding community, where she played a guiding role in the operation of the Community Liaison Committee (CLC) and the establishment of the AU Neighborhood Partnership;
Helping to establish the AU Neighborhood Partnership, the first formal collaborative effort between the university and its adjacent neighbors;
Successfully overseeing AU's compliance with its 2011 Campus Plan; and
Co-chairing AU's Social Responsibility Project Team, which addressed concerns in the community related to the sale of sweatshop-free merchandise on campus, the purchase of goods free of conflict minerals, and eliminating bottled water on campus.
The resolution also recognized Argo for her past contributions at the District's Office of the Chief Technology Officer and Department of Consumer and Regulatory Affairs (DCRA). She was cited for helping to improve functions of local government which resulted in significant advancements in agency responsiveness, community relationships, and greatly improved services at some of the District's largest institutions.
Argo joined AU in 2011 after the university established a position designed specifically to utilize her exceptional organizational skill set, leadership capabilities, and expertise in strategic leadership, relationship management, and community outreach.
Community Audit Program Gears Up for Fall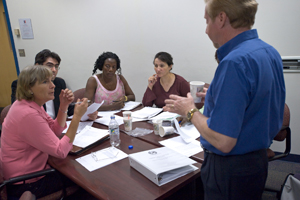 Although summer is just settling in around campus, it is not too early for our neighbors to start thinking about enrolling in a class this fall as part of AU's Community Audit program.
The program offers adults ages 60 and older, who live in the 20016, 20007, 20008, and 20015 zip codes, the opportunity to attend university courses on a noncredit basis for a modest charge. Auditors may listen to the same lectures and work from the same texts as enrolled students.
For just $100, $75 of which serves as a donation to the Alumni Association Scholarship Fund, neighbors are provided with a rewarding way to enhance professional skills, take classes with popular professors, or delve into a new hobby, and pursue a commitment to lifelong learning. The Alumni Association Scholarship is awarded every other year to an AU freshman legacy student.
"The community audit program is another great benefit for those who live close to the university," said Andrew Huff, AU's Director of Community Relations. "Our neighbors have some very interesting experiences and life stories, so I believe our students and professors will learn just as much from the neighbors as our neighbors will learn from the classes."
Modeled after the Alumni Audit Program, the Community Audit program is coordinated by the Office of Alumni Relations in conjunction with the Office of Community Relations.
Registration for the fall semester opens soon. For additional information, please visit goo.gl/eEcYYc or contact Chaney Doyle at 202-885-5960.
Local News Site DCist Relaunches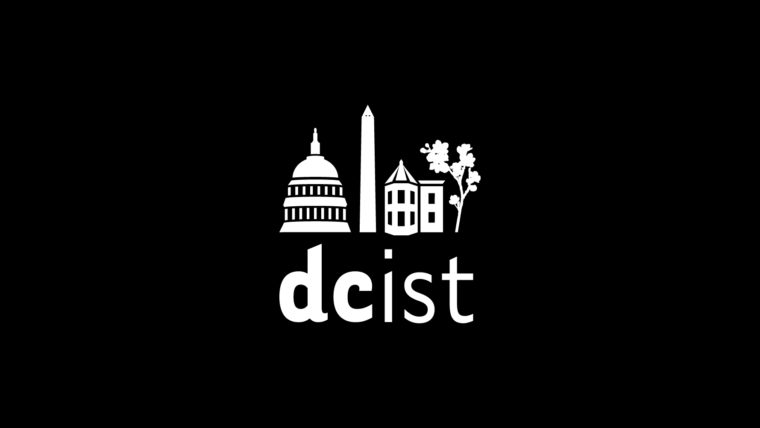 Three months after WAMU announced its acquisition of DCist, the beloved neighborhood news site resumed publishing content on June 11 at DCist.com. DCist will continue its tradition of reporting on District news with the same smart and distinctive voice it has had since its inception more than a decade ago.
"At WAMU, we have always admired DCist, and we are thrilled to give it the resources it needs to produce its irresistible style of content," said Andi McDaniel, WAMU's senior director of content and news. "It will be the same DCist the community knows and loves, now with the support of one of the largest public media organizations in the country."
WAMU was fortunate to be able to rehire the DCist leadership team that was in place when the digital news outlet was closed in November. Rachel Sadon, DCist editor-in-chief, and Rachel Kurzius, associate editor, already have begun rebuilding their team of writers, editors, and contributors to help ensure that the pace of news and the style of the site meet readers' expectations.
"We are committed to connecting our vibrant community here in D.C.," said Sadon. "In a region that often gets overshadowed by national news, DCist will help fill the essential need for local journalism, telling our city's stories with good humor, careful scrutiny, and genuine curiosity. We look forward to keeping our readers closely involved in the process."
Ralph Steadman: A Retrospective
Now – August 12, 11 a.m. – 4 p.m.
Katzen Museum
The Ralph Steadman Retrospective offers phenomenal insights into the genius of one of the world's most acclaimed artists. This exhibition takes the viewer on a journey through Steadman's prolific career of more than sixty years, from the sketches he created as a student in the 1950s to present-day pictures. The retrospective showcases Steadman's legendary collaborations with maverick Gonzo journalist, Hunter S. Thompson; his illustrated literary classics such as Alice in Wonderland and Treasure Island; and the inventive books he authored such as I Leonardo and The Big I Am. There also are illustrations from his children's books, which include No Room to Swing a Cat and That's My Dad, plus artworks from his travels with Oddbins Wine Merchants and his iconic packaging for Flying Dog Brewery.
Latitude: The Washington Women's Arts Center 1975 – 1987
Now – August 12, 11 a.m. – 4 p.m.
Katzen Museum
This exhibition features the art of former Washington Women's Arts Center (WWAC) members and exhibitors. Curated by Françoise Yohalem, it will showcase 90-plus works produced between 1975 – 1987, some of which are iconic of that time. The show brings back the energy, passion, and talent of members when the WWAC was, for many, "the only show in town." Recent works by WWAC artists will be featured in a slideshow and select interviews with members will appear in an accompanying documentary, Voices from the Washington Women's Arts Center. This exhibition is sponsored by the Alper Initiative for Washington Art.
Things Unseen: The Fluency of Abstraction
Now – August 12, 11 a.m. – 4 p.m.
Katzen Museum
Exploring themes suggested by internationally-acclaimed artist Sam Gilliam, this exhibition features artists Adrienne Gaither, Alteronce Gumby, Allen Jackson, and David Smedley. These artists use abstraction as a conduit to express their keen observations. The broad implications of the exhibition signify the fluency of abstraction and its many interpretations. What is absent is present. The artists explore the unseen through abstract sculpture, painting, and photography.
FIGURES: Kiley Ames, Janice Nowinski, Kyle Staver, Jo Weiss
Now – August 12, 11 a.m. – 4 p.m.
Katzen Museum 3rd Floor Exhibition
Four women artists convincingly place human figures in space, each reaching that high-water mark of Western Art in their own way. Kiley Ames has a seemingly rational, systematic technique akin to pointillism that on closer inspection emits an emotional charge. Jo Weiss' expressionist, emotional process ultimately reveals an analytical, orderly understanding of figures in space. Janice Nowinski's paintings are brushy, mysterious, and unexpected portrayals of men in ambiguous situations. Kyle Staver's technique is smooth and sophisticated, serving up darkly humorous tales of violence and sensuality. These artists create narratives that open our world to reflection and engagement in a way that abstraction cannot manage.
Yoga in the Galleries
July 4, 11, 18, 25, 10 a.m.
American University Museum at the Katzen Arts Center
Led by certified Kripalu Yoga teacher Eva Blutinger, this yoga class provides mental clarity and relaxation in the peaceful surroundings of our art galleries. Please bring a mat. Cost is $10 for non-members, $5 for museum members, and free for members at the Associates level and above. www.tinyurl.com/aumtickets.
Drawing Tools You Can Use with Artist Beverly Ress
July 10, 2 – 4 p.m.
Katzen AU Museum
This six-session class with artist Beverly Ress teaches the basic components of drawing representationally, translating the three-dimensional scene to the two-dimensional plane of paper. The cost is $200 for the six-session class. Classes take place every Tuesday. RSVP: http://www.tinyurl.com/aumtix.
Bookmaking Workshop with Martha Edgerton
July 22, 12 – 4 p.m.
Katzen AU Museum
Join us for a two-day bookmaking workshop led by artist Martha Edgerton. Each participant will create a memory book from scratch, making a deeply personal repository for their own stories. This will include sewing the book together and decorating the cover using various techniques, including paper and fabric collage. The cost is $225 per participant. RSVP: http://www.tinyurl.com/aumtix.