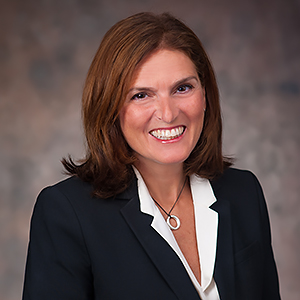 Dear Neighbors,
After more than a year of the COVID-related shutdown of activities at American University, I am pleased to announce that our campus will gradually begin to resume regular operations this summer.
To help things return to normal in our community, the university currently offers free COVID-19 vaccinations to our neighbors. Vaccine-related information may be found in the article below. 
Neighbors also are now invited to make use once again of all our outdoor athletic facilities. As always, we ask that you please give priority to AU student athletes. Also, stay tuned for information regarding usage of indoor fitness centers and pool.   
Finally, as yet another indication of the gradual return to normalcy, the American University Museum at the Katzen Arts Center also has reopened its doors to the public. Currently, visitors may reserve timed tickets to three new exhibits now on display. 
I look forward to providing with more news regarding the resumption of regular activities on campus as the summer proceeds. 
Once again, thank you for all of your continued understanding, consideration, and support during the trying times of the past year. 
Stay safe, be well, and enjoy the summer!

Maria Barry
Director of Community Relations
American University
AU Offers COVID-19 Vaccines for Neighbors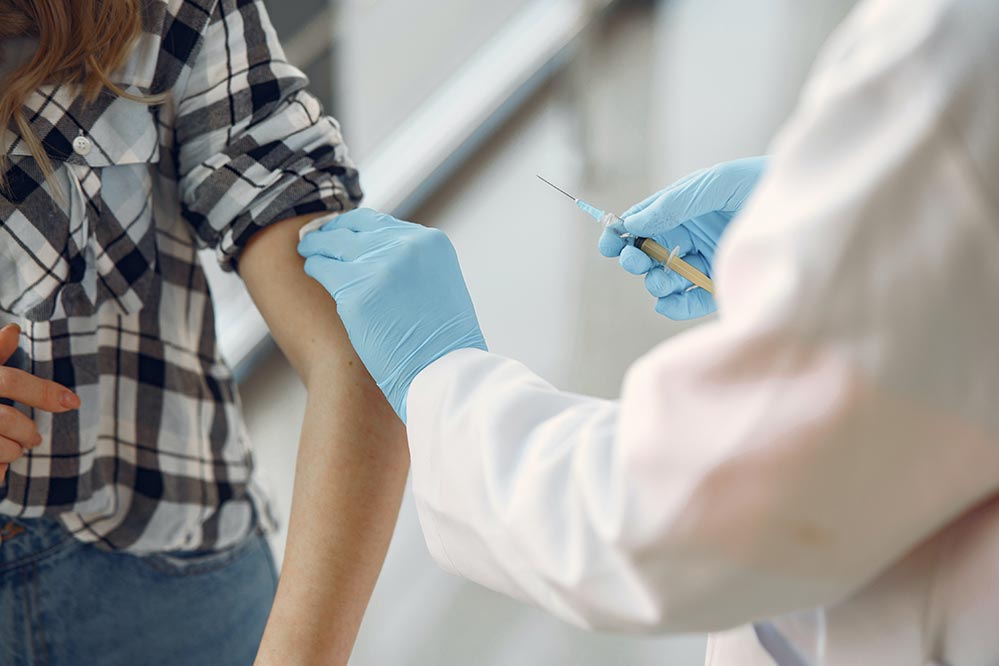 As we continue to prepare for the fall semester, American University is expanding its COVID-19 safety response to provide free vaccinations in Constitution Hall on East Campus to serve local neighbors. Available now, District Urgent Care offers the Moderna COVID vaccine to neighbors who are ages 18 and older. 
The vaccine clinic is available on Wednesdays and Thursdays from 2:30 to 5 p.m. throughout the summer. Check the Campus Life COVID Vaccine information webpage for the District Urgent Care clinic dates and times. People who wish to get the vaccine will be required to wear a mask/face covering and complete an information sheet and consent form.  
Neighbors should not come to campus if they have tested positive for COVID-19 in the past 14 days, feel ill, or have symptoms of COVID-19.
For details on required testing frequency, protocols, and links to FAQs, be sure to visit the site for AU's COVID-19 testing procedure. 
AU Welcomes Neighbors Back to its Outdoor Athletic Facilities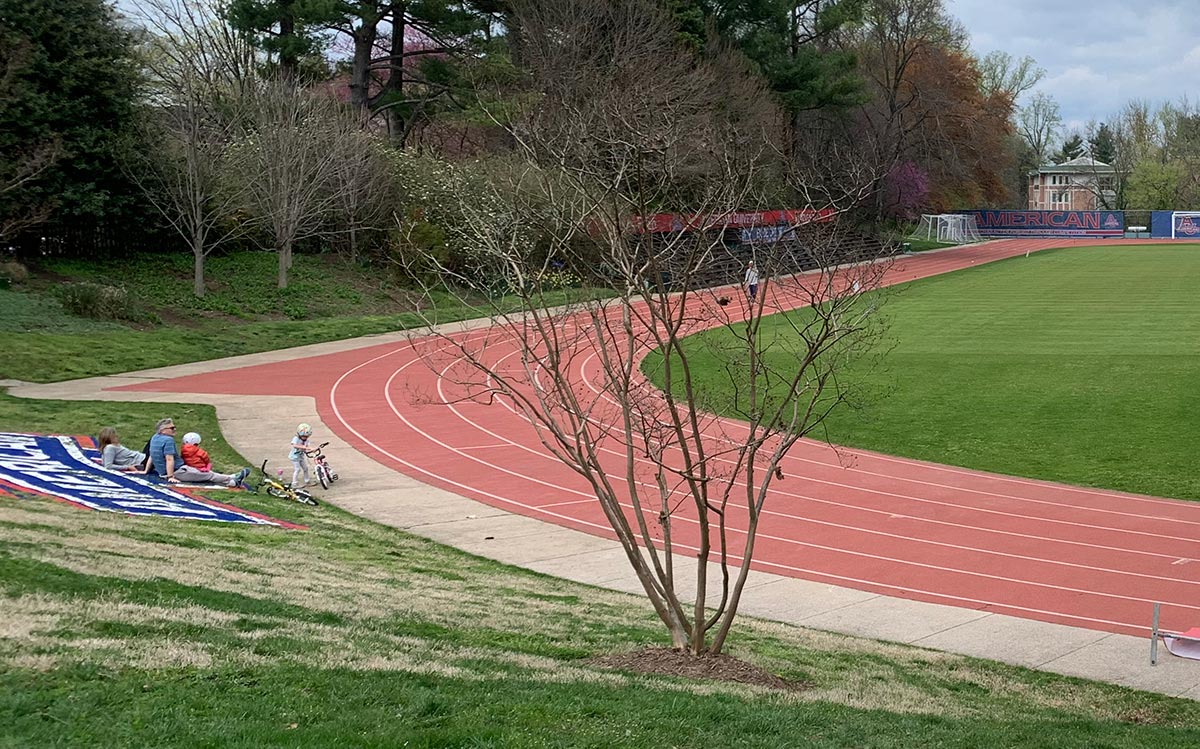 One of the perks of being a neighbor of American University has always been the ability to use campus outdoor athletic facilities. More than a year after shutting down its athletic facilities in accordance with COVID protocols, the university is pleased to welcome back neighbors to all of its fields, basketball, volleyball, and tennis courts. As always, neighbors are asked to give priority on the fields and courts to AU's student athletes. 
Announcements will be made later in the year regarding usage of indoor athletic fitness centers and pool.   
AU Museum Reopens with Limited Hours, Timed and Ticketed Entry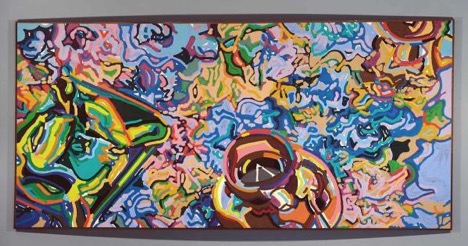 The American University Museum at the Katzen Arts Center has reopened to the public and welcomes back patrons and neighbors with limited hours on Tuesdays and Thursdays.
Visitors may reserve timed tickets now for June. They will receive a health and safety form via email 24 hours prior to the visit. To enter the museum, visitors must agree to AU's health and safety guidelines, including wearing a mask throughout the visit and maintaining physical distance.The three exhibitions now on view are:
Peace Corps at 60: Inside the Volunteer Experience brings the world home through the stories and objects of 30 individuals, representing a sampling of the 240,000 people who have volunteered their service. The exhibition, commemorating the 60th anniversary of the Peace Corps, spotlights cross-cultural understanding as nations and people around the world are undergoing major economic, social, and migratory change. The exhibition invites viewers to understand what volunteers and host communities experience together. Objects on view include clothing, musical instruments and items used in food preparation in host countries.
Raya Bodnarchuk: This is a True Picture of How it Was exhibits 1,926 works of gouache and ink paintings shown together for the first time. Through her long career, Bodnarchuk has never wavered in the pursuit of her craft or commitment to mentoring the next generation of artists. Best known for her sculpture, collage and silkscreens, this exhibit began as advice to her students to "Do something you love every day" and evolved into a brilliant chronicle of six years of her life beginning in 2013 and concluding in 2019.
The Long Sixties: Washington Paintings in the Watkins and Corcoran Legacy Collections, 1957-1982 is a survey of paintings by Washington artists that tells the story of political engagement (or lack thereof) in the arts during the "long" 1960s. Curated by AU Museum Director and Curator Jack Rasmussen, the exhibit contains selected paintings that draw upon memories of what Rasmussen calls "a formative time" in his life. The narrative addresses the history of systemic racism and sexism in the arts, and its enduring impact on the art shown in museums today. It also emphasizes the need for politically engaged art through the present day.  "My perspective includes the acknowledgement of persistent, systemic gender and racial injustice, bias, and violence that was present in the '50s, laid bare in the '60s, and continues to the present day," Rasmussen said. "It is clear to me that the defining characteristic of most white mainstream art made between 1957 and 1982 in Washington was an adherence to aesthetic and commercial constraints that encouraged artists to remain silent when their voices are most needed. What pushback there was against this tendency was led by Black and women artists, whose work has been systematically underrepresented in the collections of Washington museums."All current exhibits also may be experienced virtually online. 
Visually Striking Glass Wall Brings Beauty Inside Newly LEED Gold-Certified Hall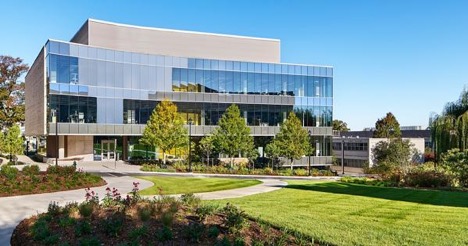 A special glass with a high-performance coating is key to the new Hall of Science's design, allowing the building to be visually striking, energy efficient, and environmentally friendly.
The new home of the AU's biology, environmental sciences, chemistry, and neuroscience departments is the product of forward-thinking science, innovation, and collaboration and the latest building on campus to achieve the US Green Building Council's Leadership in Energy and Environmental Design (LEED) Gold certification, an internationally recognized standard for green building design and operations.
With the university committed to achieving LEED Gold certification for all its new buildings, the three-story, 125,000-foot structure's most prominent feature–a full-height glass wall along its campus-facing edge that intentionally overlooks the building's gardens – proved to be its designers and builders' greatest engineering challenge.
"Working with the building's architect, Ballinger, we envisioned the glass wall with symbolism, aesthetics, and pragmatism in mind. It was intended to offer transparency into the sciences, while also providing abundant natural light to the building's occupants," said David Dower, assistant vice president of planning and project management, Office of Finance and Treasurer.
Yet, this same glass wall created the potential for the building to become excessively hot and increase its dependence on air conditioning during the summer months. Not only would the glass make controlling the climate in the building more energy intensive, it also would increase the hall's carbon footprint and threaten its LEED certification.
To address this technical and environmental challenge, Ballinger turned to UK-based glass manufacturers Pilkington UK Ltd. and CareyGlass. The manufacturers provided special high-performance coated glass that helps reduce the amount of solar energy that passes into the building by up to 75 percent. The glass allows natural light to flood the building – just as the architect intended – without tinting that would detract from the building's outward views.
To prepare for LEED Gold certification, project managers evaluated the Hall of Science using a point-based scorecard to measure site and materials selection, energy and water efficiency, and indoor environmental quality. The building is located on a former parking lot where the landscaping now provides shade and green areas across more than three-quarters of its physical space, helping to decrease the heat island effect created when lack of vegetation and an abundance of roofs and paved surfaces cause an area to become hotter than surrounding areas that do have vegetation.
The university also gave careful consideration to the building's construction materials, reducing the impact of extraction, processing, and transportation by relying on locally sourced and recycled materials wherever possible. Ninety-five percent of the wood used in the construction of the Hall of Science is Forestry Stewardship Council certified, which ensures it is sourced from properly-managed forests and manufactured responsibly. Additionally, 87 percent of construction waste produced was diverted from landfills.   
"Building spaces that use resources efficiently by including healthy building materials and providing natural light for users all contribute to creating a healthy and sustainable campus," said Megan Litke, director of sustainability programs, Office of Sustainability. "The Hall of Science continues our tradition of exemplary green construction," said Litke, "and upholds our commitment to sustainability across campus."
The Hall of Science's healthy environment is due to the special attention paid to air flow and pollutant exposure, including using low-volatile organic compound adhesives, sealants, paints, floor systems, and composite woods in construction and maintenance to limit occupant exposure to irritants. The hall also uses about 25 percent less energy than an average building of its size due to its efficient heating and cooling system that uses chilled beam technology and dual enthalpy energy air technology – which captures heat energy from outgoing air to preheat or cool incoming air – to handle the additional air flow needed for the laboratories without significantly increasing energy demand.
The hall also uses 36 percent less water than a building with traditional water fixtures by relying on water conservation techniques such as low-flow taps and dual-flush toilets that reduce the amount of wastewater requiring treatment and the pressure on local fresh water sources. Outside the building, a large underground basin beneath the landscaping – which features native and adaptive species that do not require irrigation – captures half the site runoff from the roof to water the landscaping. Also, curb cuts along the road next to the building allow runoff to flow into bioretention areas where water seeps back into the ground, keeping it out of storm drains.
Its green building features align with key goals set in AU's recently released 2021 Sustainability Action Plan, which reflects the university's commitment to sustainability and resiliency for the next five years. Achieving LEED Gold status for new buildings and managing older buildings to meet LEED's existing buildings' operations and maintenance standards are both tenets of the university's Green Building Policy.
The university built its first LEED-certified building – the School of International Service Building – in 2011, and it has served as the benchmark for all of AU's construction projects since. So far, the university has 9 LEED-Gold certified buildings including the Hall of Science and SIS; McKinley Building; Washington College of Law Tenley Campus; 4401 Connecticut Avenue/WAMU; and Constitution, Duber, and Federal Halls and the Don Myers Technology and Innovation Building. Cassell and Gray Halls are LEED-Silver certified.