March 2022

Community Relations
4400 Massachusetts Avenue NW
Washington
,
DC
20016-8033
United States
Message from Maria Barry, Director of Community Relations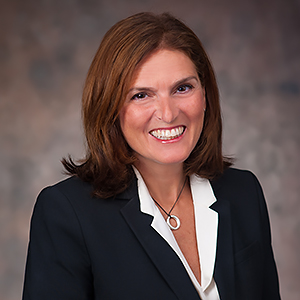 Dear Neighbors, 
As COVID-19 and related health guidance continues to evolve, AU  is working to ensure that our protocols support the health and safety of our community. Starting March 1, the District of Columbia announced modified guidelines, including lifting the city's mask mandate in public indoor spaces. However, these changes do not apply to schools or congregate settings such as residence halls. For the present, AU is maintaining our current masking and proof of vaccination requirements. Our combination of testing, vaccine requirement, contact tracing, and masking has been important to the well-being of our community. We will continue to evaluate our measures as the situation evolves. Feel free to check our website for our operating status at https://www.american.edu/coronavirus/.
Please be aware, as you travel throughout the city, that masks are still required on public transportation, D.C. health officials continue to advise masking indoors, and businesses such as restaurants and stores may still require masks.
 
Stay well, 

Maria Barry
Director of Community Relations
American University
Community Liaison Committee Meeting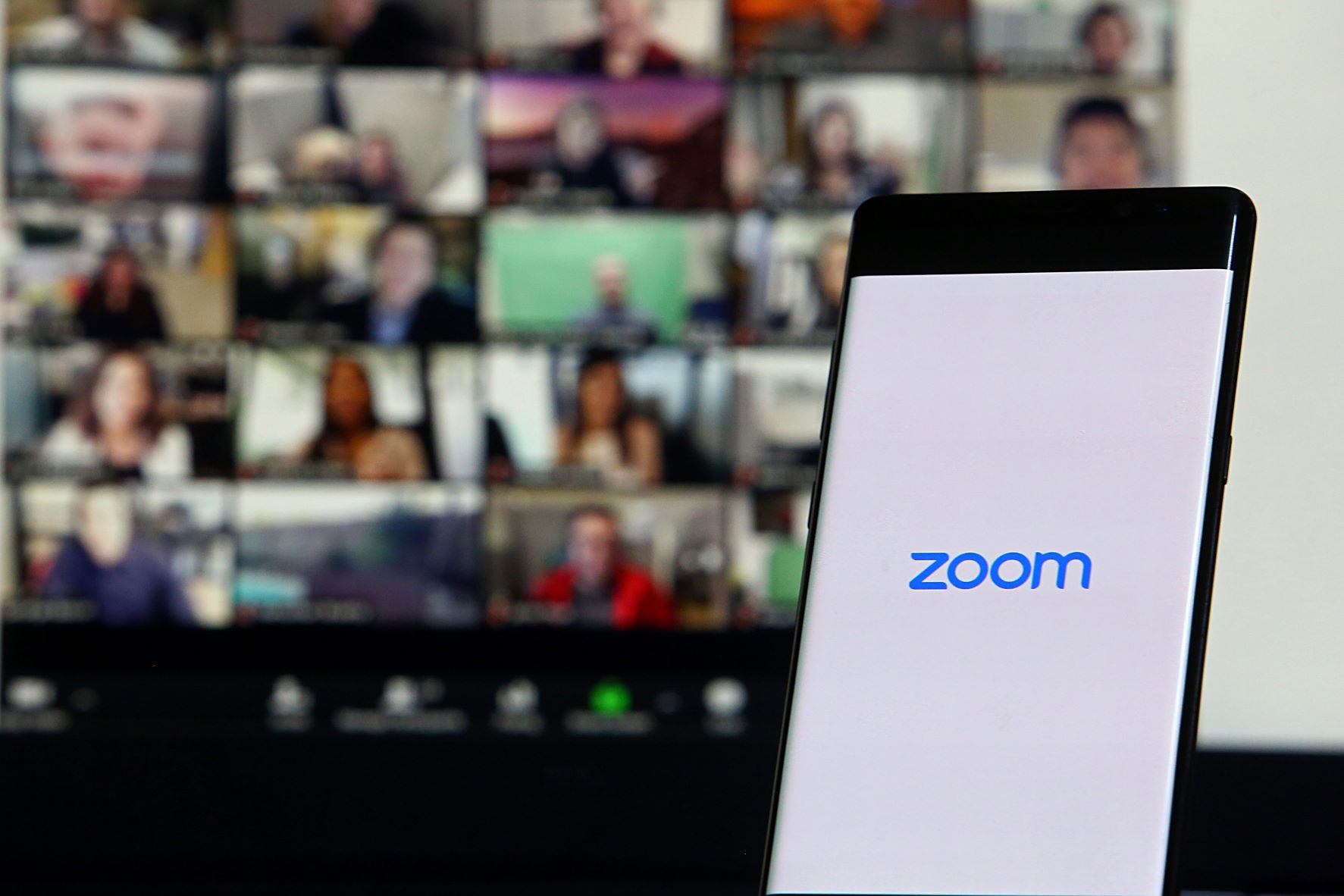 American University's Community Liaison Committee (CLC) will hold a quarterly meeting on Tuesday, March 8th. The meeting will begin at 6:30 p.m. via Zoom. 
To register for the meeting, visit the 
registration page
.  Prior to the meeting, each registrant will receive an email and a calendar invite from Justice & Sustainability Associates with information on how to access the meetings. 
The CLC was established to foster positive relations and to maintain regular communication between the university and its neighbors. As specified in the D.C. Zoning Commission Order for AU's 10-year Campus Plan, the CLC comprises individuals from neighboring community organizations and representatives from the university. 
Additional information on the CLC, including meeting agendas and minutes can be found at the 
CLC website
. 
AU Neighborhood Partnership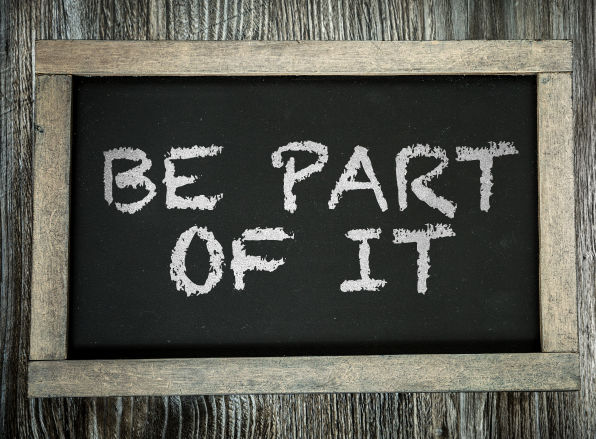 Please consider joining the AU Neighborhood Partnership.
Now that the 2021 campus plan has been approved by the DC Zoning Commission, and we await the final order, the Partnership is working collaboratively to ensure the implementation of the campus plan is done in a mutually beneficial manner for both the university and surrounding neighborhoods.   
Founded in 2018, the purpose of the Partnership is to provide a consensus-based forum for resolving issues affecting the communities next to the American University. Interested members of the community can join one of the Partnership's five standing working groups, comprising community stakeholders and AU leadership. 
Through its working groups, the Partnership actively engages with senior university administrators to discuss issues involving – Student Life & Safety; Facilities Planning; Transportation & Parking; Engagement & Communications; and Data & Metrics. Working Groups examine pertinent issues and make recommendations to the Partnership Steering Committee, which operates through a consensus-based process to advance the implementation of mutually agreeable principles and proposals. 
The Partnership Steering Committee provides guidance and support to each of the Working Groups, and comprises each Working Group's co-chairs, as well as representatives from ANC (Advisory Neighborhood Commission) 3D, ANC 3E, and four neighborhood associations – Fort Gaines Citizens Association, Spring Valley Neighborhood Association, Ward 3 Vision, and Westover Place – that represent several hundred households neighboring American University and came together to facilitate the Partnership's initial formation.
If you would like to become a member of a working group, please email communityrelations@american.edu.
Tenleytown Blossoms March 20 – April 17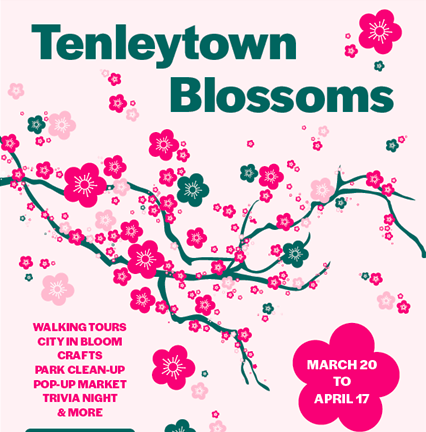 Tenleytown Main Street celebrates the start of the spring season during the National Cherry Blossom Festival, March 20 - April 17. Tenleytown Blossoms with spring-themed events every week. Don't miss cherry blossom displays in storefronts along Wisconsin Avenue, local business specials, neighborhood walking tours, a spring themed trivia night, community park clean-up, and more.
Tenleytown in Bloom
You'll be seeing pink this spring along the main street of Tenleytown with City in Bloom. Twenty-one businesses are decking out their storefronts in cherry blossom decor to welcome spring. Follow the City in Bloom map on Tenleytown Main Street's
website
to see the businesses showcasing their spring displays. Enjoy classic cherry blossom decals, creative art displays, and springtime energy throughout Tenleytown.
Spring Pop-Up Market
Shop the Spring Pop-Up Market, March 25 – 27, featuring a used book sale from education non-profit Turning the Page; vintage toys and collectibles from locally-owned Schway Nostalgia; made in DC clothing, jewelry, and accessories from PNL Designs; and Tenleytown merchandise to show your neighborhood pride.
Join in on the Fun
Celebrate the famous cherry blossoms right here in Tenleytown while you support local businesses. Share your springtime adventures on social media as you enjoy City in Bloom or local business specials for a chance to win a Tenleytown Blossoms prize pack from TMS.
Details on all this year's Tenleytown Blossoms events and contest rules are available at https://tenleytownmainstreet.org/event/tenleytown-blossoms
American University is a proud sponsor of Tenleytown Main Street and Tenleytown Blossoms 2022.
Three Years in, AUs Sine Institute Continues to Grow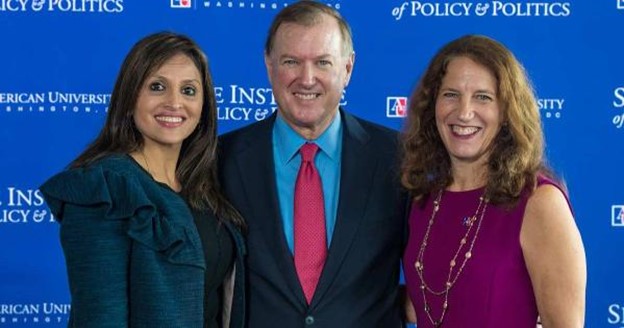 With a career spent in politics and government, Amy K. Dacey feels strongly that change can happen when people with different opinions and backgrounds come together to solve problems. 
So Dacey, a former executive director of EMILY's List and CEO of the Democratic National Committee, felt like she found a home outside of politics when she heard the pitch for AU's Sine Institute of Policy and Politics. That home was a literal one: Dacey received her master's in political science at AU, and her first job in Washington was at AU's bookstore. 
"I was immediately intrigued after learning about the plans and felt like, 'This has to be my job,'" Dacey said. "It was all coming together, this history of working in politics, my love for AU, and the ability to create something really significant." 
As it kicks off its fourth class of fellows, Sine has realized that impact and lived up to AU's Challenge Accepted ethos. 
The fellowship classes have included foreign leaders, governors, US presidential advisors, former US cabinet secretaries, prominent journalists, a three-star general, politicians, and business leaders. 
"We've really arrived," said Jeff Sine, SIS/BA '76, whose gift along with wife Samira Sine, founded the institute. "We are on the map, and we're getting amazing people to be fellows. I think we've been able to pull the students into these dialogues and into creating co-curricular opportunities for them to learn." 
AU President Sylvia Burwell collaborated with Sine on the idea of creating a vehicle where people from different viewpoints can have honest and open discussions about today's problems. She wanted an institute of politics and policy, and Sine found the vision so compelling that he and Samira gifted $10 million, an increase in what he said they planned on giving. 
"Solving today's challenges requires people from different political backgrounds and perspectives coming together for constructive, fact-based dialogue," Burwell said. The Sine Institute is leading this critical civil discourse through the work of our outstanding fellows, the engagement with our students, and the development of ideas that can make an impact." 
Sine, who also serves as an AU board member and previously helped create the Community-Based Scholars Program, was excited by the prospect of the institute. 
"I was so excited by the picture that she painted," he said. "I'm much more inclined to support something that's programmatic as opposed to bricks and mortar. The reason that I prefer that is because it has a tangible and direct impact on the students and the faculty." 
The key for everyone involved: to make sure Sine operated in a bipartisan fashion and provided an avenue for respectful dialogue. 
The first class of fellows included Abdul El-Sayed, the former executive director of the Detroit Health Department, Washington Post columnist Ruth Marcus, former Tennessee governor Bill Haslam, playwright Karen Zacarias, and political commentator William Kristol. Then CEO of Northrop Grumman Wes Bush visited as the first distinguished lecturer. 
"There's always going to be differences between the parties and even within the parties," Dacey said. "There's also a feeling, especially at the national level, that there's challenges with dialogue and polarization. I think we have a great opportunity to show examples of people coming together and finding solutions." 
Since the first class, fellows have included members of the George W. Bush, Obama, and Trump administrations. Dacey has worked on national committees and a presidential campaign in Democratic politics. But she said connecting with Republicans working on the issues of the day has been exciting. One Sine event hosted former chiefs of staff to Bush and Obama, Joshua Bolten and Jacob J. Lew. The men had very different bosses and experiences, Dacey said, but they could share why their job matters and why public service matters in the same room. 
"Sometimes our students don't like the politics, but that is designed into the building blocks of the Institute," Sine said. "We welcome students disagreeing. You don't have to agree with them, but you do have to be respectful towards them, and they have to respect you. That's the deal." 
Dacey also said providing an array of experts on diverse topics remains a focus. Fellows included social media and tech leaders. Wes Moore, the CEO of Robin Hood Foundation, discussed economic justice, philanthropy, poverty, and sustainability. Former Croatian president Kolinda Grabar Kitarovic tackled NATO's role in today's geopolitical landscape. Katherine Miller, vice president of impact at the James Beard Foundation, spoke about elevating food system issues into policy debates and the power of the chefs and the restaurant industry to make meaningful change. 
"You bring people from several different sectors with different voices to solve these big problems," Dacey said. "That was very exciting for me from the start and really important to create opportunities for students on campus to understand the importance being involved in the process." 
Sine fellow H.R. McMaster said teaching students how to ask the right questions, to keep an open mind, and to make their own judgments remain crucial tenants to solving complex issues. 
"I think it is really crucial to understand the challenges to our security, our prosperity, and our influence in the world," said McMaster, a former National Security Advisor. "(Discussing) those challenges and how to overcome those challenges with students at American University is a tremendous opportunity." 
The Sine Institute's impact travels well past its signature fellowship program. The institute has held more than 125 events, and more than 175 guest speakers have appeared at Sine events, including Pulitzer Prize-winning New York Times columnist Nick Kristof, Top Chef host Tom Colicchio, Maryland governor Larry Hogan, and former HUD secretary Julian Castro, who is now a 2022 spring fellow. The institute also presents distinguished lecturers, which includes Bush, former Australia ambassador to the U.S. Joe Hockey, former US deputy national security advisor Dina Powell, the mayors of Chicago and Miami, Lori Lightfoot and Francis Suarez, and Patagonia CEO Ryan Gellert. 
Dacey said she's constantly recruiting and receiving recommendations for the next class, and she's already been working towards 2023. The focus is tackling significant problems but also addressing new issues for the institute each year. Working far ahead makes it difficult to predict what topics could become relevant in the future. But bringing guest speakers to Sine allows for an even greater diversity of opinion and provides flexibility to respond to current events. 
Sine held an event with WCL during the impeachment hearing for President Trump, provided presidential debate coverage, and held events with the Women and Politics Institute on elections. 
"We want to have really timely conversations, whether that be what goes on in a presidential debate or a journalist's perspective on a story, or election analysis," Dacey said. 
Sine added a summer series in 2022 called Reimagining America that focused on how to rebuild after the COVID-19 pandemic. US assistant secretary for health Rachel Levine, former New Zealand prime minister Helen Clark, and former NFL player and TikTok's director of government affairs were among those who appeared during the six events. 
Dacey said she hopes to build on the success of the summer series by taking Sine on the road during summer 2022, appearing in areas with high alumni concentrations. 
"I would love to go on the road," Dacey said. "It's an election year, so trying to get a pulse on what's happening in the states and what issues matter to people is important." 
The reach has grown with the institute more than doubling participation in 2021 spring fellows programs from 2020. More than 7,500 people representing more than 60 countries have attended Sine events. 
"I think we're really making substantial progress," Sine said. "It'll be a very powerful feedback loop where AU is both contributing to the dialogue and contributing to knowledge creation, but at the same time creating opportunities for faculty and students." 
The MFA Studio Art program at American University
The MFA Studio Art program at American University is pleased to announce our Visiting Artists + Scholars roster for the 2021-22 academic year. "Of the Place" is the theme for the year and centers the artists, art organizations, art activators, and culture producers who have deep connections to the region.
The theme reflects the times that we are living in—while acknowledging the local and beyond the local (which is often still local). Many of us have had to stay in place over the last year. The global pandemic, politics, and the cultural circumstances of our contemporary world have necessitated a change in our social and work patterns. We are looking within our own communities to share resources and support. The artists invited to AU this year are a remarkable group of people who work in and around communities in and outside of the DMV.
COVID-19 Update: All guests, regardless of age, attending events at AU must show proof of full vaccination against COVID-19, or a negative PCR test taken within 72 hours of the start of the event, and a photo ID. KN95, KF94, or N95 masks are required. Visitors must complete our AU Visitor COVID-19 Vaccination Attestation Form prior to the start of the event.
Macon Reed
Thursday, March 17, 6 p.m. ETKatzen Arts Center 201
Danielle Abrams and Mary Ellen Strom
Monday, March 21, 6:30 p.m. ETKatzen Arts Center 201
AU Takes Part in Campus Race to Zero Waste National Competition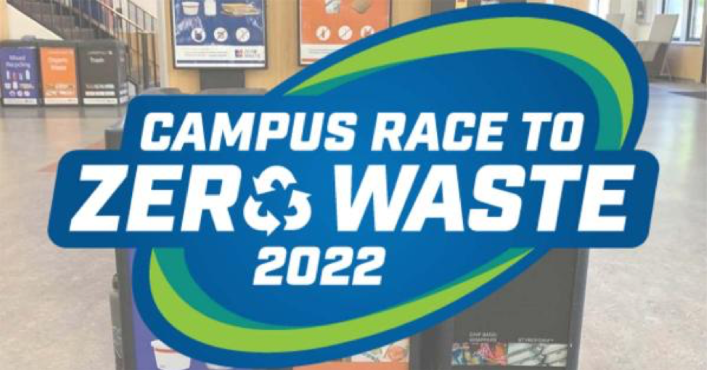 American University's Office of Sustainability and Zero Waste Office encourage the campus community to participate in the annual Campus Race to Zero Waste national competition. During the eight-week competition, taking place now through March 26, AU will compete with colleges and universities across the U.S. and Canada to benchmark waste minimization and recycling efforts against other schools. 
Campus Race to Zero Waste, formerly known as RecycleMania, is designed to help colleges and universities find pathways towards zero waste – 90-plus percent diversion from trash – by providing tools and opportunities that inspire, empower, and mobilize campuses.
Through a combination of weight tracking, programming events, and social media activity, AU aims to shift norms around plastics consumption, promote education around composting and minimizing food waste, and reduce rates of waste bin contamination around campus.
"Everyone on our campus – students, faculty, staff, and visitors – is participating in this competition, whether they know it or not," said Tacy Lambiase, Sustainability Manager for the Office of Sustainability. "Every time that you correctly use our recycling and compost bins or choose to use a reusable water bottle instead of a plastic one, you are helping to reduce the amount of waste that our campus sends to landfill."
AU is competing in two competition categories. Through the Diversion category, AU will track and report data on recyclables, trash, and organics on a weekly basis. The goal of this category is to divert waste from the landfill through reduction and recycling strategies. The Food Organics category requires participating schools to track and report on all campus food waste and how food waste is recovered and managed through initiatives like AU's composting program.
Each week of the competition will have a general theme featuring related events and social media promotions.
Visit AU's Campus Race to Zero Waste website for more information on the events and promotions for each week's theme, weekly waste data, and resources.
Winners will be announced on April 28.
American University Events
AU Katzen Museum: Spring Exhibits
How do you Build a Movement to End Gun Violence and Enact Social Change?
March 14, 4 – 5 p.m.
Location TBD
Join Sine Institute Fellow Shannon Watts as she illuminates how she founded Moms Demand Action, one of the nation's largest grassroots organizations, and shows others how they can build or bolster social movements to enact change in their communities. Through her series, Shannon will bring together some of the most vital voices of the movement and share her unique journey to make her voice heard on one of the country's most critical issues. To register:
https://american.swoogo.com/Watts
.
A Woman in the Arena Seminar
March 14, 1 – 2 p.m.
Location TBD 
What challenges do women still face in the workplace and the world? In this seminar series, Sine Institute Fellow and former U.S. Representative Barbara Comstock will discuss current and historical challenges for women in leadership and government service. Topics will include what it's like to run for office, issues involving sexual discrimination or harassment, and women's empowerment. The seminar also will delve into the meaning of having role models, mentors, and best practices while making your path. To register:
https://american.swoogo.com/Comstock
.
Paper Light 
Now through May 22 
AU Museum
With her inventive darkroom experiments, DC artist Claudia Smigrod takes the camera-less photogram into new realms that defy easy categorization. Organic forms from nature and inorganic man-made objects are transformed magically into abstract, incandescent, and deceptively complex images that are visually mesmerizing and conceptually compelling. This exhibition brings together several serial projects in which the artist has been immersed during the past decade: Paper Light, Under Study, Paper Patterns, Time and Space, Conversations, Opacity/Translucency, Proof Print and Every Thing.  
Positive Fragmentation: From the Collections of Jordan D. Schnitzer and His Family Foundation 
Now through May 22 
AU Museum
Drawn from the collections of Jordan D. Schnitzer and His Family Foundation, Positive Fragmentation includes more than 150 works by 21 contemporary artists who use fragmentation both stylistically and conceptually. Through their prints, they question the status quo and suggest new perspectives. For some, the result is enough, pulling apart images and ideas exposes what lies beneath or heralds the value of each part. Other artists assemble fragments to create a new whole defined by its components. This exhibition explores these creative approaches in the work of some of the most important contemporary artists.  Artists in this exhibition fragment, and often reassemble, elements including shape, color, perspective, text, idea, or stereotype. Featured artists include: Betye Saar, Wendy Red Star, Lorna Simpson, Ellen Gallagher, Jenny Holzer, Louise Bourgeois, Wangechi Mutu, Nicola López, Sarah Morris, Polly Apfelbaum, Jennifer Bartlett, Christiane Baumgartner, Cecily Brown, Judy Chicago, Nicole Eisenman, Julie Mehretu, Judy Pfaff, Swoon, Barbara Takenaga, Mickalene Thomas, and Kara Walker.  
Fields and Formations 
Now through May 22 
AU Museum
This exhibit brings together approximately 70 works by 12 distinguished women and non-binary artists from the Mid-Atlantic region who infuse abstract paintings, drawings, prints, and sculptures with emotional and metaphorical content. The artists, who span five decades in age, share interests in luminous color, repeated forms, the power of materials, and the meditative aspects of making labor-intensive works. The exhibition celebrates artists who have developed a significant part of their careers in a region bounded by Philadelphia to the north and Washington, DC to the south. The exhibit also demonstrates that the broader Mid-Atlantic area's diverse contributions to the story of American abstraction continue to be vibrant and profound during the beginning decades of the 21st century. Featured artists include Natessa Amin, Arden Bendler Browning, Carol Brown Goldberg, Alex Ebstein, Alexis Granwell, Jesse Harrod, Maren Hassinger, Jae Ko, Linling Lu, Linn Meyers, Maggie Michael, and Jo Smail. 
In Place of a Missing Place 
Now through May 22 
AU Museum
This exhibition of Israeli art from the AU Museum's permanent collection will unpack landscape depictions in a range of media. It offers a historicized consideration of mythmaking, forced migration, displacement, erasure, and trauma as showcased in the works of artists whose singular nationality envelops the entirety of land encompassing two nations – Palestine and Israel.  Works include gifts of Nancy Berman and Alan Bloch and those drawn from the Rothfeld Collection of Contemporary Israeli Art.  
Gallery Talk: 
March 14, 7 p.m.
Two Places on Earth 
Now through May 22 
AU Museum
Chan Chao's photographic portrait series is based on the idea of open societies, interconnection, and the world's contraction. It features global citizens and is meant to acknowledge how beautiful the concept of an open society can be, but not in a utopian sense. This five-year project consists of multinational UN peacekeepers in Cyprus along with multinational prisoners in Peru, incarcerated for smuggling cocaine out of Lima. Chao's intention is to blur all lines that define cultural differences, emphasize each subject's dignity, and make portraits with restraint and quiet tenor. He presents the subjects as individuals that viewers can relate to.    

Gallery Talk: 
April 11, 7 p.m.
March Madness Returns to Bender Arena
AU Women's Basketball hosts Lafayette Wed. March 2nd at 7 PM in Bender for regular season finale!! With a win the Eagles look to secure the #2 seed for the upcoming Patriot League Tourney! USE THE ONLINE COUPON CODE MARCH22 to score $3 tickets!
2022 Patriot League Women's Basketball Championship
With students away on break, neighbors and AU community members are invited to help give our team a true home court advantage!
Quarterfinal Round 
Mon. March 7th, 2022 at 7 PM
#2/#3 AU vs. #7/#6 TBD
Bender Arena
*Semifinal Round
Thurs. March 10th, 2022 at 7 PM
**IF AU ADVANCES AND HOSTS**
*Championship Game
Sun. March 13th, 2022 at Noon
**IF AU ADVANCES AND HOSTS**
Check
AUeagles.com
for complete tournament schedule and ticket info as we advance!
AU Lacrosse Hosts Two Games This March at the Jacobs Complex
ADMISSION IS FREE ALL SEASON LONG
AU vs. Gardner-Webb
Sat. March 5th 3 PM
AU vs. Holy Cross
Sat. March 26th at Noon
Lacrosse BLUE OUT District Day Game
For the latest on American University Lacrosse, stay tuned to AUEagles.com and follow the team on Twitter (@AU_Lacrosse), Instagram (@au_wlax),
FULL SCHEDULE