Community Relations
4400 Massachusetts Avenue NW
Washington
,
DC
20016-8033
United States
AU Commencement Ceremonies To Take Place May 11, 12, and 19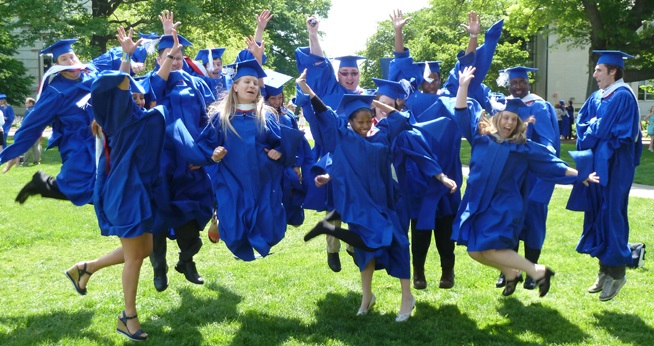 AU schools and colleges will hold their 2019 graduation ceremonies in Bender Arena on Saturday, May 11 and Sunday, May 12. The Washington College of Law commencement will take place on Sunday, May 19, also in Bender Arena. The university anticipates increased activity around campus, as families and friends visit for the occasion.
All parking areas on campus will be open for commencement with extra shuttle buses added from the Tenleytown metro and Washington College of Law. All participants have been encouraged to use public transportation and reminded of AU's Good Neighbor parking policy.
AU PD will assist with traffic control at several key locations including the entrances to Katzen Arts Center and SIS garages.
American University awarded its first degrees (two doctorates and one master's degree) in 1916 at a commencement ceremony held in the university's amphitheater. AU commencements have grown over the years as the university has become larger and more diverse. More than two thousand students from AU's eight schools and colleges participate in commencement ceremonies each year.
For additional information on AU's 2019 commencement, please visit https://www.american.edu/commencement/.
Registration Is Open Now For "June Minis" Study Groups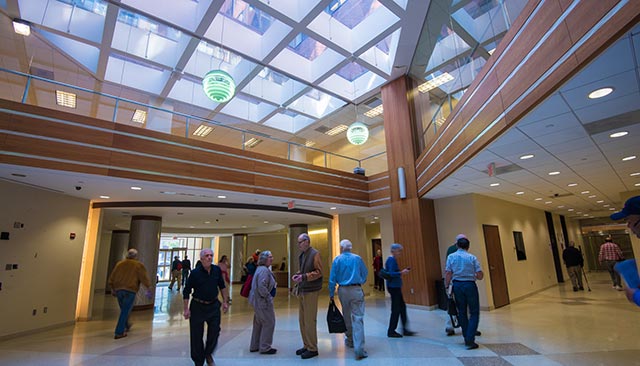 The Osher Lifelong Learning Institute invites neighbors to enroll in the June Minis.  Minis are 90-minute study groups held once a week for four weeks from June 3 – 28. The enrollment period is between now and May 20.  
This year, 28 different Minis will be offered and subject categories will include Politics, Law, and Government; Psychology, Sociology, and Culture; Economics; Science, Technology, Engineering, and Math; Visual Arts and Music; Literature and Language; and History and Geography. The cost is $100 for up to three Minis. 
To view a listing of the study groups offered in the June Minis and to register, please view the course listings. You also may register by calling the OLLI office at (202) 895-4860, or by stopping by the office to fill out a paper registration form. If you would like to print a registration form to mail in, you can print the PDF form.
Neighbors who miss the opportunity to register during the enrollment period will have a chance to get into classes with seats still available on Lottery Day, May 20.  
AU Holds the First in a Series of "American University Planning 101" Sessions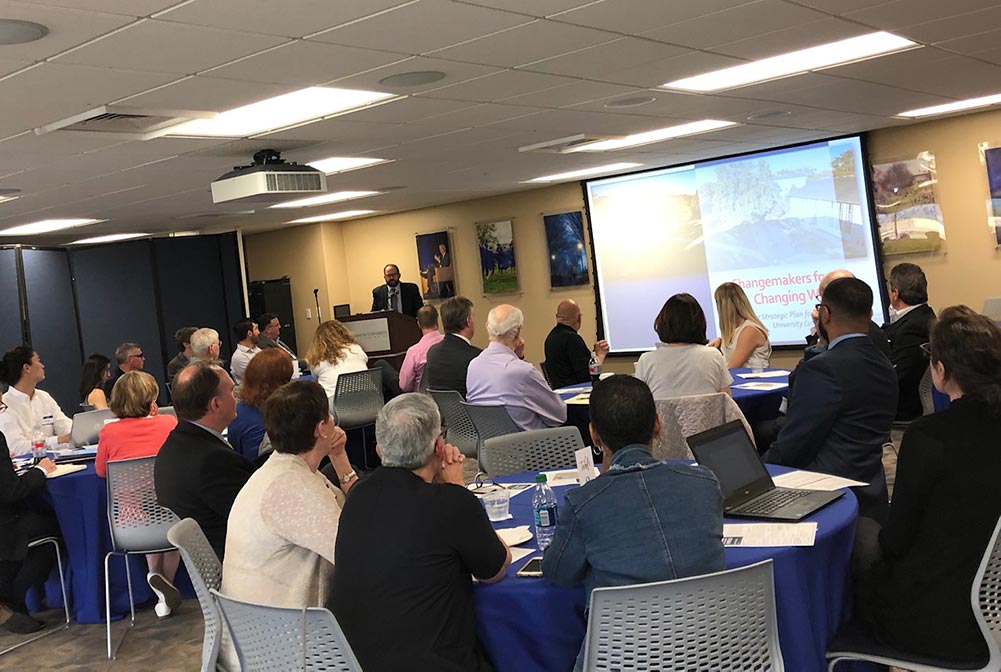 Recently, American University hosted its first "American University Planning 101" session. The event was attended by more than 35 members of the AU community including residents, faculty, and staff. It was an opportunity for stakeholders to learn about our five-year strategic plan, Changemakers for a Changing World, and how it is the anchor for academic, financial, and campus planning.
AU's five-year plan addresses the issues facing our community and higher education, and builds on the university's legacy of leadership, scholarship, and service, and boldly embraces opportunities for greater impact.
The plan draws from an extensive analysis of AU's current strengths, opportunities, and positioning relative to our peers. It is the result of a thorough examination of best practices and trends in higher education. It also took into consideration at all stages of development the robust input and feedback garnered from a wide range of AU community members.
At the Planning 101 session, Chief of Staff Seth Grossman presented the highlights of the plan. Attendees engaged in table discussions and were asked for their input as to how they view "success at AU" in five years, as well as what they deem to be the most important issues facing AU from the perspective of a neighbor. The feedback and ideas that were shared will help guide the university as it plans for the future in a changing world.
A copy of the presentation can be found on the CLC page.
The inaugural planning session was the first in a series of planned meetings designed to help foster healthy and constructive dialogue as both the strategic and campus plans are implemented. As the perspectives of neighbors, faculty, and staff are an essential part of the planning process, AU invites everyone to learn more about the campus planning process at the next session on Thursday, September 5, from 5:30 – 7:30 p.m. in the Butler Boardroom. 
For more information, please visit the Strategic Plan page.
If you have questions, comments, or ideas, please send them to: strategy@american.edu.
AU Energy Savings To Be Maximized With New Underground Heating System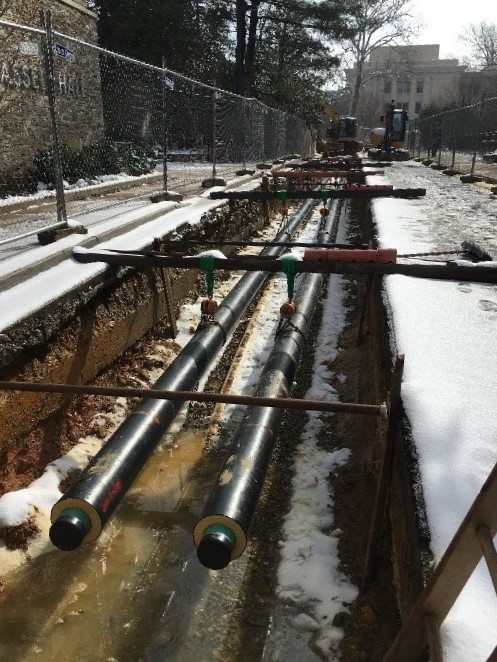 In an ongoing pursuit to enhance its reputation in higher education for its energy efficiency and sustainability, American University's Facilities Management team has been hard at work overseeing the campus-wide conversion from a steam to low-temperature hot water (LTHW) heating system.
The low-temperature hot water system is designed to enhance campus energy efficiency and create long-term energy and carbon savings. A typical steam heating system consumes 40 percent more energy, as steam starts at 300° Fahrenheit with a pressure of 90 lbs/in2. In contrast, the new system operates at a temperature of 150° Fahrenheit, creating hot water but not steam. By lowering the temperature, AU can cut the heat lost during transportation of hot water to only 14 percent. The new pipes are pre-insulated and help to contain the heat within from getting lost to the surrounding ground.
Once installed fully, the new pipes – expected to last about forty years – will reduce campus carbon emissions by 50 percent.  This equates to about 5,000 metric tons of carbon dioxide saved each year. This also is equivalent to cutting the amount of greenhouse gas emissions that result from 12,224,939 miles driven by cars, according to the EPA Greenhouse Gas Equivalencies Calculator.
The new pipes also will create a safer environment for facilities staff, as the low-temperature hot water does not reach the high temperatures of a steam system and operates at a lower pressure.
The project's scale is one of the largest that AU Facilities has undertaken in decades. Along with the energy savings, the project also addresses the $8.5 - $10.5 million cost of upgrading the existing heating plant as well as the $3 million recommended to maintain the existing distribution system. The LTHW project, with a $28 million budget, will capitalize on the annual savings from reduced energy consumption and maintenance costs to produce a 10-year return on investment. 
The conversion currently is more than 50 percent complete and is expected to be fully functional by mid-October 2019.
Forward Press: 21st Century Printmaking
Now through August 11, 11 a.m. – 4 p.m.
Katzen Museum 1st Floor Exhibition
Printmaking Legacy Project's first national print exhibition, the exhibit features ten innovative print artists from across the country who employ the finest examples of hand-printed and digital techniques. They explore themes of culture, identity, religion, environment, memory, and art history. Some work in traditional forms such as lithography, intaglio, relief, and screen printing, while others explore these methods as the basis for large-scale sculpture, collage, and integrating technology into printmaking. Featured artists include April Flanders, Tom Hück, Carrie Lingscheit, Beauvais Lyons, Dennis McNett, Michael Menchaca, Richard Peterson, Nicole Pietrantoni, Steve Prince, and Sangmi Yoo.
Kenneth Victor Young: Continuum
Now through August 11, 11 a.m. – 4 p.m.
Katzen Museum 1st Floor Exhibition
Born in Louisville, KY, Kenneth Victor Young (1933-2017) moved to Washington, DC in 1964 where he began to paint abstract forms with washed acrylics on unprimed canvas. Young's artistic philosophy was to bring order out of chaos. His studies in physics and the natural sciences at Indiana University informed a different imagery – a fusion of brilliant colors. Young's knowledge of form and matter gave his paintings a spatial intensity, and he infused this space with multiple orbs of color held together in molecular suspension. Young had an illustrious 35-year career as an exhibition designer for the Smithsonian Institution, and his extensive travels during this time helped inform his cosmic abstract style of painting. His love for jazz influenced the movement and vitality of his work.
Peripheral Visions
Now through August 11, 11 a.m. – 4 p.m.
Katzen Museum 2nd Floor Exhibition
This exhibit focuses on the community as well as individuality formed in the first year of the Studio Art MFA Program, showing a group of very different artists working and learning how to grow together. The word peripheral becomes the crux in understanding the show as a collective vision, while also highlighting the distance and boundaries that exist between each individual's studio practice. Featured artists include Lizzi Alarcon, Basmah Alhumaid, Chelsey Anderson, Amber Cruz, Jennifer Frank, Nieko McDaniel, Matthew Russo, and Cindy Warshaw.
Squire Broel
Now through August 11, 11 a.m. – 4 p.m.
Katzen Sculpture Garden
This unique sculptural installation exposes viewers to aspects of the American rural West's untamed spirit, vast rugged landscapes, and traditions of mysticism. Broel's intentional decision to live and work in a small agrarian community in the Pacific Northwest provides viewers with a raw vision of inward examinations that relate more to the health of the psyche than to the pop-culture echo chamber. The work is a complex fusion of expressions: longing, melancholy, hope, and contentment.
Testament of the Spirit: Paintings by Eduardo Carrillo
Now through August 11, 11 a.m. – 4 p.m.
Katzen Museum 3rd Floor Exhibition
This exhibit highlights the creative efforts and social importance of Carrillo as artist, teacher, scholar, and social activist. It showcases work created for three distinct realms: the public, the private, and the museum. The artist's murals are featured in the full-color, bilingual exhibition catalogue. Intimate watercolors and paintings describe the artist's everyday life in self-portraits, still lifes, and images of people and places he held dear. Large-scale visionary paintings – Carrillo's masterpieces – reveal his complex and creative mind. The exhibition also includes the bilingual video, Eduardo Carrillo: A Life of Engagement, by Pedro Pablo Celedón.
Works from the Jane and Arthur Mason Collection
Now through August 11, 11 a.m. – 4 p.m.
Katzen, James Renwick Alliance Display Case
An exhibition of wood-turned objects from the Collection of Jane and Arthur Mason. The James Renwick Alliance display case features rotating exhibitions of craft works and is located in the lobby outside the museum.
Yoga in the Galleries
May 1, 8, 15, 22, 29, 10 a.m. 
American University Museum at the Katzen Arts Center
Led by certified Kripalu Yoga teacher Eva Blutinger, this yoga class provides mental clarity and relaxation in the peaceful surroundings of our art galleries. Please bring a mat. Cost is $10 for non-members, $5 for museum members, and free for members at the Associates level and above. www.tinyurl.com/aumtickets.
AU Farmers' Market
May 1, 8, 15, 22, 29, 10 a.m.
Quad Space in front of Mary Graydon Center
Every Wednesday, the quad space around the Mary Graydon building buzzes with activity as students, faculty, staff, and neighbors browse goods ranging from farm-fresh vegetables to homemade breads and desserts at the AU Farmers' Market. The market is a coordinated effort between AU and Pennsylvania-based Agora Farms. Girardot's Crumbs Bakery also offers a variety of fresh breads as well as chocolate chip cookies, mini pies, and cobblers.
AU Museum Docent-led Tour
May 4, 2 – 3 p.m.
Katzen AU Museum
A docent-led tour of one or more of our current exhibitions. No RSVP required. Please meet at the front desk.
MFA Thesis Opening Reception & Gallery Talk
May 4, 5 – 7 p.m.
Katzen AU Museum
Celebrate the accomplishments of AU's Department of Art MFA thesis candidates by welcoming Turbulence to the museum. A gallery talk with the artists will be held from 5 – 6 p.m., followed by the opening reception from 6 – 7 p.m. Free and open to all, no RSVP required. 
JRA Distinguished Artist Lecture: Elizabeth Brim
May 5, 2 – 3:30 pm.
Katzen AU Museum 
As a blacksmith, Elizabeth Brim has forged a place for herself in a male-dominated field. She plays on that contrast in her work with her "unique juxtaposition of the feminine and the ferrous." Brim has been called a "rebel," spending her time hammering hot steel while wearing her signature pearls. The resulting forms – a fancy shoe, a lacey camisole, a bench layered in frilly cloth – are decidedly "girly" objects, all rendered expertly in hard metal. In this way, she not only makes wonderful and sought-after artistic objects, but also salient social commentary. Free and open to all, no RSVP required. To register for Brim's accompanying workshop, click here.
Visions Awards 2019
May 8, 7 – 10 p.m.
Malsi Doyle and Michael Forman Theater
Celebrating its 40th year, the School of Communication's Vision Awards celebrates outstanding visual student work from both graduates and undergraduates. The event will highlight the best in documentary, fiction, digital and new media, screenwriting and photography. This program is first come, first seated. Reservations are recommended:  https://SOCVisions2019.eventbrite.com.
The Moving Print: An Evening of Print and Performance
May 9, 7 – 9 p.m.
Katzen AU Museum
Two premier dance companies collaborate to present an exploration of the printmaking process through dance. Director/Choreographer Leah Glenn, of Leah Glenn Dance Theater and artist Steve Prince, a participant in the exhibit Forward Press: 21st Century Printmaking, present performances of Youngest of Nine, Fault Lines, Idiosyncrasies, Oasis, and Runnin'. Director and choreographer of DC's UpRooted Dance, Keira Hart-Mendoza, and Susan J. Goldman of Lily Press present a selection of collaborative pieces, Paper Dolls, Targets, and Malevich's Black Square. Free and open to all, to reserve a spot, please RSVP: http://www.tinyurl.com/aumuseumkatzen.
Spring Commencement Ceremonies
American University
May 11 9 – 11 a.m., 1:30 – 3:30 p.m., 6 – 8:30 p.m.
May 12, 10 a.m. – 12 p.m., 2:30 – 5 p.m.
Bender Arena
USA Field Hockey Regional Tournament
May 18 – 19, 7 a.m. – 7 p.m.
Jacobs Field
Spring Commencement Ceremonies
Washington College of Law
May 19, 1 – 3 p.m.
Bender Arena