October 2018

Community Relations
4400 Massachusetts Avenue NW
Washington
,
DC
20016-8033
United States
Off-Campus Students Learn Good Neighbor Tips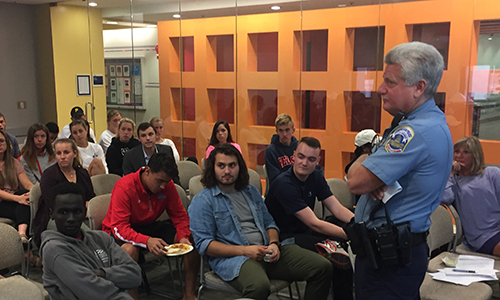 American University's Office of Community Relations held its annual Off-Campus Living orientation recently, as students returned for the fall semester. University administrators at the orientation covered a wide range of topics including a review of students' rights and responsibilities as good neighbors, the importance of maintaining appropriate noise levels, proper trash disposal, renters' rights, and tips on how to be proactive members of the local community.
As in previous years, the orientation was a collaborative effort between the Office of Community Relations, Greek and Sorority Life, Athletics, Public Safety, Housing and Dining, and the Dean's Office.
All-American Weekend October 19-21

American University's annual All-American Weekend will take place October 19 – 21, with more than 40 events planned throughout the weekend. Open to alumni, families, students, and community members, the occasion celebrates the memories, the fun, and the future of AU.
The university anticipates increased activity around campus during the weekend, as families, alumni, and friends visit for the occasion.
The weekend gives alumni and families the opportunity to explore the campus together. Alumni can reconnect with friends they haven't seen in years, and families will discover more about student life at AU.
All-American weekend is hosted annually by the Office of Alumni Relations and Office of the Dean of Students.
For more information on all the planned events, please visit the All-American Weekend website.
Fall Brings AU's Farmers' Market Back to Campus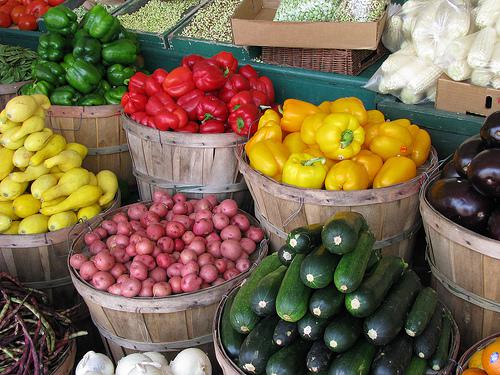 Rain, snow, or sun, every Wednesday (through November 15) from 11 a.m. – 4 p.m., AU's farmers' market is a fixture in the quad space around the Mary Graydon Center. Students, faculty, staff, and neighbors can browse goods ranging from farm-fresh vegetables to homemade breads and desserts.
The market is a coordinated effort between AU and Pennsylvania-based Agora Farms, an intermediary for bringing Amish and Mennonite and "English" farm goods to AU's campus as well as to D.C.'s historic Eastern Market on Saturdays and Sundays.
Girardot's Crumbs Bakery also offers a variety of fresh breads including raisin pecan, harvest grain, pain de campagne, jalapeno cheddar, sourdough, challah, whole wheat, focaccia, black Russian, NY rye, artisan baguettes, and tea breads, as well as chocolate chip cookies, mini pies, and cobblers.
In addition to supporting locally-grown food, the convenience of having fresh food right on campus makes it a great benefit not only to the campus community but to the surrounding neighborhood as well.
Graduate Student Day of Service Supports Local Community
Sixty new AU School of Public Affairs graduate students and faculty volunteered to spend the day sorting household items and moving furniture at A Wider Circle, a Silver Spring nonprofit that helps families in need furnish their homes, find clothing, and provide other household items, among other services.
"Our students are not just moving into D.C., they are becoming a part of the community," said SPA Dean Vicky Wilkins at the event. "I always joke that when you sweat with somebody, you really understand their values. An important part of an SPA education is learning to give back in meaningful ways."  
When Caroline Nickerson, SPA/MPP '20, was deciding where to go for graduate school, she attended a talk with Mark Bergel, founder of A Wider Circle and an AU alumnus. The experience left a lasting impression on her.
"Of all the schools I visited, I thought AU put service at the forefront, and that's why I decided on their Master's in Public Policy program," said Nickerson, who hails from Orlando. "I've been anticipating this event for months. I was so excited."
David Todisco, SPA/MPA '20, said he volunteered because he thought it would be a great way to get to know his new classmates and do something meaningful.
"I wasn't sure what we'd be doing, but I was open-minded," he said. "It seems like they are doing pretty amazing work at A Wider Circle."
Throughout the day, students unloaded donations at the loading dock and organized toys, strollers, and linens. Later, the items would be placed in the showroom where deserving families can select the items they need.
Nichole Braxton, SPA/MPA '20, who folded sheets with Dorcas Nzau, SPA/MPA '20, said she liked how the service day connects with classroom discussions.
"It's putting action to what we read," said Braxton. "It's important to understand there are different ways to be a public servant. Being here gives you that physical form of public service."
Braxton said it had been a long time since she volunteered, and she enjoyed the opportunity and change of pace.
The event aligns with SPA's overarching goals and mission towards service. Among the volunteers were some of SPA's Return Peace Corps Volunteers (RPCVs), who are exploring an ongoing commitment to service at the nonprofit throughout the year.
"This deepens and broadens the relationship with A Wider Circle," said Jennifer Forney, assistant dean of graduate enrollment. "Our students are walking the talk. Professionally and personally, our students are committed to a higher purpose and, of course, then demonstrate it in their everyday lives."
AU's New Humanities Truck Hits the Road Gathering Stories in DC communities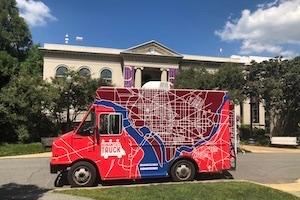 The DC Humanities Truck that arrived on campus in September is not just any truck. It's a recording studio, mobile workshop space, and gallery for pop-up exhibits. It features built-in speakers, a flat screen television, a roll-down screen and projector, and even an exhibit wall. The truck's exterior is designed by Carly Thaw, who graduated recently from AU with a major in graphic design.
Beginning this semester, faculty and students will drive the truck to DC neighborhoods to interview residents on their own turf. The purpose of the project is to document the stories of diverse, underserved communities throughout the DC region.
Collecting information is only the beginning, said Dan Kerr, director of American University's Public History Program. "What makes the truck project unique is that scholars and city residents can work together to interpret and curate these stories – to create web-based projects and a digital repository," he said. "These end products then can be exhibited and circulated within and beyond the communities where they were created."
The DC Humanities Truck will be housed within the College of Arts and Sciences and administered by the Public History Program. It was made possible by $225,000 in funding from the Henry Luce Foundation, which supported the purchase and customization of the truck, the technology for community documentation and exhibition, supplies, website development, and project staffing.
The first projects will focus on stories of communities where the tensions between dwelling and mobility are especially poignant. These will include people experiencing homelessness, recent immigration, or the difficulties of living in neighborhoods undergoing or threatened by significant transitions and dislocations. In the early spring semester of 2019, the project will solicit proposals from faculty and graduate students for second-year projects.
Kerr said the truck is a mash-up of "old-school people's history projects with the latest tools and techniques that inform the digital humanities today."
The project will push the boundaries of what is possible in collaborative, community-engaged, research projects.  Kerr is ever mindful of the importance of collecting and interpreting stories of ordinary people. "At American University, large numbers of scholars dedicate our lives to understanding the human experience from a broad array of disciplines. Our desires to pursue these questions, however, are not unique to us," he said.
"People everywhere have an interest and are engaged in understanding the world around them and their place within that world. They bring their own insights and knowledge to their explorations. By using the truck to create new conversations that bridge the chasm between the university and communities, both sides can gain from learning from each other."
AU Student Maria Rose Belding Named CNN Hero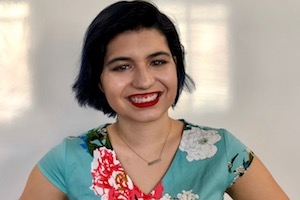 American University student Maria Rose Belding (BS public health '19) has been named a CNN Hero – joining the ranks of more than 300 "everyday people changing the world" who have been honored by CNN for their efforts to make the world a better place. Belding was recognized for her work to get excess food to hungry Americans.
Belding, who grew up working in her church's food pantry in rural Iowa, believes it should be easy for those with excess food to share it with people who are hungry. At the pantry, she saw overstocks of food that went to waste regularly, while other types of foods were needed desperately. She saw that there was no coordination between other food pantries or organizations that had excess food.
Belding was in high school when she first brainstormed the idea of building an online food database to connect food donors with organizations that needed food. But it wasn't until her first year at American University that she launched the Matching Excess and Need for Stability (MEANS) database, a free online network that connects thousands of food pantries, soup kitchens, and other non-profits with donors of surplus food. The donors include grocery stores, caterers, food retailers, and even other food pantries. In all, approximately 3,000 groups are involved in the MEANS database.
Belding is both a co-founder and the CEO of the organization, which now works in 48 states and the District of Columbia. She also is a full-time public health major in the College of Arts and Sciences, and she works in AU's Entrepreneurship Incubator.
"Maria Rose and her team are in the Incubator nearly every day, working on programs, improving technology, fundraising, and doing outreach to identify food donor organizations and food distribution groups around the country," says Bill Bellows, executive-in-residence at the Kogod School of Business and co-director of AU's Entrepreneurship Incubator. "She has never taken a summer off since high school. Her commitment is inspiring to all of us who work with Maria Rose and the team."
Since 2015, MEANS has helped redistribute more than 1.8 million pounds of food. Its work has been recognized by the Washington Post, National Review, Starbucks, and The Daily Show with Trevor Noah. Belding's work has been recognized by the Sodexo Foundation, Prudential Spirit of Community Awards, and the Obama White House (President's Volunteer Service awards in 2014 and 2016), along with the international Clinton Hunger Leadership Prize and L'Oreal Women of Worth award in 2015.
Belding also has been chosen to participate in the Clinton Global Initiative University (CGI U) this fall at the University of Chicago. President Bill Clinton launched the CGI U in 2007 to engage the next generation of leaders on college campuses around the world. The organization hosts an annual meeting where students, topic experts, and celebrities come together to develop innovative solutions to pressing global challenges. This year's meeting will bring together more than 1,000 student leaders, including Belding.
Like all CNN Heroes, Belding will be considered for the network's annual CNN Heroes All-Star Tribute, a live, global telecast that will air on December 9 from the American Museum of Natural History in New York City. Belding is the second College of Arts and Sciences student to become a CNN Hero. Mark Bergel, the founder and CEO of A Wider Circle, received an MS in health promotion management and a PhD in sociology from AU and was recognized as a CNN Hero in 2014.
AU Alum Inspires Communities Through Sports
A DC area native, Donald Curtis, School Of Communications/MA '14, believes in helping young adults discover their potential and empowering them to set the course for a future without limitations.
With a love of sports and his abilities for mentoring and coaching others, Curtis founded Student-Athletes Organized to Understand Leadership (SOUL) in 2013. The mission-driven nonprofit works to educate and empower low-income student-athletes to break the cycle of poverty using athletics as a catalyst for social change. Six years later, Curtis continues to serve as executive director for this continually growing sports-based youth development program operating in Washington, DC, Baltimore, and San Francisco. Together with public schools, community organizations, businesses, universities, and other educational centers, SOUL creates and implements opportunities for empowering students from low-income communities. 
Prior to SOUL's inception, Curtis worked for AU's Center for Community Engagement and Service. It was during this time that he honed skills that would serve as the foundational approach of SOUL – combining academics and athletics to engage youth in activities that enhance their confidence and capabilities in sports and in life.
According to Curtis, "Seeing the program grow and having the ability to connect with young people in different aspects of their lives are the most rewarding parts of my work." 
Curtis emphasizes the importance of understanding that an individual's experiences are what make up their uniqueness. He encourages others not to limit their perspectives regarding their ability to play transformative roles in the lives of others.
SOUL receives a high level of volunteer engagement from AU alumni. Two of its staff members are AU graduates who started out as volunteers. "We have a lot of AU folks involved, and if there is anyone else who would like to join us in the work we're doing, we're always open to new ways to get engaged," said Curtis.
Interested in volunteering? SOUL is on the lookout for program tutors, coaches, and mentors. For more information, visit SOULprograms.org.
D'Arista Legacy
Now – October 21, 11 a.m. – 4 p.m.
Katzen Museum
Robert D'Arista (1929-1987) began teaching part-time in the American University Department of Art in 1962. Quickly moving to a full-time position, he remained there for most of the next 20 years. D'Arista Legacy seeks to illuminate the impact of his teaching and his artistic example on a generation of painters schooled in the Master's of Fine Arts program. The 12 former students selected for this exhibition evidence D'Arista's legacy, albeit in their own unique voices, adhering to a fine arts tradition that revels in the physicality of paint and searches for that uneasy balance between figuration and abstraction. The 12 artists featured are Carlton Fletcher, Lowell Gilbertson, Edith Kuhnle, Dale Loy, Katy Murray, Marci Nadler, Lee Newman, Iris Osterman, Maggie Siner, Jo Weiss, Diane Wilson, and Susan Yanero.
Robert D'Arista: A Portrait
Now – October 21, 11 a.m. – 4 p.m.
Katzen Museum 1st Floor Exhibition
This exhibit aims to introduce viewers to (or reacquaint them with) D'Arista's paintings, prints, and sculpture, as well as the significant artistic contributions he made during 20 years spent teaching at the American University Department of Art. These timeless works, counterweights to the more fashionable art of his time, continue to deserve our consideration for their mastery and their enduring aesthetic value. D'Arista was included in the Guggenheim Museum's Young American Painters exhibition (1954) and after joining the Alan Gallery in New York, held solo exhibitions there in 1955, 1956, and 1960. Additionally, D'Arista's work was shown in numerous group shows including, among others, the Pennsylvania Academy of Art, the Whitney Museum, the Carnegie International, and the Chicago Art Institute. His work is held in permanent collections at the Yale University Museum, the Hirshhorn Museum, the Neuberger Collection, and the Smithsonian American Art Museum.
Finding a Path Emilie Brzezinski and Dalya Luttwak: A Conversation
Now – December 16, 11 a.m. – 4 p.m.,
Katzen Museum 1st & 2nd Floors Exhibition
 Emilie Brzezinski and Dalya Luttwak have much in common as artists, yet they have never shown their works together. Brzezinski's massive, rough-hewn, wood sculptures embody the vital energy of trees as archetypes of being. Luttwak's brilliantly colored metal creations are inspired by another essential aspect of universal growth and decay in nature – plant roots. This site-specific installation is a conversation on their approaches to nature as a means of understanding one's path through the world, and life itself.
Jim Sanborn - Without Provenance: The Making of Contemporary Antiquity
Now – December 16, 11 a.m. – 4 p.m.
Katzen Museum 3rd Floor Exhibition
In Without Provenance, Jim Sanborn gives a rare gift of artistic provocation. There is an abundance of beauty in this exhibition, but it is beauty that provokes thought and reflection. The takeaway from this extraordinary show is a very different vision for an art-collecting world.
Selections from the Artery Collection
Now – December 16, 11 a.m. – 4 p.m.
Katzen Museum 1st & 2nd Floors Exhibition
The Artery Organization Collection was conceived as a corporate collection in the early 1980s to support Washington-area artists and enhance the real estate offices of the company. CEO Henry H. Goldberg and his wife, artist Carol Brown Goldberg, worked with curators and galleries to ensure the broadest possible outreach and diversification of artistic styles. The energy reflected in the variety of art chosen over two-plus decades captures the spirit and inspiration of The Washington Color School and reflects the cooperation of artists, dealers, and collectors. The collection is the largest private assemblage of Washington-area artists.
Yoga in the Galleries
October 3, 10, 17, 24, 31, 10 a.m.American University Museum at the Katzen Arts Center
Led by certified Kripalu Yoga teacher Eva Blutinger, this yoga class provides mental clarity and relaxation in the peaceful surroundings of our art galleries. Please bring a mat. Cost is $10 for non-members, $5 for museum members, and free for members at the Associates level and above. www.tinyurl.com/aumtickets.
AU Farmers' Market
October 3, 10, 17, 24, 31, 10 a.m.
Quad Space in front of Mary Graydon Center
Every Wednesday, the quad space around the Mary Graydon building buzzes with activity as students, faculty, staff, and neighbors browse goods ranging from farm-fresh vegetables to homemade breads and desserts at the AU Farmers' Market. The market is a coordinated effort between AU and Pennsylvania-based Agora Farms. Girardot's Crumbs Bakery also offers a variety of fresh breads as well as chocolate chip cookies, mini pies, and cobblers.
Teju Cole Presents Blind Spot
October 3, 7 – 8:30 pm,
Doyle-Forman Theater – McKinley Building
Prolific author, photographer and New York Times photography critic Teju Cole will read and show slides from his most recent work, Blind Spot. The book assembles photographs and text that chronicle Cole's international travel in a dramatically changing world. At once a lyrical essay on place and a collection of photographs that insist on seeing what often goes unseen, Blind Spot invites the reader to think through the radical implications of bearing witness.
This event is free of charge, open to the public, and seats are available on a first-come, first-served basis. RSVP: https://www.eventbrite.com/e/teju-cole-presents-blind-spot-tickets-49212924181
Known and Strange Things: Art and Activism in the 21st Century
October 4, 7 – 8:30 pm
Katzen Arts Center
Teju Cole's art practice includes photography, novels, art installations, essays and Spotify playlists. Cole will speak about the possibilities of art and activism at a time of wrenching political division. How can art enter – and transform – national conversations? What can activists teach artists about meaningful creative expression in the 21st century? This event is free of charge, open to the public, and seats are available on a first-come, first-served basis.
The Crucible
October 4 –  5, 8 p.m. – 10 p.m.; October 6, 2 – 4 p.m., 8 – 10 p.m.
Katzen Studio Theatre
The God-fearing community of 1690s Salem is ripped apart as a group of girls makes accusations of witchcraft. Written as an allegory to combat McCarthyism in the 1950s, Arthur Miller's eerily relevant American classic calls for courage in the face of fear, corruption, and lies. Cost: $15.
RSVP: http://auartstix.universitytickets.com/user_pages/event.asp?id=319&cid=46
Friday Gallery Tours
October 5, 12, 19, 26, 11:30 a.m. – 12:30 p.m.Katzen AU Museum
Free, docent-led tours of the fall exhibitions are held every Friday. Tours highlight themes of the current exhibitions and last 45 minutes to one hour. Tours meet at the museum front desk at 11:30 a.m. No RSVP required. For more information, visit http://www.american.edu/cas/museum/events.cfm.
Women's Volleball vs. Holy Cross
October 5, 8 – 10 p.m.
Bender Arena
Women's Volleyball vs. Colgate
October 6, 4 – 6 p.m.
Bender Arena
Men's Soccer vs. University at Albany
October 9, 12 – 2 p.m.
Reeves Field
Point of No Return Film Screening
October 9, 7 – 9 p.m.

Wood-Brown Amphitheater
Join AU's Office of Sustainability and AU Outdoors Club for an outdoor screening of the environmental film Point of No Return. Snacks will be provided and neighbors are welcome!
INTERFERENCE Concert
October 11, 7:30 p.m. – 8:30 p.m.
Katzen AU Museum
The musical collective INTERFERENCE will present contemporary and classical works that draw connections to the notion of process music, including minimalism, algorithmic music, and chance determination. Featuring a combination of acoustic and digital musical instruments, computer performers, and visual components, INTERFERENCE will explore this terrain with a distinct intermedia focus. Free and open to all.
Field Hockey vs. Towson University
October 12, 3 – 5 p.m.
Jacobs Field
Women's Volleyball vs. Army West Point
October 12, 7 – 9 p.m.
Bender Arena
Guise & Dolls Workshop with Melissa Ichiuji
October 13 – 14, 11 a.m. – 4 p.m.
Katzen AU Museum
Join artist Melissa Ichiuji for this two-day intensive doll-making workshop where you will learn how to playfully manifest the you of your dreams through the art of self-portrait figurative sculpture. Participants will use journaling, movement, and guided imagery to unlock the body and mind and learn basic techniques for joining soft materials and meaningful artifacts to create a uniquely charged avatar doll aligned with their innermost fantasies. The cost is $235 per participant, materials provided.
Men's Soccer vs. College of Holy Cross
October 13, 2 – 4 p.m.
Reeves Field

 
Field Hockey vs. Old Dominion University
October 14, 12 – 2 p.m.
Jacobs Field
The Trouble With My Name
October 16, 7 – 8 p.m.
Constitution Hall, Room 1
With The Trouble with My Name, Javier Ávila has reached massive appeal as a powerful voice for minorities in the U.S. The 70-minute show sheds light on what it means to be a diverse citizen in this changing political climate. It draws on the arts, education, and entertainment to deliver a powerful message about who we are as a society. Through his poetry, autobiography, and humor, Javier examines the complexities of identity as a cultural construction, from his earliest notions of identity in his native Puerto Rico to his eventual identity re-assignment as an adult living on the mainland. Audiences attribute the success of the show to Javier's ability to bring people together. People of all ages and from all walks of life leave the performance with the feeling that our best days are ahead of us. The show is ideal for a wide variety of audiences, and also can be seen as a means to strengthen intercultural competency. This event is free of charge, open to the public, and seats are available on a first-come, first-served basis. RSVP: https://www.eventbrite.com/e/the-trouble-with-my-name-tickets-48967507132
Women's Soccer vs. Loyola University
October 17, 3 – 5 p.m.
Reeves Field
Pippin
October 18 – 20, 8 - 10 p.m.; October 26 – 27, 2 – 4 p.m., 8 – 10 p.m.
Greenberg Theatre
With an irresistible score by Academy Award and Grammy Award-winning composer Stephen Schwartz (Godspell, Wicked, The Prince of Egypt), this perennial musical favorite follows the young prince Pippin on his quest to find meaning and fulfillment in life. Join us as we spin a tale full of humor, illusions, romance, battles, and intrigue. We've got magic to do, just for you! Cost: $15. RSVP: http://auartstix.universitytickets.com/user_pages/event.asp?id=381&cid=61
Women's Volleyball vs. Lafayette
October 20, 2 – 4 p.m.
Bender Arena
Men's Soccer
October 24, 3 – 5 p.m.
Reeves Field
Artery Collection Gallery Talk
October 25, 6 p.m. – 7:30 p.m.
Katzen AU Museum
This talk will bring together the many curators and gallerists who have contributed to the development of the Artery Collection. Featuring Artery curators Annie Gawlak, Linda Lichtenberg Kaplan, Vivienne M. Lassman, James Mahoney, and Andrea Pollan. Free and open to all. Refreshments will be served.
Field Hockey vs. Colgate University
October 27, 11 a.m. – 1 p.m.
Jacobs Field
Men's Soccer vs. Lafayette College
October 27, 2 – 4 p.m.
Reeves Field
"B" List Composers
October 27, 7:30 – 9 p.m.
Abramson Family Recital Hall
The AU Chamber Orchestra will mark the debut performance of its inaugural season with Beethoven's First Symphony, as well as selections by Bach, Borodin, and others. Cost: $10
Field Hockey vs. University of Connecticut
October 28, 1 – 3 p.m.
Jacobs Field
Israel Abroad: The Israeli Diaspora Past and Present
Academic ConferenceOctober 28 – 29 
American University East Campus Constitution Hall
This is the first academic conference to focus on different communities – past and present, real and virtual – of Israelis abroad. Free to attend with RSVP: https://tinyurl.com/AUIsraelAbroadFor more informaion, visit: https://www.american.edu/cas/israelstudies/israel-abroad.cfm
Point of No Return Film Screening
October 9, 7 – 9 p.m.
Woods-Brown Amphitheater
Join AU Office of Sustainability and AU Outdoors Club for an evening screening of the environmental film Point of No Return. Snacks will be provided and neighbors are welcome!