October 2019

Community Relations
4400 Massachusetts Avenue NW
Washington
,
DC
20016-8033
United States
All-American Weekend, October 4 - 6

American University's annual All-American Weekend will take place October 4 – 6, with more than 40 events planned throughout the weekend. Open to alumni, families, students, and community members, the occasion celebrates the memories, the fun, and the future of AU.
The university anticipates increased activity around campus during the weekend, as families, alumni, and friends visit for the occasion.
The weekend gives alumni and families the opportunity to explore the campus together. Alumni can reconnect with friends they haven't seen in years, and families will discover more about student life at AU.
All-American weekend is hosted annually by the Office of Alumni Relations and Office of the Dean of Students.
For more information on all the planned events, please visit the All-American Weekend website.
"American University Planning 101" Session on Nov. 5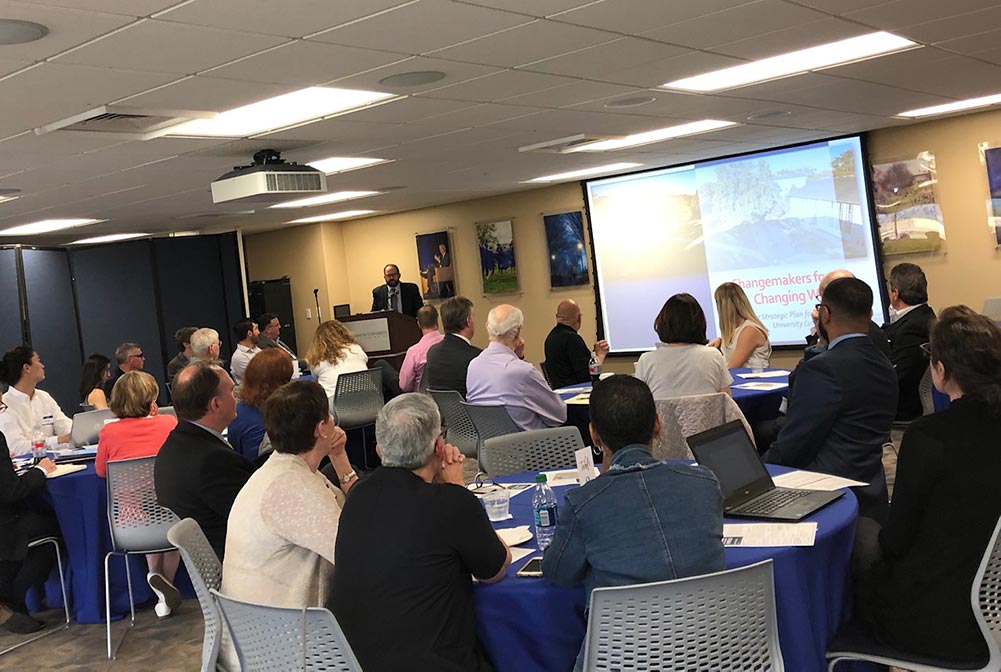 American University invites neighbors, students, faculty, and staff to the "American University Planning 101" Sessions on November 5 from 5:30 – 7:30 p.m. in the Butler Board Room. The session is an opportunity to engage with the entire campus community on various facets of planning.
The session will focus on "AU and Our Campus: Shaping the Future." Through collaborative group discussions, we will consider various elements of a campus plan and exchange ideas about what could benefit AU and the campus community. Contribute your voice to the future of American University's campus.
The Planning 101 Session is part of a series of stakeholder meetings designed to help foster healthy and constructive dialogue around planning at American University. 
Light dinner and refreshments will be served. RSVP by email to communityrelations@american.edu.
Farmers' Market Returns and Features New Bakery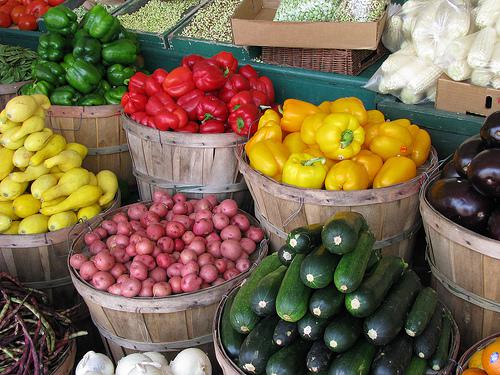 Rain, snow, or sun, every Wednesday from 11 a.m. – 4 p.m., AU's farmers' market is a fixture in the quad space around the Mary Graydon Center. Students, faculty, staff, and neighbors can browse goods ranging from farm-fresh vegetables to homemade breads and desserts.
The market is a coordinated effort between AU and Pennsylvania-based Agora Farms, an intermediary for bringing Amish and Mennonite and "English" farm goods to AU's campus as well as to D.C.'s historic Eastern Market on Saturdays and Sundays.
New to AU's Farmers' Market, Ravenhook Bakehouse offers a variety of hearth-baked, European-style breads and pastries as well as fresh-brewed coffee. The DC-based bakery is committed to the old world-style of bread making, relying on centuries-old techniques to produce delicious, healthy, and grain-forward breads.
In addition to supporting locally-grown food, the convenience of having fresh food right on campus makes it a great benefit not only to the campus community but to the surrounding neighborhood as well.
Off-Campus Students Learn Good Neighbor Tips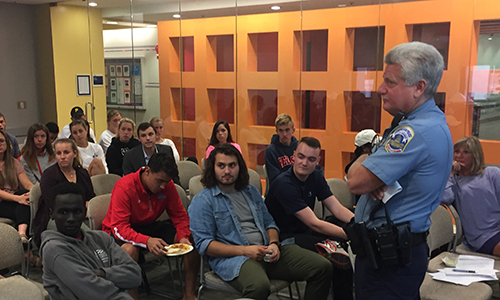 American University's Office of Community Relations held its annual Off-Campus Living orientation recently, as students returned for the fall semester. University administrators at the orientation covered a wide range of topics including a review of students' rights and responsibilities as good neighbors, the importance of maintaining appropriate noise levels, proper trash disposal, renters' rights, and tips on how to be proactive members of the local community.
As in previous years, the orientation was a collaborative effort between the Office of Community Relations, Greek and Sorority Life, Athletics, Public Safety, Housing and Dining, and the Dean's Office.
2019-20 Basketball Season Tickets On Sale Now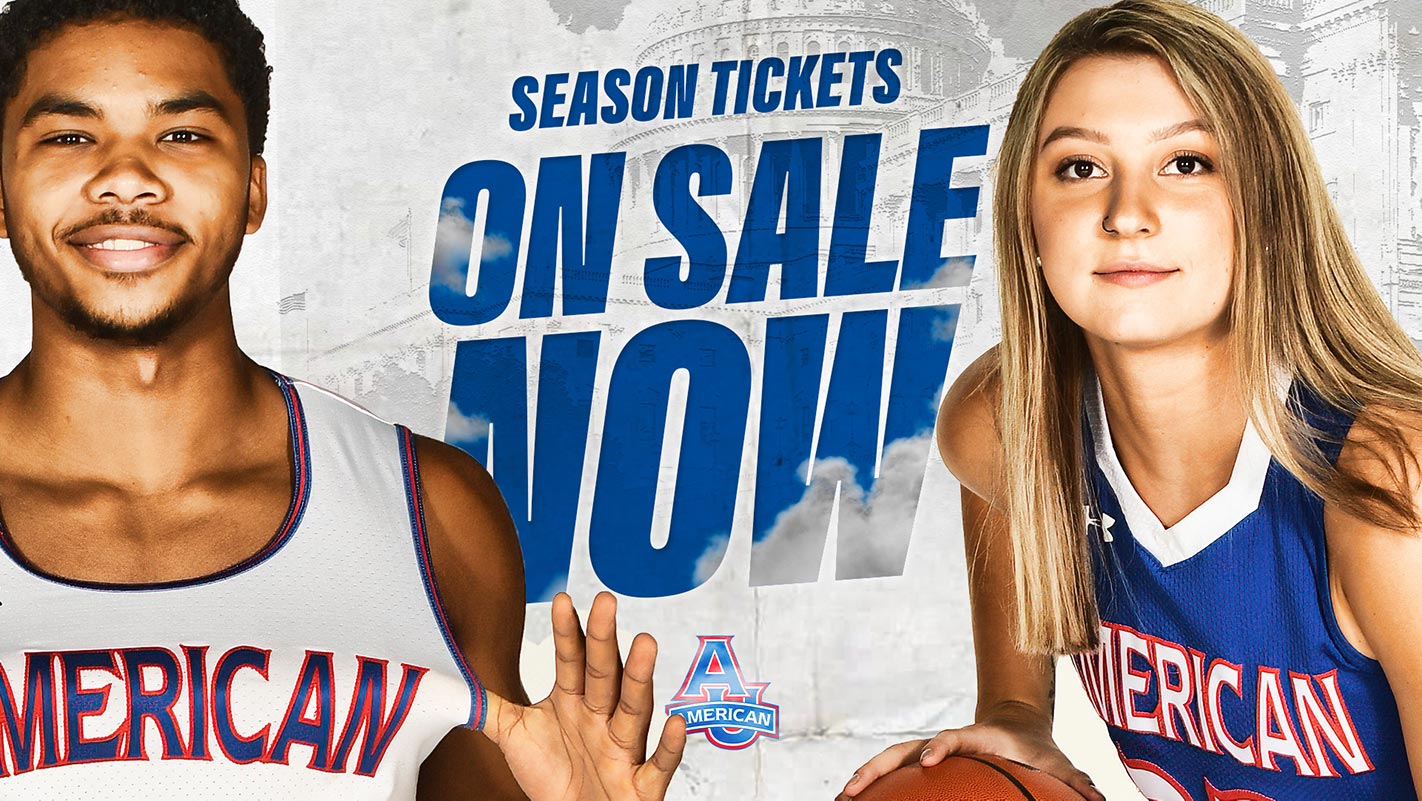 Secure your 2019-20 basketball season tickets today, as Coach Mike Brennan's Eagles look to take back the Patriot League trophy and return to the NCAA tournament.  
All season ticket holders receive:
Reserved seats to all 13 men's home games
Priority seating to postseason games
Priority for NCAA tournament tickets
AU Women's Basketball season tickets
Packages are priced as low as $50 and only $200 for the best chairback seats along the sideline for all 26 men's and women's basketball home games in Bender Arena. Season ticket holders receive savings off the individual game price, guaranteeing fans the same great seats for all Men's and Women's Basketball games in Bender Arena.
Also available for purchase are 2019-20 Women's Basketball season tickets. General admission season tickets for the Women's Basketball team are $80 for adults, $50 for youth (17 and below) and seniors (65-plus), a savings of more than 23 percent off face value for 13 home games.
Benefits for all season ticket packages include the full exchange for games you cannot make, as well as discounts and special benefits throughout the year. All season ticket holders receive priority ticketing for all national postseason tournament games. Home basketball games are free of charge for all AU students with a valid AU ID.
To purchase tickets, visit the AU Eagles page. Tickets also can be purchased in person at the Bender Arena Box Office from 10 a.m. to 5 p.m., Monday through Friday. 
For further inquiries on season ticket packages, call (202) 885-TIXX (8499) or e-mail clawed@american.edu.
Grace Hartigan and Helene Herzbrun: Reframing Abstract Expressionism
Now – December 15
AU Katzen Museum
Grace Hartigan and Helene Herzbrun were both remarkable painters of the second Abstract-Expressionist generation who lived and worked as influential artists and teachers in the Baltimore/Washington region for many decades. Although they began their careers as gestural abstractionists in the mold of Pollock and de Kooning, both went on to reinvent and revitalize the signature styles of the Ab-Ex movement in powerful and personal ways. They were enabled to do so in large part by their self-selected, "outside-of-New York" locale, which permitted each of these very different artists to develop her own dialogue with painting, away from the shifting fashions and pressures of the commercial mainstream. This show brings together more than two dozen large-scale and rarely seen works by Hartigan and Herzbrun from private and public collections, many in the Baltimore/Washington area. It redirects attention to the local contexts and communities in which these works were produced and deepens understanding of the relationship between mainstream modernist movements such as Ab-Ex and their rich regional transformations.
Topographies of Life: Pam Rogers, Lynn Sures, Mel Watkin
Now – December 15
AU KatzenMuseum
Using the medium of drawing to varied and distinctive effect, Rogers, Sures, and Watkin trace human connections to the natural world – across time and varied landscapes. From depictions of the deserts of Kenya, forests of the Midwest, to the Potomac watershed, these artists are deeply attuned to the mutually affecting relationship between the anthropological and natural worlds.
Prints & Artists: WD Printmaking Workshop 1970-Present
Now – October 20
AU Katzen Museum
This exhibition traces the evolution of the DC-based WD Printmaking workshop, which began with Percy and Alice Martin's opening their Adams Morgan home as a collaborative artists' studio fifty years ago. The aim was to create a place where all artists (not necessarily trained in printmaking) could come together to explore the printmaking craft and create original prints. Emphasis was placed on experimentation and innovation. The studio was open to the artists twenty-four hours a day. The workshop moved with Martin and his family into the basement of their home on Lamont Street in Mount Pleasant. The WD Workshop ran classes, presented demonstrations, and held regularly scheduled critique sessions. Artists came and went during all hours of the day and night. Participating WD artists achieved successful printmaking careers working in diverse styles. The exhibit features historical and recent work by members of the workshop.
Moves Like Walter: New Curators Open the Corcoran Legacy Collection
Now – December 15
AU Katzen Museum
This collection is a product of Director and Curator Jack Rasmussen's spring course on curatorial practice. Graduate students in art history, arts management, and studio art curated a playful and provocative interpretation of the 9,000-piece gift from the Corcoran. The exhibition is inspired by Walter Hopps, briefly the Director of the Corcoran and an erratic but seminal American curator of contemporary art. The curators have divided their responses into five sub-groups, Boundless: Existing Within Ambiguous Space, The Road Home, The Selfless Spirit: Nature vs. Nurture and the Effects of Motherhood in the Corcoran Collection, American Legacy: Reconsidering Non-Western Subjects in the Corcoran Collection, and Redefining the Gaze: Shifting the Power.
Yoga in the Galleries
October 2, 9, 16, 23, 30, 10 – 11 a.m.
American University Museum at the Katzen Arts Center
Led by certified Kripalu Yoga teacher Eva Blutinger, this yoga class provides mental clarity and relaxation in the peaceful surroundings of our art galleries. Please bring a mat. Cost is $10 for non-members, $5 for museum members, and free for members at the Associates level and above. www.tinyurl.com/aumtickets.
Farmers' Market
October 2, 9, 16, 23, 30, 11 a.m. – 4 p.m.
Quad Space in front of Mary Graydon Center
Every Wednesday, the quad space around the Mary Graydon building buzzes with activity as students, faculty, staff, and neighbors browse goods ranging from farm-fresh vegetables to homemade breads and desserts at the AU Farmers' Market. The market is a coordinated effort between AU and Pennsylvania-based Agora Farms.  Ravenhook Bakehouse also offers a variety of hearth-baked, European-style breads and pastries as well as fresh-brewed coffee.
INTERFERENCE Concert
October 3, 7:30 – 9:30 p.m.
AU Museum, Katzen Arts Center
The musical collective INTERFERENCE will present contemporary and classical works that draw connections to the notion of process music, including minimalism, algorithmic music, and chance determinism. Featuring a combination of acoustic and digital music instruments, computer performers, and visual components, INTERFERENCE explores this terrain with a distinct intermedia focus. Free and open to all, no RSVP required.
Theatre: Shared Space
October 3,4, 6, 8 – 10 p.m.
Katzen Studio Theatre
This play takes a humorous, sobering, and occasionally painful look at the compelling issues of 1968 – war, racial strife, women's liberation, radical politics, sex, drugs, and rock 'n roll – through the eyes of thirteen college roommates. Free and open to all. RSVP: auarts@american.edu.
Women's Volleyball vs. Bucknell University
October 5, 2 – 4 p.m.
Bender Arena
Docent-led Museum Tour
October 6, 12, 20, 2 – 3 p.m.AU Katzen Museum
A docent-led tour of one or more of our current exhibitions. No RSVP required. Please meet at the front desk.
Women's Soccer vs. College of the Holy Cross
October 6, 2 – 4 p.m.
Reeves Field
Women's Soccer vs. UMBC
October 9, 3 – 5 p.m.
Reeves Field
Don't Mute DC: Go-Go, Gentrification, and Resistance to Cultural Erasure
October 10, 11 a.m. – 12:30 p.m.
Mary Graydon Center, The Wechsler Theater
Dr. Natalie Hopkinson's book Go-Go Live: The Musical Life and Death of a Chocolate City gives a social history of black Washington told through its go-go music and culture, and how gentrification pushed go-go into D.C.'s suburbs. The Chocolate City is in decline, but its heart, D.C.'s distinctive go-go musical culture, continues to beat. Dr. Hopkinson will discuss the history of go-go music and how the #DontMuteDC movement evolved into a more extensive conversation about gentrification, culture, and racial justice. Light refreshments will be served. Free and open to the public. Register online.
International Day Against the Death Penalty
October 10, 3 – 4:30 p.m.
Kay Main Chapel
In commemoration of International Day Against the Death Penalty, School of Communication Professors Maggie Stogner and Rick Stack will present their documentary, In the Executioner's Shadow. The film will be followed by a panel discussion.  Experts invited to participate include: Sister Helen Prejean, author of Dead Man Walking; Diann Rust-Tierney, Executive Director of the National Coalition to Abolish the Death Penalty; and Jerry Givens, the documentary's title character. Welcoming comments will be offered by representatives from the event's co-sponsors, the Provost's Office and the European Union Delegation. Light refreshments will be available at a reception in the Kogod student lounge following the event.
Men's Soccer vs. Boston University
October 11, 2 – 4 p.m.
Reeves Field
Field Hockey vs. College of the Holy Cross
October 11, 4 – 6 p.m.
Jacobs Field
Swimming & Diving vs. Loyola University
October 12, 9:30 a.m. – 5 p.m.
Large Pool
Field Hockey vs. VCU
October 13, 12 – 2 p.m.
Jacobs Field
Katzen Soundbites - How to Succeed In Business Without Really Trying
October 15, 12:35 – 12:55 p.m.
Katzen Rotunda (lobby)
The cast of How To Succeed In Business Without Really Trying will perform selections from the Pulitzer-Prize winning musical satire. Katzen Soundbites is the Music Library's series of lunchtime concerts. Performers are students, faculty, and staff from the Department of Performing Arts and the Library. Soundbites is a collaboration between the AU Library and the Department of Performing Arts.
A State at Any Cost: The Life of David Ben-Gurion Book Talk with Tom Segev 
 Tuesday, October 15, 2019 6:00-7:30 PM
 Abramson Family Founders Room, SIS Building 
The Center for Israel Studies invites you to hear Tom Segev, Israel historian, author, and journalist, who will discuss his new biography of David Ben-Gurion, highlighting the history of Zionism and Israel. Tom Segev is one of Israel's most established journalists, with a number of books in the New York Times' Best Books of the Year lists. Books for sale and signing at dessert reception after the event. 
Free with RSVP: https://tinyurl.com/SegevAU 
Contact: Laura Cutler, cutler@american.edu, 202-885-3780 
Facebook event: https://www.facebook.com/events/514394959338415/
Theatre: How to Succeed in Business Without Really Trying
October 17, 18, 8 – 10 p.m.; October 19, 2 – 4, 8 – 10 p.m.; October 25, 8 – 10 p.m.; October 26, 2 – 4 p.m., 8 – 10 p.m.
Greenberg Theatre
This Pulitzer Prize-winning Broadway musical classic is an irreverent, hilarious, and tuneful satire of sex and big business. Following the advice of a self-help book, an ambitious window washer becomes chairman of the board. For tickets, visit: https://bit.ly/2ln7LEU.
Swimming & Diving vs. Georgetown University
October 18, 5 – 7 p.m.
Large Pool
Family Day at the AU Museum
October 19, 11 a.m. – 3 p.m.
AU Museum, Katzen Arts Center
The AU Museum invites people of all ages to the Fall Family Fun Day. All activities are free and inspired by our current exhibitions. Create hands-on art projects, explore art with a scavenger hunt, take a tour with one of our guides, listen and participate in storytelling and music-making, and more. The events are all free. Please register in advance and check-in at the door. You do not need to print your Eventbrite ticket. Children must be accompanied by an adult. Register online.
Women's Soccer vs. Army West Point
October 19, 1 – 3 p.m.
Reeves Field
Gorenman Bach Project: Yuliya Gorenman, Piano
October 19, 7:30 – 9:30 p.m.
Abramson Family Recital Hall
Following last season's performance of the epic Well-Tempered Clavier, internationally acclaimed pianist and AU musician-in-residence Yuliya Gorenman continues to explore Bach's greatest keyboard masterworks with three partitas and the beloved Italian Concerto. Fee: $25. RSVP online.
Men's Soccer vs. West Virginia University
October 22, 2 – 4 p.m.
Reeves Field
Women's Volleyball vs. Loyola University
October 22, 7 – 9 p.m.
Bender Arena
Women's Soccer vs. United States Naval Academy
October 23, 3 – 5 p.m.
Reeves Field
Women's Volleyball vs. Army West Point
October 25, 7 – 9 p.m.
Bender Arena
Men's Soccer vs. Colgate University
October 26, 1 – 3 p.m.
Reeves Field
Women's Volleyball vs. Colgate University
October 26, 4 – 6 p.m.
Bender Arena
Field Hockey vs. University of Maryland
October 29, 3 – 5 p.m.
Jacobs Field