Message from Maria Barry, Director of Community Relations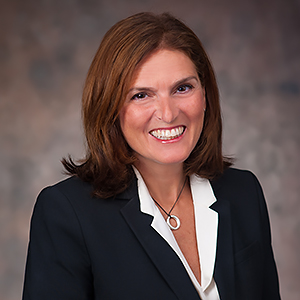 Dear Neighbors:
With the beginning of the fall semester, AU's entire student body has returned to the neighborhood and we hope that you will welcome them.
To help ensure our off-campus students get off to a positive start in their new neighborhoods, we launched a mandatory, web-based off-campus living orientation and an accompanying Eagle Living Guide with tips on how to live successfully in the community. These materials remind undergraduate students living in the 20016 and 20008 Zip Codes of their responsibilities under AU's Student Conduct Code and District law. Topics include responsibilities for yard maintenance, trash and snow removal, as well as an overview of the District's noise and alcohol laws. We also inform them of their rights as tenants to a clean and safe living space, including the requirement that rental property owners obtain a Basic Business License (BBL) from the District Department of Consumer and Regulatory Affairs (DCRA). The orientation messages are reinforced by a letter to all off-campus students from the Dean of Students' office.
Occasionally, some of our students demonstrate poor judgment and cause concern to neighbors. We want to assure you that we are here to help in those instances. We expect AU students to be responsible and considerate neighbors, whether they live on or off campus.
If you believe that students are violating District law, please do not hesitate to call the Metropolitan Police Department at 911.
If intervention by Campus Life staff seems to be the most appropriate response, you may call the Office of the Dean of Students at 202-885-3300 (Mon. – Fri., 9 a.m. – 5 p.m.) or file a complaint online at www.american.edu/ocl/dos.
We are here if you need us. In the meantime, please welcome your new neighbors to the community.
Best regards,

Maria Barry
Director of Community Relations
202-885-2146
American University
Community Liaison Committee Meets September 14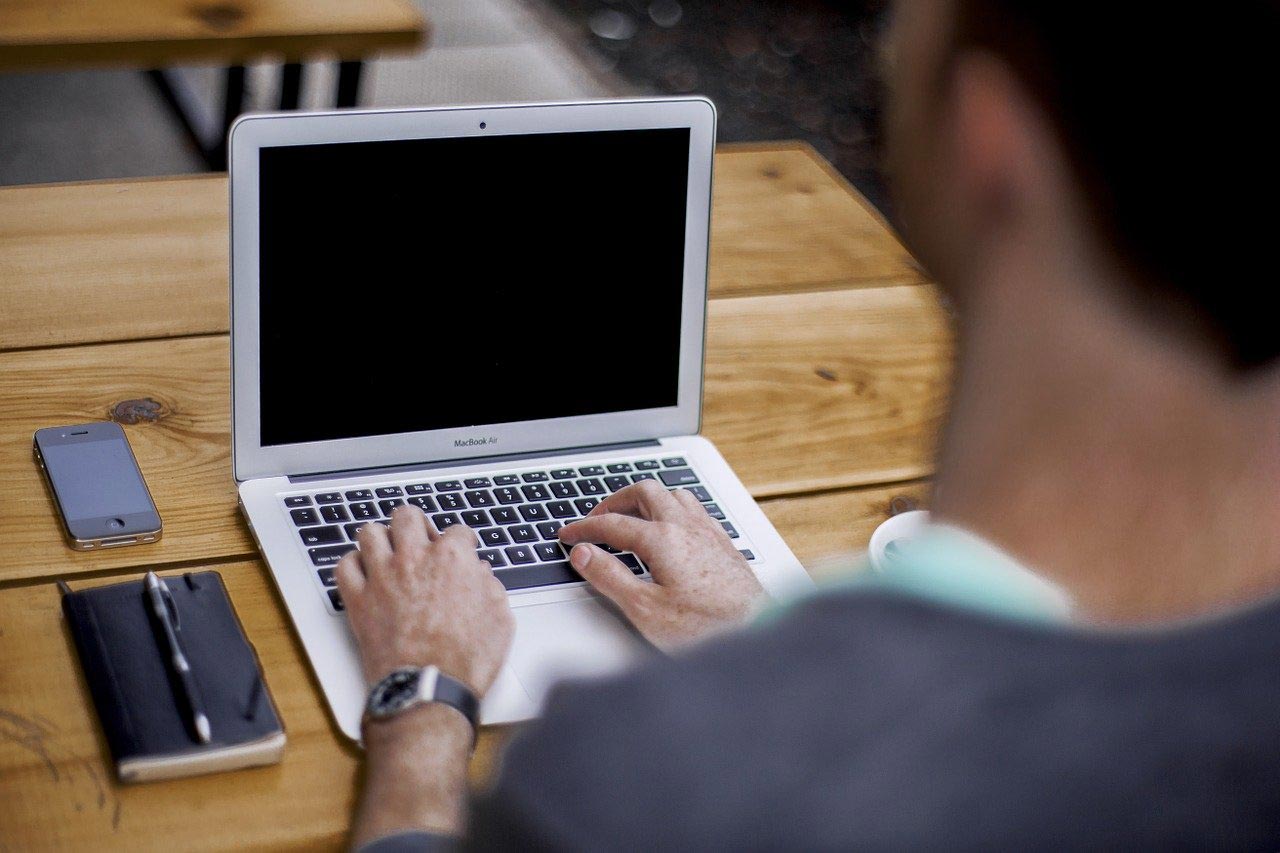 American University's Community Liaison Committee (CLC) will hold a quarterly meeting on Tuesday, September 14. The meeting will begin at 6:30 p.m. via Zoom.
To register for the meeting, visit the registration page.  Prior to the meeting, each registrant will receive an email and a calendar invite from Justice & Sustainability Associates with information on how to access the meetings.
The CLC was established to foster positive relations and to maintain regular communication between the university and its neighbors. As specified in the D.C. Zoning Commission Order for AU's 10-year Campus Plan, the CLC comprises individuals from neighboring community organizations and representatives from the university.
Additional information on the CLC, including meeting agendas and minutes can be found at the CLC website.
American University Library Reopens to Neighbors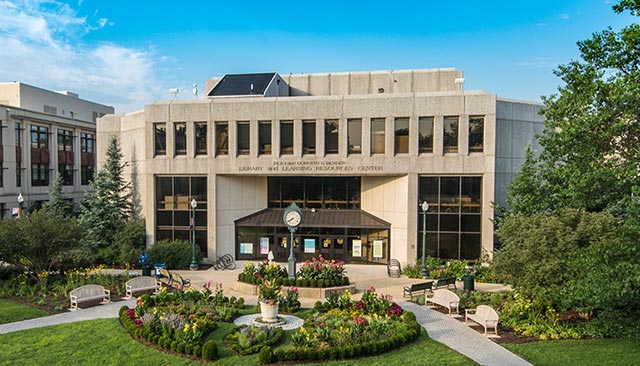 With the start of the fall semester and a return to relatively normal university operations, the American University Library is happy to provide access once again to our neighbors and other community guests. 
To ensure the safety of all library users, non-AU students, faculty, and staff all will be required to provide proof of vaccination before entry to the library. Guests also will be required to provide their name, email address, and phone number for the purpose of potential contact tracing. Anyone visiting the library also will be required to wear a mask.
We appreciate your assistance in keeping our community safe and taking these precautions to enable the library to remain as open as possible during this time.
Prior to visiting the library, please follow the simple steps below:
Complete the contact form : https://american.edu/library/services/visitor-registration.cfm.
When you arrive at the library, be sure to stop at the Information Desk and present your ID to check in.
If it is your first visit, you will need to bring proof of vaccination (an original vaccination card, photo, or digital passport).
Once the Information Desk attendant has checked you in, you have free access to the entire library.
University Ave. Gate and Key Fob Update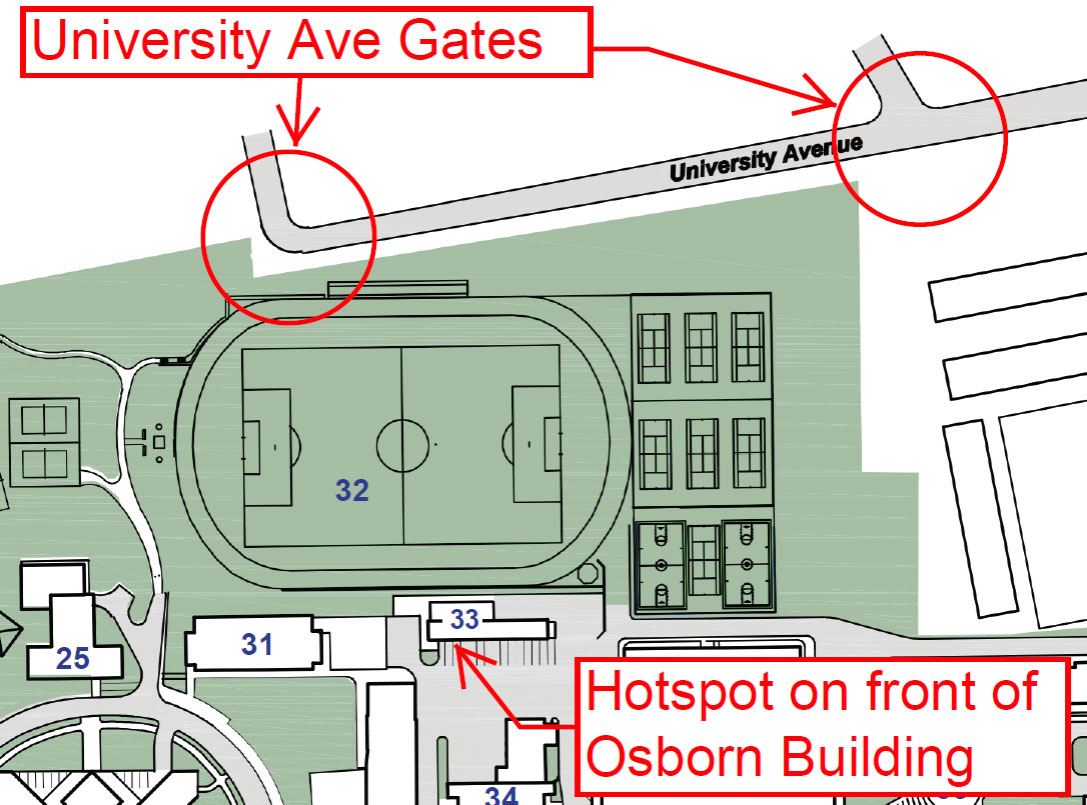 As American University resumes on-campus operations, effective September 20, the gates along University Ave. will be locked once again. 
Neighbors who live currently in the 20016 Zip Code and have an access fob will need to visit the Osborne Building on the university campus prior to September 20 and use a "hot spot" to reactivate their fobs.  
To update your gate access fob:
Present the fob to a Hotspot on American University's campus.
The closest Hotspot reader is mounted outside of the entrance door furthest from the basketball courts in front of the Osborn Building. It can be accessed by walking from the track, past the basketball courts, and making a right-hand turn.  
To update your fob, hold it up to the Hotspot for five seconds. When the light stops blinking, it is updated.
Those who update their fobs after September 20 will be required to find an alternative route to the Osborne Building. (See map and directions to reactivate fobs).
If you have lost or damaged your fob, or you are a new neighbor living in the 20016 Zip Code, you may receive a replacement fob at AUPD (Don Myers Building, 3501 Nebraska Ave., lower-level terrace), Monday through Friday, 9 a.m. to 5 p.m. Be sure to bring proof of your address (driver's license, electric bill, or lease). 
If you live in the Fort Gaines neighborhood, no action will be required. 
For more information, contact Doug Pierce.
Explore DC Returns to Offer AU Students Opportunity to Perform Day of Service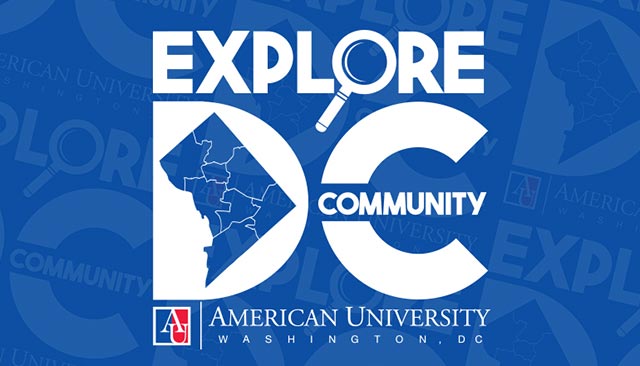 In another indication that American University is returning to relative post-pandemic normalcy, incoming freshmen and sophomores participated in the Explore DC program during this year's All-American Welcome Week. In its 30th year as a university tradition, the week-long experiential program allowed students the opportunity to perform a day of service with one of AU's community partners, as well as engage in immersive learning by visiting historic sites throughout the city. 
Sponsored by AU's Center for Community Engagement & Service (CCES), this year's Explore DC posed some unique challenges for its organizers. 
According to Marcy Campos, Director of CCES, "We essentially reinvented the Explore DC program this year to adapt to COVID restrictions and protocols, and to welcome incoming freshmen – and for the first time – sophomores who were not able to participate in the program last year because of the university shutdown. We also were faced with the challenge of having more participants than usual and fewer nonprofits who were willing to have large numbers of people come to their sites."
Despite the challenges of organizing such an ambitious city-wide effort, this year's activities engaged 86 incoming freshmen and 71 sophomores, 27 team leaders comprising rising juniors, seniors, and a handful of graduate students; spanned eight DC neighborhoods; and benefitted 14 different non-profit organizations. In total, students performed 580 hours of service. 
The wide-ranging number of community partners participating in Explore DC included Martha's Table, Alliance of Concerned Men, Latin American Youth Center (LAYC), Shepard's Table, Veterans on the Rise, DC Bilingual, Jubilee, and Housing Up. The student volunteers performed myriad service activities including gardening and clean-up projects, sorting donated clothes, packing school backpacks with supplies, organizing pantries, and providing food to community members.  
Many of the students who participated in Explore DC initially had relatively modest expectations and viewed their involvement mostly as a way to meet other students and explore different parts of the city. However, for many, their day of service and exploration proved to be far more affecting and profound. While their initial expectations were met, the experience also made them more acutely aware of the city's different communities and the significant issues and challenges faced by its residents.
James Chan, a first-year School of International Service graduate student, who led student volunteers at LAYC said, "Generally, when people mention Washington D.C., they immediately think of the White House, Capitol Hill, or other tourist attractions and highlights that Hollywood may portray. However, the District is far more than that. It is a place with a great diversity of people and a diversity of issues that desperately need to be addressed. Explore DC provides an opportunity for new AU students learn about these issues that are not readily apparent on the surface. By serving with partner organizations, students get a more intimate glimpse into what the District is really all about."
Incoming freshman Darya Iranmanesh, who volunteered at Martha's Table, initially became aware of Explore DC on social media and viewed the program as an "adventure," but quickly found the experience to be more significant. 
"Explore D.C. really opened my eyes to a lot of issues in DC – specifically, food justice, minority education, and the lack of city resources. I never realized how much culture mattered in DC. The program inspired me to challenge my pre-existing views – many of which were false or even nonexistent," said Iranmanesh. 
She also does not view her day of service as a one-off experience. "I definitely will be taking action to help address food justice. I am taking a class related to the topic and plan to apply what I learned from my visit to Martha's Table. I want to revisit Anacostia and Columbia Heights and volunteer more – perhaps with Martha's Table – in and around the DMV area.  I also would like to contribute towards the efforts of other similar organizations." 
Similarly inspired by her freshman Explore DC experience, junior Anjali Singh has continued to volunteer in service of under-represented individuals and communities in the District. Recalling her freshman experience, Singh said, "I also signed up for Explore DC as a freshman to understand the lay of the land in DC and meet new people. However, I quickly gained a new and deeper understanding of the culture of the city. My Explore DC group went to the Sentencing Project to learn about gentrification and understand the school-to-prison pipeline system and the vast racial inequities in the criminal justice system. The experience lit a fire within me to pursue work to help free wrongly incarcerated people with the Equal Justice Initiative."
"This year, I led an Explore DC group of underclassmen at Veterans on the Rise, where we organized donated clothes for veterans. It was a very fulfilling experience traveling to Ward 7 and talking to the people who worked there and see how our work would benefit veterans. The organization's staff was so grateful that we were able and willing to help that it made me all the more grateful to be there. My hope is that our experience encourages and inspires underclassmen to build a fiery passion within themselves – much like the Explore DC experience did for me – to perform more service and help address inequities to make both the DC community and the country more just," said Singh.   
Campos echoed a similar sentiment by noting, "We believe that engaging in the city through community service, exposure to the nonprofit sector and the issues they address, and exploring diverse neighborhoods gets our students excited about future involvement in DC, their new home. After participating in Explore DC, we hope that they will take advantage of the many community-based learning opportunities, tutoring with DC Reads, and consider alternative break programs which benefit local, national, and international causes."
Art All Night Returns to Tenleytown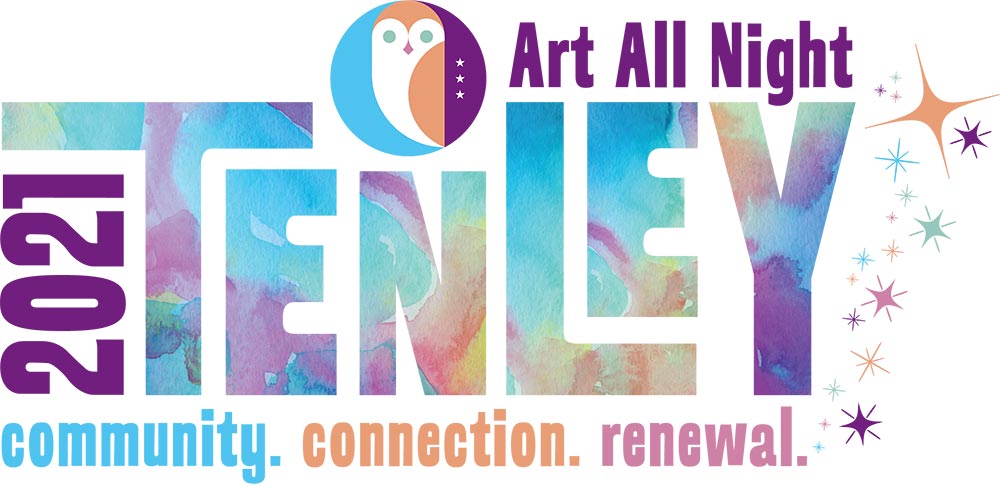 Art All Night returns to Tenleytown on Saturday, September 25, from 7 p.m. to midnight, as Tenleytown Main Street celebrates the arts as a catalyst for community, connection, and renewal. Public and private spaces throughout Tenleytown will transform into pop-up galleries and performance stages to welcome more than 200 visual and performing artists from across the DC Metro Area.
In 2019, the last year the event was held in person, more than 15,000 festival attendees enjoyed exhibits, performances, and interactive art experiences in Tenleytown. This year's 16 venues offer art lovers of all ages and backgrounds something to enjoy. Select highlights include:
A short-film festival in partnership with the 48-hour Film Project, which gives teams of filmmakers a single weekend to write, shoot, and edit their films. See if you can spot the homage to Tenleytown in this year's films.
The Art All Night Welcome Center offers a whimsical wonderland of mermaids swimming in a tank, steel drum sounds from the islands, a larger-than-life illuminated Lady of the Lanterns, juggling, lawn games, and more.
An outdoor silent disco brought to you by Hushed, Inc. – The Silent Experience.
An art and makers market with jewelry, textiles, pottery, ceramics, craft spirits, and more from more than a dozen DC area creators.
Live music performances spanning bluegrass, classic rock, folk, funk, indie-pop, and DC's signature sound – Go-Go.
Dance from around the world, including Bollywood, belly dancing, flamenco, samba, and hip-hop.
A new mural painted live by celebrated DC artist Jay Coleman and students from Georgetown Day School, highlighting this year's themes of community, connection, and renewal.
Art All Night attendees also may enter a free raffle to win $100 gift cards to local businesses.
American University is a proud sponsor of Art All Night in Tenleytown. Find more information about Art All Night, including volunteer opportunities, at:
www.tenleytownmainstreet.org/event/art-all-night.
Tenleytown Main Street takes seriously the health and well-being of Art All Night artists, performers, patrons, and attendees, all of whom will be required to follow all COVID public health guidelines set by the District of Columbia.
AU Athletics Welcomes Back Neighbors & Fans to Cheer on AU Eagles in September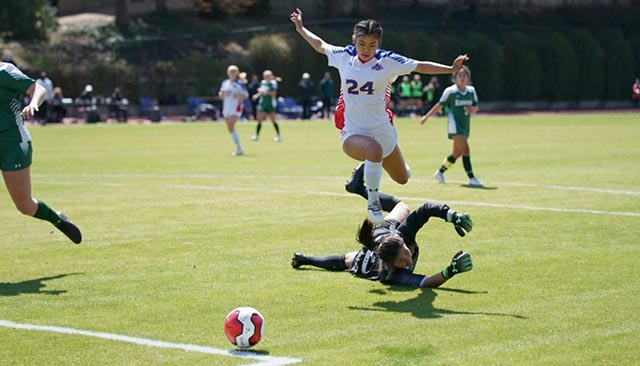 With the return of students to campus, the Department of Athletics also is excited to see the return of in-person fans to our games and venues. We invite AU neighbors and the community to come out to see our teams and support our student-athletes throughout the year and cheer on the Eagles.
AU's field hockey, women's soccer, men's soccer, volleyball, and swimming and diving teams will host home events this fall. Admission is free to field hockey, women's soccer ,and swimming and diving home events, and tickets to all men's soccer and volleyball home games are on sale now via AUeagles.com/tickets priced at $5 for youth and seniors, and $8 for adults. Group rate tickets in quantities of 10 or more, purchased in advance by calling the ticket office (202) 885-TIXX (8499), are available starting at just $2. Single game ticket purchasers for men's soccer and volleyball are encouraged to purchase contactless e-tickets in advance online through AUeagles.com/Tickets to help reduce contact at entry and with venue personnel.
Upcoming Home Events September 2021
Friday, September 3 at 4 p.m. - Men's Soccer vs. Santa Clara – Reeves Field
Sunday, September 5 at 1 p.m. – Field Hockey vs. William & Mary – Jacobs Complex
Tuesday, September 7 at 7 p.m. – Volleyball vs. UMBC – Bender Arena
Thursday, September 9 at 4 p.m. – Women's Soccer vs. Old Dominion – Reeves Field
Sunday, September 12 at 2 p.m. – Women's Soccer vs. Elon – Reeves Field
Tuesday, September 14 at 3 p.m. – Men's Soccer vs. Delaware – Reeves Field
Friday, September 17 at 7 p.m. – Volleyball vs. Oregon – Bender Arena
Saturday, September 18 at 7 p.m. – Volleyball vs. Harvard – Bender Arena
Saturday, September 18 at 12 p.m. – Field Hockey vs. Lafayette – Jacobs Complex
Saturday, September 18 at 3 p.m. – Women's Soccer vs. Holy Cross – Reeves Field
Wednesday, September 22 at 7 p.m. – Volleyball vs. Howard – Bender Arena
Friday, September 24 at 4 p.m. – Swim & Dive hosts Potomac Relays – Reeves Aquatic Center
Sunday, September 25 at 2 p.m. – Men's Soccer vs. Lehigh – Reeves Field
Saturday, September 25 at 7 p.m. – Volleyball vs. Colgate – Bender Arena
Sunday, September 26 at 12 p.m. – Volleyball vs. Holy Cross – Bender Arena
Sunday, September 26 at 3 p.m. – Field Hockey vs. Maryland – Jacobs Complex
Volleyball Tickets
Tickets to all remaining home games for the 2021 season are on sale now. Cheer loud and proud for AU in Bender Arena with friends, family, and colleagues by purchasing your tickets today!
Purchase season tickets to attend all home games and save more than 50 percent.

Youth (17 & below) / Senior (65+) – General Admission: $31.80

Bring a group and save more than 40 percent.

$3 per person (10+)
$2 per person (25+)

For individual games:

Adult – General Admission: $8
Youth (17 & below) / Senior (65+) – General Admission: $5
Military/Veterans – General Admission: Free Admission with Identification
For inquiries e-mail clawed@american.edu or call 202.885.TIXX (8499).
Men's Soccer Ticket Opportunities
Tickets to all remaining home games to see the defending Patriot League Champions are on sale now. Cheer loud and proud for the AU Eagles at Reeves Field with your friends, family, and colleagues by purchasing your tickets today!
Purchase season tickets to attend all home games and save more than 50 percent.

Adult – General Admission: $42.40
Youth (17 & below) / Senior (65+) – General Admission: $26.50

Bring a group and save more than 40 percent.

$3 per person (10+)
$2 per person (25+)

For individual games:

Adult – General Admission: $8.00
Youth (17 & below) / Senior (65+) – General Admission: $5.00
Military/Veterans – General Admission: Free Admission with Identification
For inquiries e-mail clawed@american.edu or call 202.885.TIXX (8499).
Interested in purchasing Men's and Women's Basketball season tickets for the 2021-22 seasons?
E-mail clawed@american.edu or call 202.885.TIXX (8499) for further details to reserve the best seats in Bender Arena!
School of Communications Invites Neighbors to Two September Events
Visual Journalism on the Edge
September 8 at 6:30 p.m., ET (virtual event)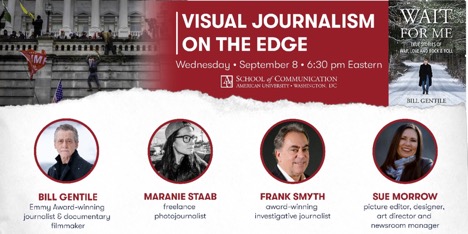 This event draws attention to new challenges facing journalists, especially visual journalists, working the craft in today's divisive environment of "fake news" and "enemies of the people." The panel discussion will explore ways to counter and cope with the new challenges facing photojournalism and documentary filmmaking. Panelists include professor Bill Gentile, photojournalist Maranie Staab, and investigative journalist Frank Smyth, and will be moderated by Sue Morrow, editor and designer of the News Photography magazine for the National Press Photographers Association. RSVP: https://visual-journalism-on-the-edge.eventbrite.com
Are We There Yet? Progress and Challenges for Women in Politics and Media, 2020 and Beyond
September 23 at 6:45 p.m., ET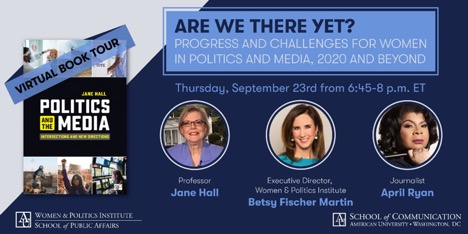 The 2020 presidential campaign marked a turning point for women in politics and the media. Yet challenges remain, both in terms of media coverage of women in politics and the treatment of female political journalists of color and overall. Join SOC professor Jan Hall, author of the new book Politics and the Media: Intersections and New Directions (CQ Press); Women & Politics Institute executive director Betsy Fisher Martin and April Ryan, author of Under Fire, White House correspondent for theGrio and political analyst for CNN, for the launch of Professor Hall's new book and first-hand perspectives on women in politics and media, today and in the future.  This event is hosted by the School of Communication and the Women & Politics Institute at American University. 
RSPV: https://www.eventbrite.com/e/are-we-there-yet-progress-and-challenges-for-women-in-politics-media-registration-167485951991