Jack Child Teaching with Technology Award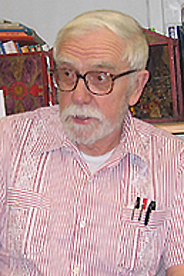 CTRL's Jack Child Teaching with Technology Award honors faculty who have demonstrated creativity in using technology in their teaching. The award is named for the founding director of the Center for Teaching Excellence (the precursor of CTRL), who was instrumental in encouraging AU faculty members to incorporate technological tools into their teaching practices.
We are currently accepting nominations for the 2018-2019 Jack Child Teaching with Technology Award.
Any faculty member teaching during the current academic year is eligible for nomination. Self-nominations are welcome. Both individual faculty members and teams of faculty members may be nominated.
The winning faculty member (or faculty team) receives an award of $1,000. The winner will present a demonstration of his or her innovative teaching during a CTRL event.
Nominations may be made by any member of the university community. Self-nominations are welcome. A short list of nominees will be requested to provide a brief description of their activities involving use of technology in the classroom. The selection panel for the short list and for the winner will be composed of members from CTRL and a previous winner of the award.
Nominations open: January 1, 2019
Final date to submit nominations: March 31, 2019
Announcement of winner: April 2019
Accessibility
CTRL is committed to providing services to all faculty and staff regardless of disability and we will coordinate ways to bring services to an accessible location. Request an accessible meeting (x2117).