Student Speakers
Each school or college ceremony includes an address by a graduating student. If you would like to be considered as a student speaker, review the Featured Students information.
Keynote Speakers and Honorary Degree Recipients
Each school or college ceremony also includes a keynote address by a distinguished speaker who receives an honorary degree from American University. Remarks from past commencement speakers are available in our Highlights archive.
Fall 2018 Keynote Speaker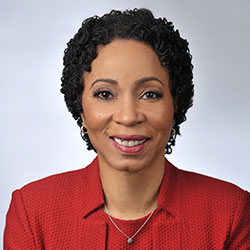 Helene D. Gayle president and CEO of The Chicago Community Trust
Before assuming leadership of the Trust in October 2017, Dr. Gayle was CEO of McKinsey Social Initiative (now McKinsey.org), a nonprofit that builds partnerships for social impact.
For almost a decade, she was president and CEO of CARE, a leading international humanitarian organization. An expert on global development, humanitarian and health issues, Dr. Gayle spent 20 years with the Centers for Disease Control (CDC), working primarily on HIV/AIDS. She also worked at the Bill & Melinda Gates Foundation, directing programs on HIV/AIDS and other global health issues.
Dr. Gayle serves on public company and nonprofit boards including The Coca-Cola Company, Colgate-Palmolive Company, the Rockefeller Foundation, Brookings Institution, the Center for Strategic and International Studies, New America and the ONE Campaign. She is a member of the Council on Foreign Relations, the American Public Health Association, the National Academy of Medicine, the National Medical Association and the American Academy of Pediatrics.
Named one of Forbes' " 100 Most Powerful Women" and one of NonProfit Times' "Power and Influence Top 50," she has authored numerous articles on global and domestic public health issues, poverty alleviation, gender equality and social justice.
Dr. Gayle was born and raised in Buffalo, NY. She earned a B.A. in psychology at Barnard College, an M.D. at the University of Pennsylvania and an M.P.H. at Johns Hopkins University. She has received 15 honorary degrees and holds faculty appointments at the University of Washington and Emory University.
She will receive an honorary Doctor of Science degree at the fall commencement (10 a.m., Sunday, December 16). Learn more about Dr. Gayle.
Spring 2019 Keynote Speakers