Arboretum and Gardens: 10-Year Commemorative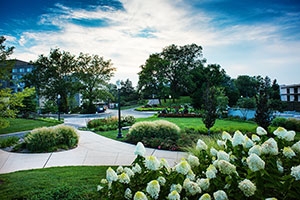 Kogod Gardens
Knockout roses are among the hundreds of shrubs, perennials, grasses, and trees to be found in the superb collections of the AU Arboretum and Gardens. Dedicated in 2004, the arboretum is celebrating its 10th anniversary.
Encompassing the entire 84-acre campus, the arboretum echoes the diversity that is a hallmark of the university community. More than 2,500 trees—over 130 different species and varieties—form the graceful canopy beneath which striking beds of formal and informal design invite passersby to stop and smell not just roses but myriad fragrant species. Distinctive features, including sculpture gardens, pocket parks, ponds, and streams, punctuate the intimate and unexpected spaces that create a perfect backdrop for meditation or mingling.
The original campus plan for AU, which was founded in 1893, was created by the great Frederick Law Olmsted Sr., America's most noted landscape architect and designer of the U.S. Capitol grounds, the National Zoo, and New York's Central Park. While Olmsted's plan was never implemented, AU's dedicated landscape architects and the staff who tend the arboretum are now revisiting his original vision to resurrect elements from this distinguished historic approach and incorporate them into the contemporary design.
In keeping with AU's mission, today's arboretum is also a recognized leader in the sustainable management of an urban landscape. Already the new LEED Gold–certified School of International Service building showcases many new green technologies. Through green roofs, rain gardens, the diversity of plantings, and other features, the arboretum and gardens are an equally visible reminder of AU's pledge to promote environmental stewardship and to use its campus as an educational resource for all.
The arboretum also helps to build a sense of community. Each April, more than 400 students, faculty, staff, alumni, and neighbors join in on Campus Beautification Day—learning about the arboretum while picking up gardening tips and helping to create new green spaces on AU's campus.