Vast Trove of Corcoran Art is Gifted to Katzen Museum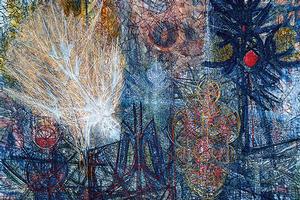 The American University Museum at Katzen Arts Center is the recipient of one of the largest free art distributions in US history as it received nearly 9,000 works from the Corcoran Gallery of Art. One of the country's first private museums when it was established in 1869, the Corcoran Gallery closed in 2014.
"American University Museum is excited about the opportunities to share this rich collection with our students, scholars, the Washington community, and beyond," says Katzen museum director and curator Jack Rasmussen. "This collection will enhance the museum's long-standing commitment to exhibiting works by Washington, national, and international artists who hail from diverse backgrounds and encompass many artistic styles and ranges."
The acquisition includes paintings, photographs, sculpture, textiles, and the bulk of the Corcoran's famous collection of works on paper, as well as pieces by such masters as Picasso and Rembrandt. Other prominent artists include sixteenth-century Italian painter Titian, a contemporary of Michelangelo; German Renaissance painter and printmaker Albrecht Dürer; American artists Winslow Homer, John Singer Sargent, Andy Warhol, and Jimmy Ernst (pictured); eighteenth-century British portraitist Thomas Gainsborough; French impressionist Charles-François Daubigny; and American sculptor Louise Nevelson.
The AU Museum, the largest university-affiliated art venue in the DC metro area, now has a dedicated exhibition space in which to feature the work of historical and contemporary Washington artists, thanks to a major gift from alumna and arts advocate Carolyn Alper, BA/CAS '68, in 2014. The Alper Initiative for Washington Art provides funds to identify significant artists and give them a deserving place of prominence.
"William Corcoran's dedication to presenting works by American artists led to his collecting an exceptional body of nineteenth-century art from Washington, DC, representing the simultaneously national and local identities of art in the emerging capital city," Rasmussen says.
The museum's willingness to maintain the integrity of important American collections, such as works from William A. Clark and Olga Hirshhorn, will provide opportunities for scholarship and exhibitions for years to come.
The Corcoran gift also supplements the museum's collection of work by female artists and artists of color, in alignment with the Department of Art History's leadership in feminist art history and the university's commitment to diversity and inclusion.
AU has upgraded its collections management software and plans to work with registrars at the National Gallery of Art to incorporate data on the collection.
In support of this acquisition, AU has launched a funding initiative to update the museum's exhibition and storage space, including a redesign of the second-floor galleries. Plans also call for creation of a study room for students, faculty, and visiting scholars, and the hiring of staff with specialized skills to assess and conserve the art and to share the collection through public programming and international promotion.
The Corcoran College of Art and Design, added to the art gallery in 1880, was transferred to George Washington University.