Alumna Breaks Income Barriers for Rural Families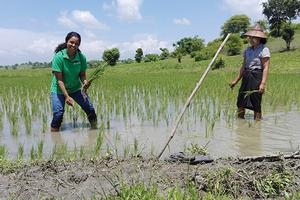 Dilanthi Ranaweera, SIS/MA '15, has forged a path of public service from Washington, DC, to the farms of Myanmar and Kenya. Part of the field operations team at One Acre Fund, a US- based NGO, Ranaweera helps smallholder farmers, who typically rely on family labor, to develop a better quality of life.
Most of the world's poor live in rural areas, like the rice fields of Myanmar, says Ranaweera. These farmers do not have access to resources like money for education or health care. They live in perpetual debt, their livelihood entirely dependent on agriculture.
One Acre Fund works with these farmers to increase their harvest and household profits. When income barriers are removed, their access to resources, like technology and health care, or the opportunity for a few days off, increases.
"Improving the farmers' crops and yields—and, as a result, their whole household income—not only improves his or her family's livelihood and well-being," says Ranaweera. "It also provides food for the community and the world."
One Acre Fund started in Kenya in 2006 and now serves more than 600,000 smallholder farmers. Ranaweera led field operations for the organization's first pilot program in East Asia, where she recruited, trained, and assisted farmers in the field. After the Myanmar pilot ended, she joined the Kenya program. She chose to remain in field operations because it enables her to have direct contact with farmers.
"One Acre Fund strongly believes in putting the farmers first," she says. "We care deeply for their well-being. I love working for an organization that insists on putting the customer— our farmers—at the center of every decision we make."
Ranaweera shares the organization's philosophy that the best way to serve those customers is to live and work in the vicinity.
In Kenya, she can see the farm fields from her office window; in Myanmar, she lived 30 minutes away and made frequent site visits to oversee operations and any challenges facing staff.
"I literally got my feet muddy with our farmers regularly. I traveled to their fields and houses to understand their farming needs and to support them with cultivation," she says.
In Kenya, Ranaweera works on the field staff management team that recruits, trains, and manages the performance of the field team, which numbers about 2,000. Instead of interacting directly with the farmers, she now trains staff from local communities to perform that role, empowering them to be the changemakers.
Ranaweera became acquainted with development work in her home country of Sri Lanka. In the wake of a devastating civil war, from 1983 to 2009, while doing relief work in rural areas, she found a focus for her passion: to help generate income for poor, rural populations.
She credits SIS, ranked among the top 10 schools of its kind, and the internationally recognized master's program in international development for planting the seeds of her successful and meaningful career.