From the Chair of the Board of Trustees
This year we mark the 125th anniversary of the founding of American University. With the inauguration of a new president, the first woman to serve as president, it is a moment to reflect on the proud and accomplished century and a quarter that led us here. This time finds us hard at work shaping American University's future.
We are planning the details of the next five years of the growth and innovation of this university, through a new, five-year strategic plan, developed in close consultation with schools, departments, and offices across campus. It is the map that will guide us through the coming years as we meet the challenges of a changing system of higher education and a changing economy, and send our graduates into the world prepared to thrive.
The coming year includes the naming of a new provost to help guide our academic community toward a new era of excellence at American, exemplified by recent successes like the Don Myers Technology and Innovation Building, the Center for Postsecondary Readiness and Success, and the many achievements of our scholars advancing the frontiers of knowledge in the United States and abroad.
We are not just discussing the future on this campus. We are investing in it. With historic gifts from the Abramson and Sine families, our campus will soon be home to a cutting-edge Hall of Science, and the Sine Institute of Policy and Politics, which will open the door to substantive solutions to some of the most pressing policy challenges of our time.
As we look toward the 125 years to come, American University is poised to take flight to even greater heights, inspired anew by the spirit of our proud motto: Once an Eagle, Always an Eagle.
Sincerely,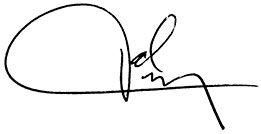 Jack C. Cassell