Pushing Full Steam Ahead with New Spaces for Innovation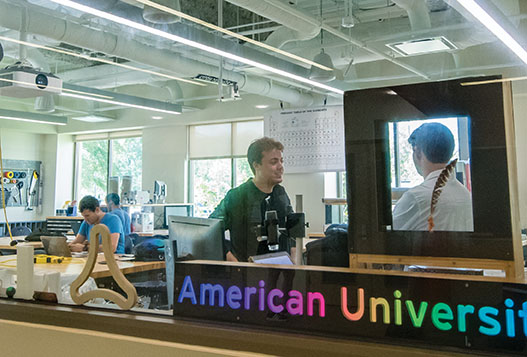 The state-of-the-art Don Myers Technology and Innovation Building is open for business. It's a 70,000-square-foot complex of high-tech laboratories, classrooms, and shared research space, and it offers students and faculty new opportunities for collaborative research.
"Twenty-first-century research requires twenty-first-century facilities. [The building] will build on the already vibrant synergy in the sciences here at AU," says College of Arts and Sciences dean Peter Starr.
Hall of Science Maximizes Interdisciplinary Discovery
The airy and modern facility will embody the university's commitment to support the sciences—the fastest growing area of undergraduate study at AU. Conceived to maximize collaborative research and foster discovery, the center will serve as a catalyst for success for students and faculty and enhance the university's impact in every field.
AU Makes Physics Fun for DC Youth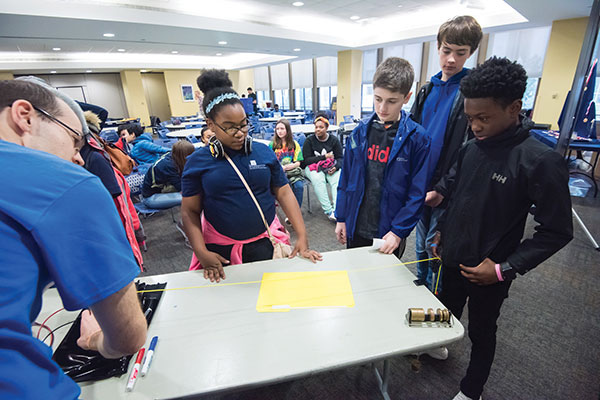 Seeing light in new ways helped more than 150 DC-area middle school students penetrate the mysteries of the cosmos during AU's Optics Olympiad.
One demonstration showed light "behaving" as a wave—a complex concept that takes time to grasp, but also an experience that can be fun, says physics professor Gregory Harry.
If the students' excited maneuverings through a maze of laser light beams was any indication, Optics Olympiad was a success.
Wild Filmmaking Intensive
Caroline Kettlewell weathered unpredictable storytelling conditions during her Classroom in the Wild filmmaking intensive on Maryland's Eastern Shore. "How about sleeping on the floor and skipping a shower for the better part of a week—while 15 heretofore strangers become your 24/7 companions, you swathe yourself in enough thermal layers to insulate a small village, and people less than half your age patiently explain 'spray and pray,' 'two shot,' and why you need a 'dead cat'?" says Kettlewell. (The "dead cat" is a fake-fur sock that covers a shotgun mic to muffle the sound of roaring wind.)
Internet Governance Scholar Lauded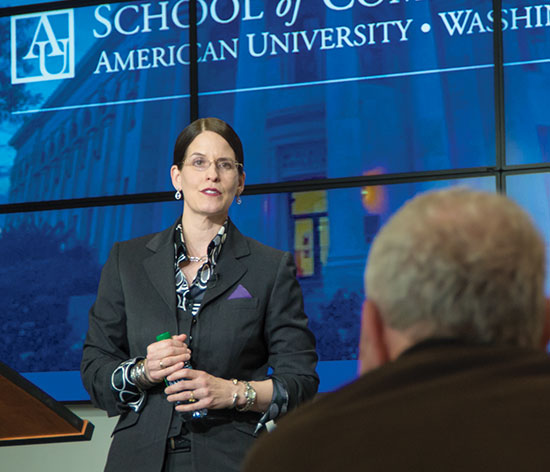 Laura DeNardis, SOC
A world-renowned Internet governance scholar and author of eight books is the 2017–2018 Scholar-Teacher of the Year. Laura DeNardis, professor and dean of faculty in the School of Communication, was honored for her significant contributions to teaching, research, scholarly publication, and university and public service. DeNardis is affiliated with Columbia and Yale Universities and featured frequently in the media for her expertise on the social and political implications of Internet technical architecture and governance.
Learn More
Deans Exemplify the Scholar-Teacher Ideal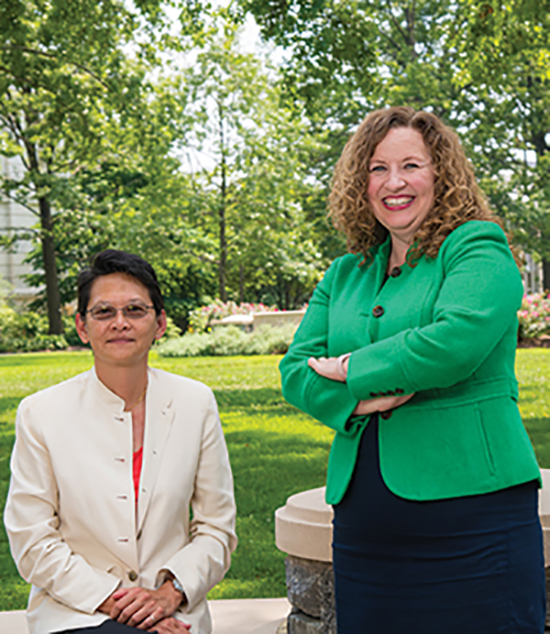 Two exemplars of the scholar-teacher ideal—Christine BN Chin and Vicky Wilkins—accepted deanships at the School of International Service (SIS) and the School of Public Affairs (SPA), respectively.
Chin, SIS/PhD '95, has long ties with SIS, including as director of the intercultural and international communications program. An internationally renowned global migration scholar, she has conducted path-breaking work on the intersections of gender, class, nationality, and race and ethnicity. She received several awards for her 2013 book, Cosmopolitan Sex Workers: Women and Migration in a Global City. Chin holds an MA from the University of California–Berkeley and a BA from Wellesley College.
Wilkins joined AU in 2014 after 11 years at the University of Georgia, where she earned teaching awards and international recognition for her expertise in representative bureaucracy. She has held top positions at the Public Management Research Association and the American Political Science Association, and she has served on several editorial boards. Wilkins earned her political science doctorate at the University of Missouri–Columbia.
One-Stop Learning Hub for ESL Students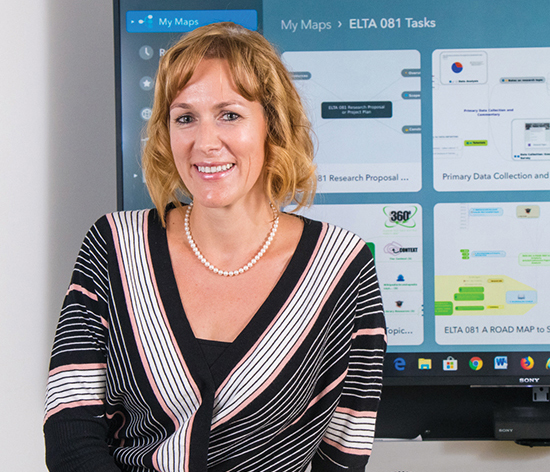 Krisztina Domjan, SPExS
School of Professional and Extended Studies professorial lecturer Krisztina Domjan blends various technologies to simplify learning for international English as a second language (ESL) students adapting to a new environment.
Frustrated with Microsoft Word's numerous document attachments, she utilized Google Docs and other applications to create a one-stop course work destination. This 60-page template enables ESL students to track their progression throughout the semester. 
For her efforts, the Center for Teaching, Research and Learning recognized Domjan with the Jack Child Teaching with Technology Award.