Environment
Men's Basketball Holds 8th Annual Sustainability-Themed Game on Feb. 16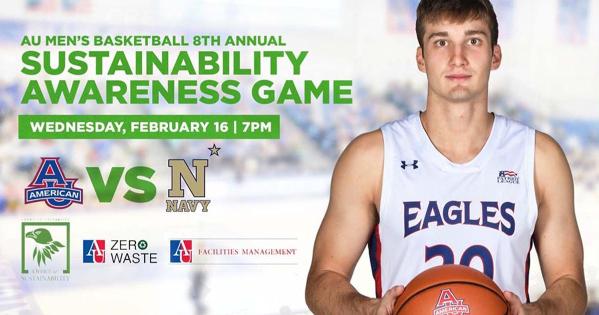 Washington - "Go Green," but wear red, white, and blue to Bender Arena to cheer on the American University men's basketball team at the 8th Annual Sustainability Awareness Game against Navy on Wednesday, February 16 at 7 p.m. Attendees will support the Eagles as well as spotlight AU's environmental goals and accomplishments. The matchup is planned each year by AU Athletics, Facilities Management's Energy & Engineering and Grounds teams, and the Office of Sustainability.
This year, the game will focus on how the AU community can reduce waste, specifically food waste. In September, AU announced a historic grant from the National Science Foundation to study wasted food. A video titled Multiscale Resilient, Equitable, and Circular Innovations with Partnership and Education Synergies (RECIPES) for Sustainable Food Systems will highlight the project. In addition, the jumbotron will present facts about energy conservation, features of the campus arboretum, and information about how AU reduces campus waste.
Attendees also will be able to engage with environmental student organizations, including the Kogod Sustainability Club, Engineers for a Sustainable World, and AU's Sunrise Hub. A bicycle will be given away to a lucky random student, along with bike accessories provided by the Office of Sustainability.
Also at the game:
Zero Waste students on hand to help fans sort their waste into either compost, recycling, or landfill trash bins.
A zero waste-themed student 'bottle-bowling' competition on the court..
Recognition of AU's student Compost Crew and Zero Waste Office.
"As a source of university pride and school spirit, the annual Sustainability Awareness Basketball game is always a fun event and educational experience for our students and fans to learn about the great advances in sustainability and energy efficiencies all across campus," said Robert Sherman, Assistant Athletics Director for Marketing and Corporate Partnerships.
AU's Director of Sustainability Megan Litke added, "This ongoing partnership with Athletics and Facilities Management provides a great opportunity to celebrate and share the recent sustainability accomplishments that people from across our campus have made. This past year, we released a new sustainability plan which guides us in our next steps after achieving carbon neutrality. We're also so thrilled that AU received a five-year, $15 million grant from the National Science Foundation under principal investigator, Sauleh Siddiqui, to study food waste."
The game is co-sponsored by AU Athletics, Office of Facilities Management, and Office of Sustainability, along with the support of corporate partners Duke Energy Sustainable Solutions, The Whiting-Turner Contracting Company, The Fulcrum Group, Siemens, Aramark Higher Education, DC Sustainable Energy Utility, E.C. Ernst Electrical Contractors, and E-Finity.
Doors to Bender Arena open and the pre-game environmental clubs fair begins at 6 p.m., while the game on the court versus the Midshipmen tips off at 7 p.m. Admission is free for AU undergraduate, graduate, and WCL students with valid AU ID. Visit AUeagles.com/Tickets and use the coupon code GREEN22 at checkout to receive and save $5 off each adult priced ticket.