Environment
Project Move-Out – More Than Just a Throw-Away Event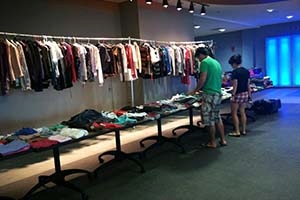 American University will host its third annual Project Move-Out, an initiative that collects the thousands of unwanted clothes and household items that are thrown out during campus move out and donates them to local charities. What's more, Project Move-Out is another step in the university's Zero Waste Policy and its path toward carbon neutrality.
"It is so exciting to see American University make such a difference in the community and our environment by participating in Project Move-Out. Specifically, our on-campus residents are very generous about donating items to contribute to the program instead of just throwing them away. Those who contribute definitely recognize that there is an opportunity for their goods to have a longer life cycle while also helping someone else benefit. Project Move-Out is such a rewarding program, so I hope that everyone at AU will do a little spring cleaning, and bring in something to donate, while also helping to avoid it ending up in the landfill," said Sophia Benedicktus from Housing & Dining Programs.
Benedicktus and her team, comprising volunteer students and staff from Facilities Management and the Office of Sustainability, plan to donate items such as food, clothing, and toiletries to the Capital Area Food Bank, A Wider Circle, and other DC charities. Like last year, the team also plans to organize a community sale, selling to neighbors, staff, faculty, and other students some of the bigger-ticket items. In fact, last year's community sale featured items such as televisions, gowns, and even skis. The sale raised $1,600 for local mentoring charity MOMIE's TLC. The team is hoping for similar results this year.
What You Can Donate

unopened toiletries
unopened non-perishable food items
clean and wearable clothing
other household items
For a full list of what you can bring, visit the Project Move-Out website.
When And Where You Can Make Donations
Pod on the Quad
May 2 - 3 (10 a.m. – 4 p.m.)
Residence Halls
April 27 - May 8 (8 p.m. – 10 p.m.)
North Campus: Leonard Classroom #121 -South Campus: Letts Formal Lounge
Tenley Campus: Congressional Lobby
The Project Move-Out Community Sale

Saturday May 4 at The Tavern
8 a.m. – 9 a.m. $5 Early Bird Special
9 a.m. – 2 p.m. Free Admission
Be sure to bring your own reusable bags.
Project Move-Out represents another way in which the university fulfills its commitment to serving the people of Washington, DC – a commitment at the core of the university's strategic goal. For more information on how to donate or volunteer, visit the Project Move-Out website.