Dining
AU Dining Isn't Just For Students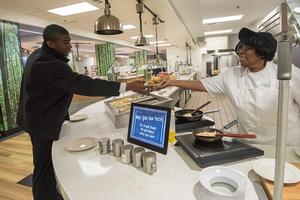 As the new semester begins, AU Dining would like to remind faculty and staff about their on-campus dining options as well as some new convenient features.
A list of dining options located at Butler Pavilion, Katzen Art Center, Mary Graydon Center, and East Campus, as well as their hours of operation, may be found on the Dining website. 
New this semester is the TDR-To-Go feature that allows you to – as the name implies – take food to go from the Terrace Dining Room. Simply swipe in at TDR, ask the cashier for a compostable to-go container, fill up your container with food, and you can be on your way. 
For a more formal dining experience, faculty and staff can make reservations at the University Club by calling 202-885-3180. Menus are updated weekly on the University Club website.
All dining locations accept cash, major credit cards, and EagleBucks.
For more information, contact OneCard & Dining Services at 202-885-2273.