In the Community
SIS Promotes Diversity and Inclusion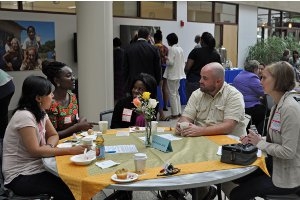 In 2009, a group of students, faculty, and staff, who were concerned about diversity in the International Peace and Conflict Resolution (IPCR) field, decided to form a task force to examine the topic within the IPCR graduate program at SIS.  
Little did they know that they had planted the seeds for a larger school-wide effort: the SIS Diversity and Inclusion Initiative. 
With the support of SIS Dean James Goldgeier, the initiative has been able to expand its reach. Goldgeier chairs an Advisory Council on Diversity and Inclusion with Assistant Director of Graduate Enrollment Management Rebecca Davis, who also serves as the director of the initiative. The council includes student, faculty, staff, and administrator participation.

Early events instituted by the task force have now been institutionalized, such as a Welcome Breakfast for SIS graduate students of color, started in 2010, and a pre-Grad Day dinner each April for newly admitted students of color.

For future events, Davis hopes to continue holding community-wide dialogues, implement roundtables with locally employed professionals and alumni of color, and create more social opportunities for students from historically underrepresented groups to increase their support system.

Plus, thanks to a new development, many more opportunities are on the horizon.

In summer 2013, SIS became the first DC Association of Professional Schools of International Affairs (APSIA) member school to be part of the Global Access Pipeline (GAP) Consortium, whose mission is to diversify the field of international relations through a pipeline approach.

"As a GAP Consortium member, we can explore creative partnerships with other members at other spots along the pipeline, organizations that encourage high school and college students to study abroad, working with alumni of those programs, reaching out about grad school opportunities, and putting on programs with other members of GAP, places where our students want to work," says Davis. "We hope that being a member of the consortium allows us to deepen those partnerships and expand those opportunities."

Goldgeier sees the Diversity and Inclusion Initiative's work as uniquely suited to the mission of SIS.

"We take great pride in attracting students from historically underrepresented groups and building an inclusive community that respects and values diversity of backgrounds, experiences, and perspectives," he says. "We see this as both an opportunity and a responsibility to create a more diverse next generation of leaders in the field of international relations."

While Davis and Goldgeier are focused on external opportunities, José Ramos, SIS/MA '13, is one of the participating students concentrating on making connections within SIS.

"The initiative provides me with the opportunity to share my experiences and lessons learned while I have been here at SIS with incoming students who are eager to start their own educational journey," he says. "I am very happy to be part of this great initiative, which is helping diversify and, in the process, enrich the SIS community."

Karen Flores Garcia, SIS/MA '14, is grateful for the chance to discuss topics that have often been considered taboo.
"Participating in the SIS diversity and inclusion initiative has not only challenged me in exploring relations and issues outside of my group, but they have also allowed me to question many of the difficult issues around race, socio-economic status, class, and gender that often are difficult to tackle," says Flores Garcia. "I am proud to be participating in this initiative not only to help establish a diverse and inclusive community, in all senses, but also because this has allowed me to grow as an individual."
After a number of events targeting underrepresented students last spring and strategic recruitment planning over the summer, the 2013-14 academic year began with the launch of a new website on Diversity & Inclusion at SIS. This site is a hub for activities, resources, and other information related to the initiative. It also includes a comment form, where members of the community can contribute their ideas to the effort.

With the early success of the program, Davis looks to expand the group's efforts even more.

"As a white woman, I am aware of how often our own circles can tend to be a bit narrow—made up of people who are similar to us in a variety of ways," says Davis. "I want the programming we do with the diversity and inclusion initiatives to expand the comfort zones and risk-taking of all members of our community. This process of expanding our networks not only leads to great tangible opportunities, such as exposure to jobs and key people, but also improves our abilities to interact with difference in positive and constructive ways rather than out of fear or mistrust. And hopefully these experiences further influence our alumni as they head out into the field of international relations."

Visit the Diversity and Inclusion Initiative website to learn more.