Environment
American University Uses Innovative Software To Boost Energy Savings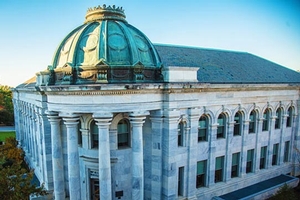 One of American University's goals is to be carbon neutral by 2020. AU's Energy and Engineering (E&E) team utilizes a wide array of strategies to increase energy efficiency in each building on campus, and recently began a year-long pilot program using innovative software technology designed by the German-based company, MeteoViva.
MeteoViva's software determines a building's future needs for heating and cooling to reduce its energy costs. The software incorporates data from a building's heating and cooling usage and needs, and calculates the optimal settings for its Heating Ventilation Air Conditioning (HVAC) systems.
The Energy and Engineering team chose the McKinley Building to launch its pilot, as it was renovated and commissioned to current energy code requirements and had been LEED certified already. It also was an ideal location to test the software's capabilities and limitations because of the different types of spaces and energy needs within the building. McKinley's unique floor plan comprises a first and second floor that receive an abundance of daylight while the third and fourth floor receive limited natural light, many classrooms, office spaces, and a 150 seat-theater. Additionally, the building contains various types of equipment and systems including air handler units, fan coil units, and more than 200 other "data points" to be factored into the software's calculations.
McKinley was divided into 25 distinct zones, and energy usage data was collected for each area. Using the MeteoViva software, the building's HVAC system was monitored and adjusted for optimal usage in each of the 25 zones. Improvements in energy consumption and savings also were measured. After collecting a year's worth of data using the software and subsequent to the improvements made based on the information, the cost of running the building's HVAC system decreased by 36 percent, and there was a 473-ton reduction in its carbon footprint - the equivalent of removing 100 cars off the road for a year. Occupants also reported that the overall temperatures in the building felt more comfortable.
AU's Energy Conservation and Efficiency Manager, Juan Allen, said, "The MetoViva software performed so successfully and produced such impressive results at the McKinley building that we are now in the planning stage for implementation of the technology at the SIS building."
For more information on E&E's energy-saving efforts and the MeteoViva software, contact David Osborne at (202) 885-1150.