Environment
Bright Lights, Big Savings: LED Lights Installed in Fitness Center and Campus Store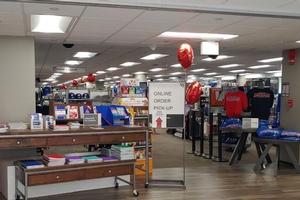 Eagle-eyed students may have noticed a change in the AU Campus Bookstore and Cassell Fitness Center recently. The Energy and Engineering team rounded off the summer with energy-efficient LED lighting upgrades at both locations. Students now can have better visibility while exercising and store browsing knowing that the new fixtures help to reduce energy consumption on campus.
Energy-efficient LED lighting improves light quality, lowers energy consumption, and reduces maintenance through longer lamp life. In recent years, AU has increased its usage of LEDs within interior building spaces. Currently, all parking garages and most exterior lights use LED fixtures.
The campus store lighting upgrade will result in energy savings of 24,475 kWh annually and a reduction of 17.3 metric tons of carbon (42,317 miles by car equivalent) per year. The new lights match the fixtures in the foyer outside the bookstore that previously were changed to LEDs and created a brighter area.
"The sales floor looks great with the new lights and compliments our new store entrance," said Store Manager Brent Fisher. In addition to the bookstore, the lights above the stairs and corridor, outside the Bridge café, also were replaced with LED lights.
 
New and improved lighting in the Cassell Fitness Center will yield savings of 29,285 kWh annually and reduce carbon emissions by 20.7 metric tons (equivalent to 50,633 miles driven by car) per year. The previous pendant drop-lighting had an industrial face, while the new energy-efficient pendants are frosted, allowing light to flow easily between the ceiling and space. The lights in the workout studios also were replaced with LEDs.
 
Staff and students at Cassell were quick to take notice of the new look. "We are very excited about the new lights at Cassell," said Assistant Director of Fitness and Wellness Chris Nasti. "We had a number of students and community members comment on how bright the fitness center looks. From both an operations and sustainability standpoint, we are excited about the expected longevity of the lights themselves."
Both lighting upgrades were the result of a close partnership between AU and the DC Sustainable Energy Utility (DCSEU). DCSEU works with organizations and residents in the District to offer financial incentives for energy conservation projects as part of a contract agreement with the DC government to reduce district energy consumption and promote environmental preservation. AU's energy team has collaborated on innovative energy solutions with DCSEU since 2012.  
Choosing energy-efficient lighting is one of the easiest ways to reduce the energy output of buildings. Lighting upgrades are less invasive than other building improvements and can improve the aesthetics of the room by adding a modern look. LEDs also have much longer life expectancies than fluorescents. The fixtures used in both projects are projected to last 15 – 20 years.
Lighting efficiency upgrades require the collaboration of many campus partners, including Facilities Maintenance staff, lighting contractors, and campus customers. "I emphasized working with customers and the Facilities Maintenance teams collaboratively to achieve solutions that everybody would support and find a success that all could share," said David Osborne, Director of Energy and Engineering.
LEDs are seen consistently as the greener choice of lighting compared to fluorescent or incandescent bulbs. Though they have higher upfront costs, the energy and maintenance savings make LEDs the most competitive lighting solution on the market. Additionally, green building certification programs such as LEED and the Environmental Protection Agency's Energy Star give points towards buildings utilizing greener lighting. Energy-efficient lighting aligns with AU's policy of meeting LEED Gold building energy standards for any new construction and major renovation projects.
AU's Energy and Engineering team is always seeking innovative projects to improve environmental conditions and support the university as a change maker for a changing world. Reducing energy waste and acting responsibly in the manner in which we consume energy is one of the ways AU is acting as a leader in energy and sustainability.