Crime Prevention Programs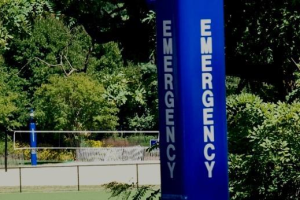 Public Safety maintains a comprehensive crime prevention program. Working with the Office of Campus Life and other units, the Crime Prevention coordinator develops and monitors procedures and programs to promote safety and security. While it is the responsibility of each member of Public Safety to promote crime prevention throughout the university community, the coordinator is responsible for implementing Public Safety's proactive stance on crime prevention as part of its basic philosophy. This includes, but is not limited to, conducting programs, answering questions about safety and security, responding to inquiries about Public Safety's role on campus, and encouraging residents to become actively safety conscious. To help students and employees protect themselves and their property, this unit develops and makes available to the university community a variety of educational programs and materials.
Educational Programs
Crime Prevention and Awareness presents the following programs to all faculty, staff and students upon request, and at the request of resident assistants, in the residence halls. They address specific needs of the audience and focus on individuals taking personal responsibility for their safety, avoiding unsafe situations, and using Public Safety services. The sessions (unless otherwise noted) last one to one-and-a-half hours.

Who is Public Safety? Introduces students to the functions, purpose, and services of Public Safety. Offers important phone numbers and educates students on the training, credentials, and authority of Public Safety officers, on campus and in surrounding neighborhoods. Also includes descriptions of Public Safety's role in the campus emergency plan.

Safety in the City: Educates students about living in an urban setting and using crime prevention skills. Typically customized for the specific audience.

Be Safe @ Home: Provides students with safety tips and tools for use in their campus residence and around campus. Encourages safe living on campus; tells how to avoid becoming a victim and how to enhance safety during unexpected emergencies.

Alcohol and Drug Awareness: Illustrates the effects of alcohol and the dangerous consequences of underage drinking. Additional programs educate students on the hazards of drug use, including, not only the danger to an individual's and well-being, but the legal ramifications, financial hardships, and social difficulties to which drug use or experimentation can lead.

Rape Aggression Defense (RAD) Systems: Teaches women rape prevention and practical physical self-defense techniques (12-hour course). See below for more information on RAD classes, such as our schedule and how to sign up.


Dating Violence: Educates individuals, primarily women, on acquaintance rape and preventive strategies to avoid dangerous dating situations. Educates students on forms of dating violence, such as emotional and sexual abuse.

Campus groups who sponsor these programs increase attendance and bring together individuals who have common concerns. Any interested group should contact Public Safety at 202-885-2563 or 202-885-2529. The Student Health Center and the Office of Campus Life may offer related programs on acquaintance rape, alcohol, relationships, and self-defense.
Services and Other Programs
Escort Service

To ensure your safety you can call Public Safety for an escort on foot or in a vehicle if you need to walk alone on campus at night. To arrange for an escort, call 202-885-2527 or use an emergency telephone.

Safe Ride to Campus

You always have a way home. If you are stuck in the city without any money or a ride home, you can call a cab and have it take you to American University's Public Safety. Notify Public Safety that you are on your way by calling 202-885-2527. Public Safety will pay for your cab and place the charge on your student account. This ensures that you always have a way back to campus.

Other Education and Counseling Programs
Educational programs and counseling options are available to students and employees at American University. The Student Health Center and Human Resources sponsor a wide variety of substance-abuse education programs. The Counseling Center and Human Resources have treatment and counseling options available for individuals and groups.
Crime Prevention Tips
General Safety Tips
Program Public Safety's emergency number 202-885-3636 into your cell phone.

Be aware of your surroundings.

Travel in groups at night whenever possible, especially when walking.

Use lighted walkways and thoroughfares, even if it means going out of your way.

Walk briskly, with your head up, and with assurance. Do not walk in brush-covered areas or against buildings.

Do not wear dangling jewelry when traveling into the city. Keep purses, backpacks, and money belts close to the body, and do not leave them unattended.

Do not struggle if someone attempts to take your property.

In the Residence Halls
Attend crime prevention seminars held in the residence halls. Public Safety and Housing and Dining Programs sponsor seminars on a variety of subjects that could help students avoid becoming victims of crime.

Lock your room door at all times, whether the room is occupied or not, e.g., while you are sleeping. Many victims of burglaries have been out of their rooms for only minutes or were down the hall a short distance from their room when the burglaries occurred.

Report doors propped open—they increase vulnerability to crime. If you find an interior or exterior dorm door propped open, call a resident assistant and close the door.

Lock cash, credit cards, jewelry, and other valuables in a drawer or trunk and take these valuables with you during school breaks. Be careful not to leave clothing and other property unattended in lounges or laundry rooms.

Safety When Coming and Going
Lock your bicycle with a high-security lock.

Park your vehicle in a well-lit and populated area. If this is impossible, scan the area before getting into or out of your vehicle. Know your surroundings!

Get into your vehicle briskly, quickly, and confidently.

Avoid becoming too absorbed with the task at hand, such as keeping your head down at the key lock, occupying yourself with bags, books, or keys; staying alert can help prevent your becoming a target for crime.

Keep keys in hand to avoid unnecessary delay upon reaching your car.

Plan ahead, always, even if you are late or in a rush.

Travel by way of the university shuttle whenever possible. Shuttle service is offered to the Tenleytown Metro Station, the Tenley Campus, and the Washington College of Law. Student-sponsored shuttle service (AUTO) offers various runs to other locations.

Report Suspicious Activity or Persons
Report suspicious incidents, activities, or persons to hall staff and to Public Safety immediately at 202.885.3636. Instant crime reporting or reporting suspicious behavior as soon as possible is essential in reducing campus crime and in assisting Public Safety in promoting campus safety. Never hesitate to contact Public Safety with any suspicion regarding your own or someone else's safety. We strongly urge you to program your cell phone with Public Safety's Emergency number: 202.885.3636.
Available Crime Information
Crime Prevention Boards and Postings
You can stay up-to-date on crime in the area by checking a crime prevention board in the lobbies of Bender Library, Federal Building, Mary Graydon Center, Leonard Hall, McDowell Hall, Hurst Building, Asbury Building, the Sports Center, the Washington College of Law Building, Brandywine Building, or Megabytes Café. You'll find outside crime prevention boards at the main shuttle depot and at the Nebraska parking lot. We post campus crime statistics, crime alerts, crime prevention tips, and similar information on these boards. At various campus events throughout the year we display information regarding Public Safety services and crime prevention programs and distribute crime prevention literature.

Crime Alerts
Crime alerts are the way AU gives timely warnings to the campus community. At his discretion, the director of Public Safety can issue a crime alert to inform the campus community of crimes the institution considers a serious or continuing threat to students and employees. These alerts are based on crimes reported to Public Safety, local law enforcement agencies, or campus security authorities (e.g., deans of academic units, directors and heads of administrative units). We also post crime alerts on the Public Safety Web site, http://www.american.edu/finance/dps/alerts.html, and on bulletin boards throughout university property, e.g., in residence halls, and in heavily trafficked building, such as Bender Library, and Mary Graydon Center. Crime alerts are issued to inform the campus community of crimes considered by the institution to represent a serious or continuing threat to students and employees. These alerts are generated by crimes reported to Public Safety, local law enforcement agencies, or campus security authorities (e.g., dean of academic units, directors and department heads of administrative units). Alerts may also be sent to the campus community via e-mail or text alert, upon determination of the Director of Public Safety. Crime Alerts are provided to students and employees in a timely manner so they can aid in the prevention of similar occurrences.

Daily Crime Log
Public Safety maintains a daily crime log, which is written in an easily understood format and describes the nature of the crime, date the crime was reported, date and time the crime occurred, general location of the crime, and disposition of the complaint, if known. We enter new reports or update old ones within two business days after receiving the information. The log records virtually all crimes reported to Public Safety. There are times, however, when we may withhold information from the log. If there is clear and convincing evidence that releasing such information would jeopardize an ongoing criminal investigation or the safety of an individual, cause a suspect to flee or evade detection, or result in the destruction of evidence, that information may be withheld until the adverse effect is no longer likely to occur. In addition, updates are not required after 60 days have passed from the date of the initial entry.You can access the log at Public Safety's Web site. Upon request, you may inspect the most recent 60-day period of the log at Public Safety during normal business hours (8:00 a.m. to 5:00 p.m.), Monday through Friday, unless the university is closed. You may inspect any portion of the log older than 60 days at Public Safety within two business days of your request. Logs are kept for seven years.
Video Surveillance
Public Safety has dozens of cameras that monitor various areas around campus. These cameras are constantly monitored by our dispatch office, and we utilize DVRs to constantly record footage in case it is needed for an investigation.