Ergonomics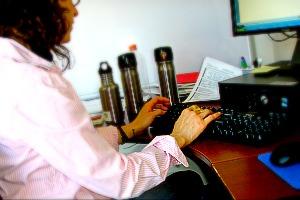 What is ergonomics?
Ergonomics as a science relies on many disciplines including anthropometry, biomechanics, kinesiology, physiology, psychology, industrial design, and mechanical engineering. Ergonomics in practice involves designing the workplace and it's associated equipment to fit the needs of the human body. It is sometimes referred to as "human factors engineering." When the work environment fits the worker, musculoskeletal and repetitive motion disorders can be reduced and improvements in cognition and productivity can be realized.
Our program
The Risk Management & Environmental Health & Safety (RMEHS) department is committed to fostering and supporting the health and well being of the American University community. RMEHS provides office ergonomic information and assessments to encourage a healthy interaction between the employee and his/her work environment.
Schedule an assessment
To schedule an ergonomic assessment of your workplace, please click here.
What to expect
Environmental Health and Safety (EH&S) does not diagnose injuries or illnesses. EH&S never specifies injuries that may be associated with the employee's pain/discomfort in order to avoid a perceived diagnosis.
EH&S never seeks information regarding medical conditions, diagnoses, suspect conditions, physical therapy, or other medical appointments during any part of the evaluation process. When this type of information is provided by the requestor of his/her own volition, the details are not recorded, transmitted verbally, or placed in emails or memos.
EH&S conducts ergonomic evaluations in accordance with OSHA's Ergonomic Solutions Workstation Checklist.
The evaluator strives to provide options for adjustment or reconfigurations to the existing office equipment in order to reduce or eliminate repetitive motions and facilitate an office environment conducive to healthy postures. RMEHS recommends the purchase of new equipment only when the current office equipment presents severely limited options for reconfiguration and adjustment, or is defective.
EH&S does not recommend or condone ergonomic trends that are outside of standard office equipment. Examples of some recent trends include walking work stations, standing desks, and using exercise balls for chairs.
The employee is encouraged to involve their supervisor throughout the ergonomic assessment process. The employee is also expected to fully engage in the process and give serious consideration to the overall assessment and recommendations of the evaluator.
EH&S does not have funds to purchase or install equipment. All recommendations are strictly optional and at the discretion of the employee's supervisor. It is the responsibility of the department to allocate resources as they see fit.
The employee is the driver of any new equipment request to their supervisor, if applicable. The employee should take an active role in evaluating any equipment provided during a trial period. This includes working with purchasing in the rotation of trial/demo equipment.
Contact Information