Sustainability Success Story
American University scores a B+ on the College Sustainability Report Card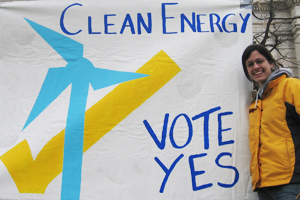 American University received a B+ grade on the College Sustainability Report Card for 2011 on the Sustainable Endowments Institute's GreenReportCard.org annual evaluation of more than 300 colleges in the U.S. and eight Canadian provinces.  AU, whose overall grade has improved consistently since its debut on the Report Card in 2008, ranked highest among all the colleges and universities in both DC and the Patriot League.     
The Report Card is designed to identify colleges and universities that are leading by example in their commitment to sustainability.  Its aim is to provide an accessible venue for schools to share effective sustainability policies and practices.  The Report Card is also intended to be used by high school students as they select colleges. 
Director of Sustainability Chris O'Brien noted, "Our continual ascent in the Green Report Card during the past few years shows our commitment to, and progress in, making American University a model of sustainability among our peer institutions as well as universities nationwide. However, we can still improve and the Office of Sustainability is striving to truly make American an 'A+' sustainable institution." 
Grades are determined by an independent evaluation of the universities' performance across 43 indicators in nine main categories.  Schools are assessed on how well they address administrative involvement; climate change and energy management; food and recycling; green building; student involvement; transportation; endowment transparency; investment priorities; and shareholder engagement.  Profiles of the 300 schools were created using information gathered from independent research and voluntary responses from school administrators to surveys.   
GreenReportCard.org and the College Sustainability Report Card are initiatives of the Sustainable Endowment Institute, a nonprofit organization engaged in research and education to advance sustainability in campus operations and endowment practices.
For a more detailed look at AU's performance in all the categories, and to compare the university with other schools, visit The College Sustainability Report Card site.