Faculty and Staff Success Story
American University wins American Heart Association's "Fit-Friendly" Award
Recognition given for AU's efforts to champion wellness culture and healthy lifestyles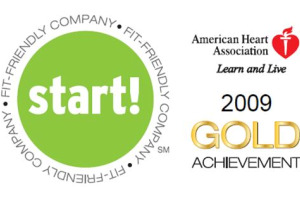 American University received the American Heart Association's (AHA) Start! Fit-Friendly Companies Recognition Program Worksite Innovation Gold Award for 2009. The program spotlights companies that create healthy lifestyle programs for their employees in the workplace. The Gold award recognizes AU for its efforts to promote a wellness culture and create healthy lifestyle programs for our employees. 
"We're very pleased to be conferred as a fit-friendly company by the American Heart Association. The award is particularly significant to us because it recognizes the university's concerted efforts to promote health and wellness for our staff and faculty. Under the leadership of Amy Farr, in her newly-created position as Health Promotion Manager, our AhealthyU program has gotten off to a fast and successful start. This early recognition signals to us that we're on the right track," said Beth Muha, executive director of Human Resources. 
AU's AhealthyU program, which helped the university qualify for the Start! Fit-Friendly Company Gold status, offers many initiatives and incentives designed to implement physical, nutritional, and cultural changes that encourage employees to adopt and maintain healthier lifestyles. Some AhealthyU initiatives include:
Smoking cessation assistance for all AU community members;
Steps to a Healthy You walking program;
Color-coded campus walking map with delineated distances;
Various physical activities classes offered to faculty and staff including yoga, Pilates, resistance training, kickboxing, and indoor cycling;
Faculty and staff discount memberships to Jacobs Fitness Center, the campus recreation center;
Fitness-based incentive programs such as Steps to a Healthy You Pedometer Challenge;
Fitness-related events such as Amer-I-CAN, 5K Turkey Trot, and Spring Semester Biathalon;
Monthly Brown Bag Wellness Workshops where recent topics have included "Eating Well with the New Food Pyramid" and "No Cooking Cooking Class;"
Healthy food on-campus dining options; and
On-campus farmers' market that offers fresh and local produce and baked goods for the entire AU community. 
"I'm thrilled for AU to be recognized as a fit-friendly company. With the guidance and dedication of our wellness project team and help from so many of our internal campus partners, like Jacobs Fitness Center, we've been able to implement a variety of programs that support a healthy lifestyle. What's so exciting is that we've only just begun," noted Amy Farr.
The Start! Fit-Friendly Companies Recognition Program is the cornerstone of the AHA's initiative to encourage companies and their employees to become more physically active and focus on living healthier lives. The AHA provides participating companies with online resources and tools to encourage workers to live more active lives. This year, more than 1,100 businesses across the country were recognized as Start! Fit-Friendly companies.      
The Benefits to AhealthyU
Weight Watchers at Work – stay motivated with co-workers to help you eat right and lose weight.
Farmers' Market – visit on-campus, weekly (in season) market for fresh, locally-grown fruits and vegetables.
Brown Bag Wellness Workshop Series – attend monthly lunchtime workshops on healthy living.
Know Your Numbers – attend free screening event to learn your cholesterol and glucose levels, blood pressure, and body mass index.
Personal Health Assessment – get your wellness scorecard by taking a free and confidential online health assessment.
Discounted Gym Membership – take advantage of low-cost membership at Jacobs Fitness Center.
Walking/Jogging Routes – take a walk on the routes mapped with distances in and around AU.