Sustainability Success Story
American University Ranks Seventh in Campus Conservation Nationals Competition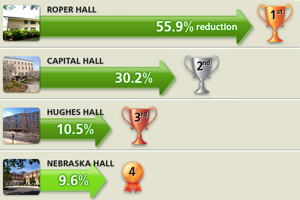 American University tied for seventh place out of 40 colleges and universities nationwide in the first-ever Campus Conservation Nationals competition for energy and water savings.  The university's 12 residence halls participated in the national competition and, in the span of the nineteen-day competition, produced an overall savings of eight percent.  The savings equated to 34,273 kilowatt hours (kWh), 123,864 pounds (62 tons) of carbon dioxide, and $4,112.

"This competition shows that simple, low- and no-cost changes in behavior can lead to big savings when it comes to reducing our impact on our environment. As this is the first year that AU has ever held such a competition, we put up a good fight and look forward to our now-expert students participating again next year," commented Chris O'Brien, Director of Sustainability.   

Not to let a good energy-saving competition go to waste, AU students also competed among themselves to see which campus residence hall could produce the greatest savings.  The competition was kicked off with a "Do It In The Dark" event where students were encouraged to turn off their lights and appliances to save electricity before attending.  During the competition, the Green Eagles, student employees from the Office of Sustainability, collected 710 pledges – 17 percent of the resident student population – to commit to energy-conserving practices such as turning off lights, unplugging appliances, turning back their refrigerator and thermostat settings, and taking stairs instead of elevators.  

At the end of the competition, Roper Hall was declared the most energy-conserving residence at AU – and the second-most energy-conserving building in the national competition – with an overall energy-usage reduction of 55.9 percent, 10,583 kWh, and $1,270 saved.  They also had the greatest number of pledges with more than 40 percent of the residents participating.   

Here's how the runners-up residence halls ranked in overall energy-usage reduction:  Capital 30.2 percent; Hughes 10.2 percent; Nebraska 9.6 percent; Letts 9.1 percent; McDowell 8.6 percent; Federal 4.0 percent; Clark 0.2 percent; and Leonard 0.2 percent.

In recognition of their win, the residents of Roper Hall will enjoy a pizza party.  Roper Hall residents who pledged to conserve energy during the competition also are entered in a drawing for a solar backpack, solar LED lamp, or and iPod Shuffle.  Other university students who pledged to conserve energy during the competition will be entered in a separate raffle to win one of four LED solar lamps or a solar backpack.

The Campus Conservation Nationals Competition was established by Lucid Design and the Alliance to Save Energy.  Lucid Design's software enabled everyone to view real-time building energy data online throughout the competition.  The standings were broadcast to all resident halls via electronic monitors in each building.