Faculty Success Story
Victoria Kiechel named Most Innovative Green Teacher of the Year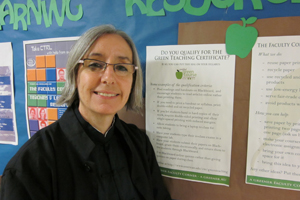 Victoria Kiechel, who teaches Sustainable Cities and Sustainable Design/LEED Training at AU's School of International Service, received the 2009-2010 Most Innovative Green Teacher of the Year Award by the Center for Teaching, Research and Learning's (CTRL) Green Teaching Program. Kiechel was chosen to receive the award in recognition of her efforts to take the relatively conventional course topic of building design and approach it from the point of view of sustainability, integrating green principles as well as practical applications of sustainable building right here on the AU campus. For example, students conducted assessments of workspaces to evaluate whether building occupants have access to views and natural light from their desks.   
Chris O'Brien, Director of Sustainability noted that, "Vicky's approach is to engage students directly with sustainable building practices, so it seemed very appropriate that she asked two of her students, Allie Dart and Matt Lehtonen, to accept the award on her behalf – another example of how her teaching style is so student-focused."  
The Green Teaching Program was launched by the CTRL and Eco-Sense in August 2008 to "put a face on green courses" by recognizing faculty members for their innovative green teaching methods.  To qualify for the award, faculty members answer a number of questions about their efforts to make their courses more sustainable.  Upon evaluation, qualified courses are rewarded with a Green Teaching Certificate seal representing one of four different levels of the certificate. The certificate logo appears on Blackboard pages and syllabi to market the courses as green.  The Green Teaching Program has grown considerably since its inception, and just this academic year alone, 128 faculty members have been certified and have taught more than 500 courses.  
For more information, about the program and the specific criteria for the certificate, visit the Green Teaching Web site.