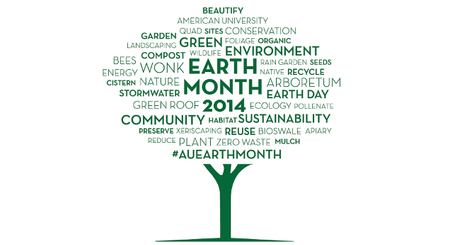 Earth Month 2014
Join the entire American University community in celebrating Earth Month 2014.
Earth Month 2014 is the continuation of a tradition that brings the AU community together with a full schedule of events to celebrate our commitment to the principles of Earth Day.

Please join us in our celebration. Check back soon for a full schedule of events, and use the links on the right to reminisce about past Earth Month moments. The many birds who make their home in our campus arboretum aren't the only ones tweeting - join in the excitement for sustainability by using the #AUEarthMonth hashtag.

Tweet
Tweet throughout the month with #AUEarthMonth to be part of the conversation.