Tobacco- and Smoke-Free AU

AU is Proud to be Tobacco- and Smoke-Free
We're on our way to Zero Waste
American University is committed to strive for zero waste sent to landfill and incineration by 2020.
Throw away doesn't mean go away, so we're on our way to Zero Waste.
RecycleMania 2014: Bin It To Win It!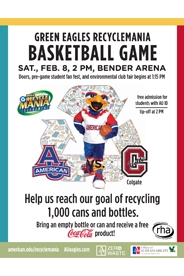 Help American University reclaim its 2012 RecycleMania grand championship title by recycling and composting on campus! AU will be kicking off its run to the title at its first ever Green Eagles RecycleMania Basketball game against Colgate on Saturday, February 8th! The first 1,000 students to bring an empty bottle or can will get a Free Coca-Cola product back and an entry to win a mini dorm fridge. Student eco-rep group Green Eagles will help us recycle those bottles and cans at the event. There will be many other events AU will be hosting such as a Junk-To-Funk Competition (art competition made from recycled materials), Personal Electronic Waste Recycling Drive, Community Clean Up, and a Photography Compost-ition. For information on these events as well as tips on how to sort your waste properly to help us win the competition, visit us at www.american.edu/recyclemania. Also share with us as you recycle and compost throughout the competition by tagging us #RecycleManiaAU and following @ZeroWasteAU.

Campus Wide Organic Waste Collection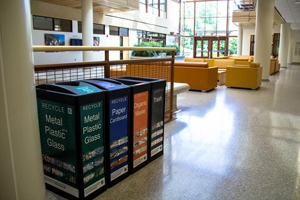 New zero waste containers at SIS
American University is proud to announce the launching of organic waste collection for composting campus wide! Organic waste is anything that was once living (and not currently recycled), e.g. leftover food, paper sandwich wrappers, greasy pizza boxes, and anything made from "compostable" or "biodegradable" material, such as plant-based cups and containers. This organic waste is currently mixed with trash and sent to landfill, but through separation we can further reduce our waste footprint. The separated organic waste will be sent to a composting facility off-campus to become compost, a nutrient rich soil amendment. This sorting of organic waste will require a small change in behavior, but will help us get much closer to our overall goal of zero waste to landfill and incineration. 
Organics and Container Replacement Status:
All Residence Halls are currently equipped with organic bins. This fall, we will be replacing the rest of the containers with the newly designed 40 gallon bins.
SIS installed - June 2013
Hurst installed - August 29, 2013
Cassell Hall installed - September 5, 2013
Nebraska Hall installed - September 10, 2013
Ward building installed - September 12, 2013
Child Development Center installed - September 19, 2013
Bender Library installed - September 27, 2013
East Quad Building installed - October 4, 2013
Mary Graydon Center installed - October 25, 2013
Clark Hall & Roper Hall installed - November 19, 2013
Centennial Hall & Letts Hall installed - December 18, 2013
Anderson Hall installed - December 19, 2013
Katzen Arts Center installed - December 20, 2013
Hughes Hall & McDowell Hall installed - January 7, 2014
Leonard Hall installed - January 8, 2014
McKinley installed - January 29, 2014
Bender Arena installed - February 7, 2014

More updates to come.
Questions? Please contact helenlee@american.edu


To learn more about organic waste and composting, please click the related link on the side. For regular updates of our zero waste program, please like us on Facebook: www.facebook.com/ZeroWasteAU!
What AU is doing to eliminate waste
Campus-wide organic waste collection will be implemented in 2013. A pilot project with the Green Office (GO!) program will run from October through December 2012.
In 2010, AU adopted a Zero Waste Policy mandating the creation of a team to develop a plan for reducing and diverting 100% of the university's waste stream.
In spring 2012, AU placed 1st in the Grand Champion division of the national recycling competition, RecycleMania. Click the link on the side to see our results.
AU composts paper towel waste from all restrooms around campus. Green Eagles (student sustainability educators) audited the campus waste stream and discovered that by composting paper towels, we are diverting about 13 percent of AU's waste from landfill.
AU also composts all of the kitchen waste from the Terrace Dining Room, Tenley Cafe, and coffee grounds from the Davenport Lounge.
The university is reducing solid waste by replacing bottled water with inline water filters.
In fall 2009, AU eliminated trays in the Terrace Dining Hall, reducing food waste by an estimated 32 percent.
The university reuses and recycles surplus furniture by partnering with several area surplus and reuse centers.
In 2009, the university recycled 43 percent of the solid waste generated on campus by presorting cans, glass, paper, cardboard, plastic bags, batteries, cell phone batteries, cell phones, and fluorescent lights.
We collect and recycle vehicle waste including lubricants, antifreeze, oil filters, tires, and batteries.
University-owned electronics equipment can be recycled bysimply e-mailing AUSurplus@american.edu.
Personal electronics waste can be recycled at our quarterly e-waste recycling drives.
We collect kitchen grease and convert it to electricity and hot water using a Vegawatt generator system.
Student Move-In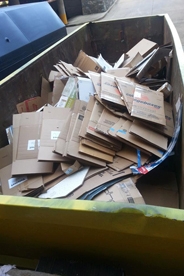 Cardboard Recycling
Student move-in is a period where cardboard is heavily generated on campus. This year, we recycled 12.43 tons (almost 25,000 pounds) of cardboard during student move-in! We want to thank all of our students who broke down their cardboard boxes for our housekeeping staff. Also, we want to give a shout-out to our Housing & Dining partners and the Housekeeping team for a job well done in recycling and helping American University get closer to Zero Waste!
Also, be sure to check out this quick video on how to live green at American University by clicking here!