Student Success Story
Heading Back to Kindergarten to Teach for America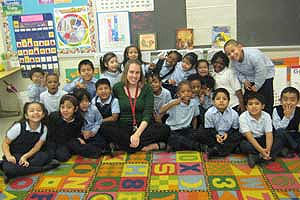 Lydia Albanesius, SPA/BA '07, a recipient of the Lura Bradfield Foundation Scholarship, thought she wanted to go to law school. "I kind of realized I didn't want to be a lawyer, I just wanted to do social justice work," says Albanesius, who teaches kindergarten at Templeton Elementary School in Upper Marlboro, Md. "I realized this was a really good choice once I got in the classroom."
Many students at AU can often be caught daydreaming in class about their internship on Capitol Hill, walking the wide corridors and passing the gleaming name plates that adorn 535 Congressional offices. But less than a mile beyond the Capitol is a problem each rep has failed to solve: the educational achievement gap between lower income families and their middle class counterparts.
Cue Teach for America. The two-year program is run under the premise that great teachers have the qualities of great leaders. Based on this idea, Teach for America has found the solution to the achievement gap to be quite simple: recruit top students from the best universities around the country and put them through a challenging summer training program. In September (or earlier), these new teachers are placed in classrooms across the United States, and given the support they need to give low-income students the education all children deserve.
Albanesius says the hardest thing she had to learn was the day-to-day discretion a teacher must exercise in his or her own classroom. "I think that policy dictates and teachers have to take what's being told to them and make it work in the classroom," she says. "Each kid is different, but each teacher's different too."
Since 2003, nearly three dozen AU graduates have answered the call to teach, serving in schools as far away as Los Angeles to as nearby as Prince George's County and the District. The program offers an opportunity to serve immediately.
Michael Mass, director AU's Honors program and a proponent of Teach for America for AU graduates, is glad to see so many top undergraduates choose to teach. "There is a huge need for action right here in this country," he says. "These students can change individual lives very quickly, within their first few years out... It's just amazing to see some of them giving back."