Alumni Success Story
Alumni Couple Makes AU a Family Tradition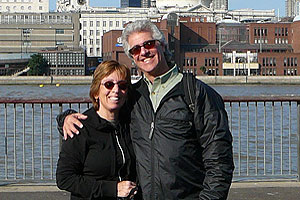 On weekends, you can always find season ticket holders Mark, CAS/BA '76, and Terri Laks, CAS/BS '81, in the bleachers at Bender for home games, cheering on the Eagles. This alumni couple is not just a fan of our winning Men's Basketball team, though—they truly are fans of AU.
"Even when the kids were small, if we were in the area, we made a point to come by and show them the campus," says Terri. "They each made their own choice about where to go to school, but I have to say we were very happy with their decisions."
All three of the Laks children have attended or are currently attending AU. Their son Ryan, KSB/BSBA '02, is currently working at a Fortune 500 financial company and their daughter Robin, CAS/BA '04, is currently teaching in New York. The Laks' youngest son, Brandon, is set to graduate from Kogod this spring, and he is already earning course credit for a paid internship at an accountancy firm this semester, no doubt following in the successful footsteps of his older siblings.
GIVING BACK

Mark and Terri are generous AU supporters, and when asked what inspired them to give, they couldn't decide on just one answer. Aside some from the unforgettable experience of seeing the Grateful Dead perform live on campus, Terri explains that "AU was such a great experience for me—all of DC was my campus, and I knew that other people had given to help me, so I felt an obligation to give back to AU just like other alumni before and after me."
Mark's urge to give back is inspired by the great memories he has of his professors and his classes. "The 70s were such an exciting time to be at AU," he says, "it was a hotbed of change—worker's rights, women's rights, Watergate. My professors were highly engaging and not afraid to ask tough questions of us as students." Like many AU students and alumni, both Mark and Terri name Dr. Gary Weaver as their favorite professor.
Perhaps their greatest reason to give back, though, is that AU has become more than an alma mater—instead, it's an official Laks family tradition.