Community Success Story
AU Parent Supports the Arts While Supporting AU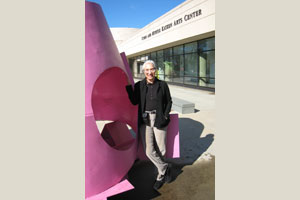 "Volunteering at AU was a great way for me to be involved in the life of the university without being involved in my daughter's life at the university," says Shelley Brodecki, mother of Ariella Brodecki, CAS/BA '08.  "The more I learned about AU, the more impressed I was with it, and I wanted to be a part of it without impinging on Ariella's independence. The Museum provided the perfect opportunity."
It's hard to know where to begin when listing Shelley Brodecki's various roles at AU.  She served on the Parent's Leadership Council for three years, serving as co-chair during two of those years.  She also joined Ann Kerwin and other panelists on the Admitted Students Panel for two years in a row, answering questions from new parents and students during orientation.  Shelley and her husband Joe also chose to support AU each year at the President's Circle level while their daughter was an undergraduate.
If you asked Shelley, though, her passion is for the AU Museum, where she has served as a volunteer since its opening.  "When I went to my first meeting, I met this really interesting group of people, mostly women, many of whom were either artists themselves or art collectors, and I knew I was in the right place," she explains.
Currently, Shelley co-chairs an outreach committee of volunteers who design and implement hands-on arts workshops for families with children in the area. The activity days, known as "Kids at the Katzen," feature a gallery talk from the artist of the current exhibition (when possible) followed by an art project inspired by the exhibition.
With her background as both a teacher and student of art, Shelley was eager to get involved when she heard about the opening of the AU Museum at the Katzen Arts Center. She has really enjoyed working with Director Jack Rassmussen, who is unafraid to show work that is cutting edge and sometimes controversial.  As Shelley says, "a University is exactly the place where challenging art should be shown.  Jack is not afraid to take risks, and I really respect that."